The realm of blockchain is expanding rapidly as it is revamping the work process in many industries. The global blockchain market is expected to have a revenue of $20 billion by 2024. Whether it is reducing infrastructure cost of the financial institutions or delivering state-of-the-art services, blockchain has everything. Thus, it will be safe enough to say that blockchain trends will be one to look for in the year 2022 and the times to come.
Blockchain is a distributed and encrypted database model that can solve many problems about the security and building trust of the data-driven industry. Thus, it becomes essential for businesses to understand blockchain technology trends to implement them fruitfully. Moreover, it is also important to hire the right blockchain developers to get the desired results.
Now, in this blog, we will have a closer look at the top blockchain trends that will have a major impact in 2022. In addition, we'll see the benefits blockchain implementations render to business organizations allowing them to scale ahead in their niche.
Top blockchain trends to watch out for in 2022
Below are the top blockchain trends that enterprises must look into to stay competitive in the market.
Blockchain as a Service
Blockchain as a service is a rising trend, and market-leading companies such as Amazon and Microsoft have already started using it to their advantage. With blockchain as a service, it has become easier to develop objects and architecture that are entirely decentralized and independent.
Thus, this blockchain trend will help the entrepreneurs who are in a constant quest of understanding how to control the technology and then employ it as a service.
Blockchain as a service, can be utilized without investing in the overall infrastructure development.
Metaverse
By saying Metaverse here, we don't mean to imply "Meta", the new name of Mark Zuckerberg's Facebook. In simple words, Metaverse is a digital place or state which humans can live and experience. And since this trend is expanding at a rapid pace, business enterprises should invest in Metaverse and avail its advantages.
But now you must be thinking, what is the relation between blockchain and Metaverse? To put it simply, Metaverse would be incomplete sans blockchain, and everything would be stored in a centralized network. Also, the blockchain solution's capacity to work on a global level as a digital source where crypto makes decentralization possible is an added advantage.
Expansion of NFT
The implementation of the NFT marketplace is continuously increasing in the blockchain network. Non-Fungible Token (NFTs) are nothing but assets that have value due to their uniqueness. NFTs can be anything ranging from written codes to music to pictures, etc.
Due to the blockchain trend, users can claim a right over their digital assets and protect their creative heritage. In addition, blockchain asset tokenization can also be used to learn about ownership of land plots, track the previous owner and find out more about the pricing.
Blockchain in Vaccine Distribution
Blockchain solutions can effectively help in overcoming the vaccine distribution challenges. It can solve all the critical visibility issues by offering end-to-end tracking and monitoring of the vaccine throughout the supply chain.
Moreover, if a problem is detected, with the help of this blockchain trend, it will be easier to go through the related data entries and find out the root cause of the problem.
It is also advised to combine the blockchain solution with IoT technology to monitor the temperature and storage time that is essential for the vaccine.
Worldwide adoption of Bitcoin and Cryptocurrencies
The year 2021 saw El Salvador adopting Bitcoin as a legal tender and becoming the first country. Thus, many tech pundits believe that in 2022 and beyond, other countries will also accept Bitcoin. This thought is further affirmed by Alexander Hoptner, CEO of BitMEX, who says that at least five of the developing countries will buy Bitcoin next year.
Thus, there are high chances that in the year 2022, this blockchain trend will rise as there will be an increase in the adoption of decentralized coins.
Decentralized Autonomous Organization (DAO)
It is the new digital generation of art and is gaining popularity as DAOs are touted to be the successor for centralized corporations or hierarchies.
Decentralized Autonomous Organizations (DAO) work on Blockchain and Smart Contacts are where people make investments and manage them in a decentralized way. Here, the entire governance of the asset is coded in smart contacts and is tough to manipulate. One of the main reasons DAO is becoming a popular blockchain trend is that every work here is public and transparent.
There might be a time when DAO tokens will replace the organization's equity in the future. But that is a thought for the long term as everyone needs to overcome some regulatory issues.
Overall Changes in the General State of the Economy
According to an analysis done by Price Water Coopers (PwC), the use of blockchain will see a meteoric rise by the year 2030. PwC published a study that shows that the blockchain economy will shoot up to $1.7 trillion in the coming years.
There has been an in-depth analysis of the blockchain trends by experts, and they identified five main reasons that it would bring changes to the overall state of the economy. They are:
Making the process of doing payments and providing financial services easier
Tracking of the transferred amounts of money
Astute creation of regulation of conflict and controversial issues
Proper identification and management
Working with the clientele
Thus, it is clear that blockchain solutions will be used in a wide array of industries, including healthcare, management, education, etc. Therefore, it will not be an overstatement to say that the overall state of the global economy is going to change because of blockchain trends.
Why do enterprises need to consider blockchain technology in 2022?
Here are some of the reasons why it is beneficial to consider blockchain technology in the year 2022.
Blockchain allows verification without depending on third parties
Unlike other financial platforms, most platforms rely on a third party for verification. However, when it comes to blockchain-based solutions, a check is dependable, and an enterprise or an organization can verify all their details without depending on a third party.
Third parties sometimes come with an extra budget which might affect small businesses. On the other hand, blockchain trends come with a way to slice out unnecessary spending by entering an in-built verification system that helps an individual company verify their information.
The blockchain data structure is append-only
Before the development of this new technology, most data in organizations and enterprises were prone to deletion. However, blockchain solutions have come with a new feature known as the append-only.
How does append-only work? Append-only is a feature whereby organizations and enterprises only record data and save them without mind security.
Once the recording is on, the data record is saved, and nobody can tamper with the data. It means that all transactions will display in the ledger, which is a good thing about business calculations.
Blockchain uses cryptography in data ledger protection
Cryptography is a form of security implementation that is currently considered the best for data protection. Each transaction recorded in the ledger needs to undergo a cryptography process to seal it from a new deal.
Data is recorded in chronological order
All data and transactions in blockchain are performed in chronological order. As soon as a blockchain completes a block, the system automatically seals off the block and jumps to the next chain. The blockchain trends are timestamps; therefore, they are perfect for enterprise data.
Data consistency means that a business can detect any negative recording in their books and fix the issues as soon as possible. Timestamp means at a specific time, a transaction was done in the digital ledger; hence during reviewing on a deal, enterprises can move directly to purchases made in a given time during the year for verification.
Transactions taking place within blockchain technology are immutable and transparent
Transparency is the key to a successful and clean ledger. Blockchain is among the best technologies that deliver transparent transactions that are immaculate and immutable. Open means that any individual with authority can view all the operations going on within the business for the number of days they want.
Thus, with fostering transparency in business, the blockchain trends will have a positive impact on businesses by making their structure more profound.
More so, blockchain trends are secure, and no data at any point can be lost, meaning that blockchain technology uses a high-end security system that safeguards all enterprise's data within the chain.
Summing up the blog
Upcoming Blockchain trends will determine the future of the world economy, and the year 2022 will be a breakthrough year. As business sectors, different governments, and leading organizations wake up to the fact and realize the importance of blockchain technology, riding blockchain-based solutions will be beneficial. But, before hopping on the bandwagon, businesses need to get complete knowledge and implement the blockchain trend that pertains to their business.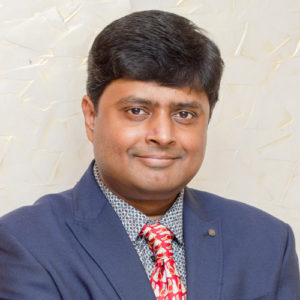 Venkatesh C.R. is a serial entrepreneur with a distinct passion for taking nascent businesses to great heights. An early entrant in the mobile application technology, Venkatesh grew his flagship company, Dot Com Infoway (DCI) to be recognized as one of the world's leading digital marketing, web, and mobile app development & marketing company.