After all the talk about first impressions being the last ones, every right-minded business owner acknowledges the importance of a great landing page in a mobile app. Whether you are looking to generate some buzz before app launch or trying to promote an app already launched, a dedicated interactive landing page is a concise showcase of what your app is capable of.

A landing page is a web page for your mobile app to which web traffic is directed to. It is a targeted web page created to promote your product or service. It is a point-of-entry for the user's journey with your mobile app and must highlight your app's features and value proposition so that visitor wants to download and install instantaneously. There are subtle elements that make a landing page stand out among others. Here is a list of all the essential elements of a great mobile app landing page:
Name and Logo that Stand Out
No matter how much time and effort you spend convincing your patrons about the wonders your app can do, if they can't retain its name in the first place. The name of your app and its logo give it the recognition and go a long way in building a brand image. The landing page of your app must create awareness about your business, which can be done by highlighting the name of the brand and its logo in the landing page design. Having your name and logo shine out in your landing page not only attracts the users but ingrains the identity of the app in their memory easily.
Crisp, Meaningful Headlines
It is an established fact that today's user has an attention span that's fleeting. This creates a need to churn out content that's captivating in the quickest of time, or to lose audience otherwise. Create a headline that clearly communicates the purpose of the mobile app to the user in a concise fashion. Headlines can be framed strategically to convey app users about what your app does, in just a few words. Additionally, the headline must be kept relevant to the motive behind your mobile app. Most generally, the 5-6 word is a good limit for an effective headline. Always use actionable and value-driven words in your headline. Businesses that are successful in creating a headline that's catchy as it is meaningful often win brownie points in terms if user retention. Use of tricky figures of speech like puns and vague metaphor often ascribes complexity to a headline which deters the user from grasping it easily. It's best practice to keep it as simple as possible.
Persuasive 'Call to Action'
The main objective of having a landing page is to direct users to a particular call-to-action (CTA) that benefits the business. In the case of mobile apps, the objective of a landing page could be to download it from the app store or to sign up with mail etc. CTAs go a long way in making a casual viewer into a customer/lead. All the visual or design elements in a landing page are it a button, a form or a link must signal towards the CTA. To make an effective landing page for your mobile app, do not confuse your page visitors with CTAs. Prioritize the actions that are of greater values to the business. No matter what form of design elements you use to CTA your users, it must be clearly understandable and adequately persuasive.
It is best to keep a single prominent button that solves the CTA purpose on the landing page and use contrasting colors than the background of the landing page to make it shine out. It's important that business get A/B testing for various elements such as color, size, font, or placement of CTAs on landing pages of their app. This can go a long way in configuring which elements make the CTA buttons or text links irresistible to the visitors.
Thumb Friendly Design Legible Text
It's crucial that landing page your mobile app has is thumb-friendly. This implies that you need to ensure that the interactive area on your landing page has elements clearly laid out, CTAs large enough to be clicked easily, and never overlap each other. Another important thing to keep in mind is incorporating an easily readable font size, even for devices with small screen size. Clickable tap design and easily legible text are what you should aim for.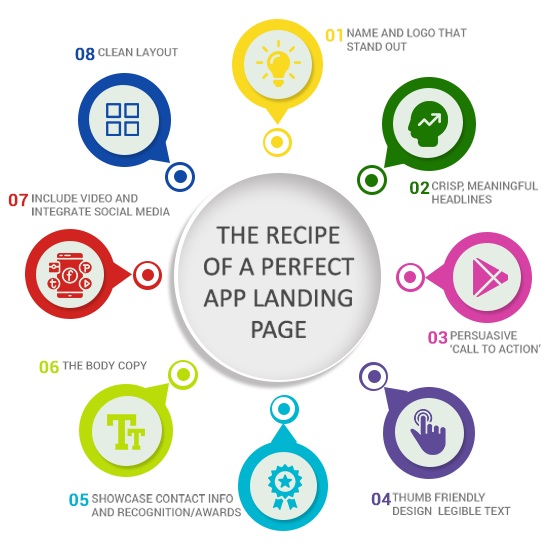 Showcase Contact Info and Recognition/Awards
Businesses benefit from highlighting their brighter side to their prospective customers. If, your mobile app has been bestowed with an award or recognition or has been featured on some popular web portal, use it to your advantage. Testimonials or reviews from existing customers also help in building credibility for the business. Since a landing page is the first impression of your app that users come on contact with, it's best to feature these positive responses from your clients on it.
Additionally, the user must be able to contact you in best and worst case scenarios. Make available your email and other information on the landing page.
The Body Copy
Successful app businesses put in as much copy on the landing page as many answers the user's unasked questions but never more than that. The body copy must elaborate the merits of downloading the app/ signing up with mail. Keep the nature of your target audience while forming the body copy. For an app that caters to businessmen and technicians, a copy with tech-centric abbreviations and words would freeze well but not for general audience. Bullet points can help you explain the benefits of the app to users easily.

Include Video and Integrate with Social Media
One thing that makes anything stands out is visuals. Although videos are not an essential component of a landing page, it does add a certain point of interest for visitors. Videos are engaging and easily shareable. Videos can be used to substitute the body copy of the landing page. It is good to upload a video that precisely conveys the aim of the app and its utility to users. However, it is best to avoid exaggeration of your app features in the video.
There is a bright chance that if people like your video they will share it on Social media. Social media platforms like Facebook, Instagram, Twitter, LinkedIn, etc. can directly connect you with your audiences. So, it's best to integrate social media buttons onto the landing page.
Clean Layout
A cluttered presentation of the landing page can deter a newbie user into confusion. Skillful app developers squeeze all the essential elements into the limited space of the landing space neatly so much so that the aim of the page is catered to. They place each element in order of priority and leave as much blank space as possible to give the visitor a clear picture of things. Visitors often get frustrated when they are misdirected into a page which seems purposeless and without any objective. It's best to stick to a clean layout and simple landing page design.

Conclusion
No matter if you have a simple eCommerce app or a complex business app, having a landing page in place is vital. Landing page ensures optimization of an app and helps create a buzz among the users. In short, it is a great marketing tool to drive more traffic to your mobile app.
Feel free to get in touch with us and have your mobile app landing page template designed today!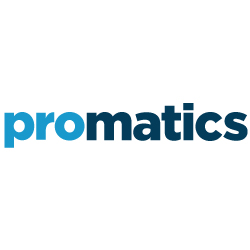 Promatics Technologies is an ISO 9001:2008 certified mobile app development company based in India With over 5 offices across the globe Promatics has been delivering native as well as hybrid apps for its clients since several years. Promatics has been time and again inculcated in the list of globally recognized and acclaimed app developers; by industry research agencies. Whether it is a Fortune 500 company, an SME or a startup Promatics' strives to create unique experiences between the customer and product.