New innovation and technology have changed the whole process of learning. The technological revolution is experienced in the education sector which is expected to evolve more in the nearby future because new innovation and technologies are coming into effect. Virtual Reality(VR) and Augmented Reality(AR) is transforming the learning experience of students. Use of latest technologies such as Virtual and Augmented Reality is redefining the education method which is increasing the student learning retention.
Virtual and Augmented Realities have changed the prevailing boundaries and foundations of education. It has modernized the way of learning by converting it more engaging and accessible for learners as well as teachers. Everyone these days need to understand that education does not just mean listening and reading those lectures and lessons but it needs creativity and interaction. Augmented and Virtual Reality offers the best way which makes education more enjoyable for learners as well as teachers and also ensures that those students stay motivated and engaged in their studies.
Impact of Virtual and Augmented Reality in Education Sector
Latest technologies such as Augmented and Virtual Reality are considered as the biggest advancement for all the sectors such as educational, gaming, entertainment, etc. This technology entered very speedily into today's modern classrooms and offered immersive solutions for all the learners. These latest technologies have gained huge popularity in the educational sector due to the effectiveness offered by it in the classroom. Implementation of such technologies in the education industry has changed the future prospects of education.
According to Statista research, Almost 97% of a student like to prefer to learn through latest technologies like AR & VR. Educational industry is the 4th biggest sector for investing in the latest technologies. It has been predicted by the experts that almost $200 million industry will accept Augmented Reality and Virtual Reality technologies for their sector by 2020 and it will continually go high by $700 million by 2025, the educational sector is one among them.
According to a recent Statista report, the number of Virtual Reality and Augmented Reality users in the United States (US) are going on increasing day by day. In 2017 there were 37.6 million people who used AR and VR technology at least once per month, while this number increased to 68.7 million by 2019 and now it is predicted that it is going to increase to 85 million by 2021.
Augmented Reality and Virtual Reality has already entered the educational sector and almost 80% of professors and teachers have access to operate these devices, then also only 6.87% of them use it regularly for educating the students in an effective way. 93% of teachers also accept that students love to learn the lessons while they teach them using these latest technologies.
According to recent marketing students, implementation of the latest technology for the learning process increases the attention of the students by 87% and almost 72% of students will participate actively in the learning. Hence new technology is one of the biggest factors affecting the education sector with its digital content and classrooms.
Difference between Augmented Reality and Virtual Reality
Augmented and Virtual Reality is popular technologies of this modern-day which has changed the way of educating the learners. Educational institutes use Augmented Reality for delivering information through texts, sounds, images, etc. Apart from this AR technology can further be used for computing digital elements to view.
Virtual Reality represents a three-dimensional ecosystem that allows educators to interact and explore accordingly. This allows educators to become a part of Virtual Reality, it allows them to perform and manipulate the total number of actions. Educators are utilizing various VR tools at schools, colleges, and universities which enhance the learning experience of students and offer a unique experience to the learners.
Why prefer Augmented Reality and Virtual Reality in Education?
The educational industry has accepted new technologies with open hands; they are opting for mobile applications and software which have brought drastic changes in this industry. Most of the tutorial centers, educational institutions, individual educators, etc are taking the support of a software development and application development team to get effective software and applications which help them to make learning more attractive and simple.
Who does not like to learn via interaction and contact with animals, environment, objects, etc? Most of the learners like you and me like that. Now the question may come how can this be done? The answer to this is very simple by including the latest technologies.
The Augmented Reality development companies and Virtual Reality development companies can build efficient solutions for educational sector that can directly bring virtual objects into the classroom. After implementing it into the modern classroom virtual tours can easily be organized to any of the places. By implementing such technologies you can offer immersive experiences to students. It offers a real experience to students which help them to recognize and understand the lesson more effectively. Students can visualize every lesson be it the inner organs of our bodies, historic setting, laboratories, etc everything has become possible now due to AR & VR technologies.
Open and Closed Learning Systems
If you want the best for each student then you must surely adopt technology-based teaching for your training institute. This technology-based teaching offers an excellent learning experience to the students and allows them to learn the lessons by taking their own time. You can hire developers from any of the leading app development firms to build AR and VR technology embedded education app or software, which your students can easily take lessons as per their preference. The developed application or software can be considered as one of the best solutions for those learners who do not have enough patience to sit in the class with their classmates.
Let's distinguish this learning system in terms of teaching methodology. There are two types of a learning system that is an open learning system and a closed learning system. The closed learning system is based on VR headsets while the open learning system relies on AR solutions.
Let's deeply understand the importance of both learning methodologies.
Closed Learning System
In closed learning system learners uses VR headsets. These headsets are portable hence they can easily go through any of the lessons from anyplace and anytime. The logic behind the invention of such a headset was very simple, learners can enjoy interactive 3D lessons as per their convenience and that too without the help of any professional. This teaching method is termed as a closed learning system because it puts complete emphasis on individual work and isolates a particular subject from external influences.
Closed Learning System Offers Numerous Advantages to the Learners Which Are Listed Below.
Learners Can Focus on One Subject
It Connects Theory and Practice
Offers Various Gamification Elements
Disaffection
Offers Full Control
Enhance Decision Making
Open Learning System
The learning system which relies on context-driven algorithms and uses AR technology is termed as an open learning system. AR technology which is used in this learning system improves and supports every day studying.
This technology collects a lot of external information from individual users, teachers, peers, etc and provides it to the students who need it for expanding their knowledge. AR technology keeps on evolving its learning processes so that it can easily satisfy the need of each and every child individually. It also adds value to the courses because students can recognize contextual information easily whenever they want.
Open Learning System Comes with Various Advantages for the Students Which Are as Follows.
Support Students' Learning
Boosts Interaction of Students
Improves Their Control
Pros of Augmented Reality and Virtual Reality for Education System
Reduce Errors and Provide Qualitative Work
Using these technologies medical students can repeat their task again and again and keep on practicing until they get 100% sure about that particular task. This can help the students to produce qualitative work during their educational period. It also reduces the chances of human errors in the educational sector as the students can visualize each and everything intact.
Provide Convenience
AR and VR technologies have taken long-distance learning one step further then it was a few years back. Presently we notice that students can easily learn their lessons with the help of various courses available online. They can also attend virtual classes that also without leaving the comfort of their homes. Students can choose the learning time as per their convenience, they can set the studying pace that meets all their requirements. This technology makes the learning experience much faster, more productive, and cheaper.
Interaction
This technology doesn't just help students to learn effectively but it also offers an opportunity to them for engaging in the learning process. It becomes much easier for the students to follow any of the lectures as the contextual information displays around them which help them to understand complex themes easily. They can also repeat their lessons until they get a clear idea about that particular topic.
Improves Career Choices
In this age of Augmented Reality and Virtual Reality, each and every individual learner gets an opportunity to visualize various industries. They can learn about the working process of every industry which helps them choose the right field that offers a bright career to them. Making a career choice is not much stressful as it was before a few years due to the evolution of the latest technologies which have offered excellent career choice to the students.
Few Taglines
In past days, the Education industry relied on "the teacher in front of the students all the time" strategy. But now it's time to embrace new teaching models in this field were Augmented Reality and Virtual Reality will play a primary role. Implementation of VR headsets and AR tools in educational sector will help in providing a completely new learning experience to the students.
Using these technologies students can visit historical places, conduct experiments, test a wide range of devices, organize virtual field trips, etc. These technologies also add gamification elements to the traditional method of educating the students. It also helps to make the whole learning process more engaging and appealing for the students.
Learning becomes more accessible, affordable, and inclusive for the students while they use AR and VR technologies for the learning process. Every technology has its own side effects which we will discuss later.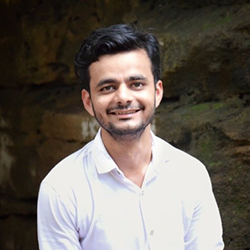 Vivek Sonchhtra is a Chief Marketing Officer at AppEmporio - software development company which deals in developing mobile applications and smart solutions for all scales of businesses. Vivek possesses exemplary skills overwriting for technology, business and for entrepreneurs to inform on new additions and suggest solutions.