There is no denying that crypto is not imperturbable yet, but nearly 45 million people say that they would prefer purchasing items through cryptocurrencies. Now, that makes around 20 percent of American adults. If you think that crypto business is to create, exchange, charge brokerage various digital currencies, you need to look around the sweltering trend of the latest crypto business from an enterprise or startup's viewpoint. Crypto business could be from any industry vertical! For instance, Shopify, MasterCard, QuickBooks, and Visa use cryptocurrencies to make the purchase more effortless than ever before.
Adapting crypto, businesses from all industry verticals can target their clients or niches because the digital currency is growing and marking its omnipresence in retail, eCommerce, manufacturing, health, finance, and so on. The new avatar of digital transactions has a competitive advantage over other forms due to its ample features.
Crypto – selling like a hot cake
Simply put, crypto businesses allow consumers to use cryptocurrencies to buy services, products or invest in any venture. Digital currencies such as Ethereum and Bitcoin have successfully proved themselves as genuine businesses. More than 2000 businesses in the US mark Bitcoin as a valid transaction currency. And, the number is growing by leaps and bounds.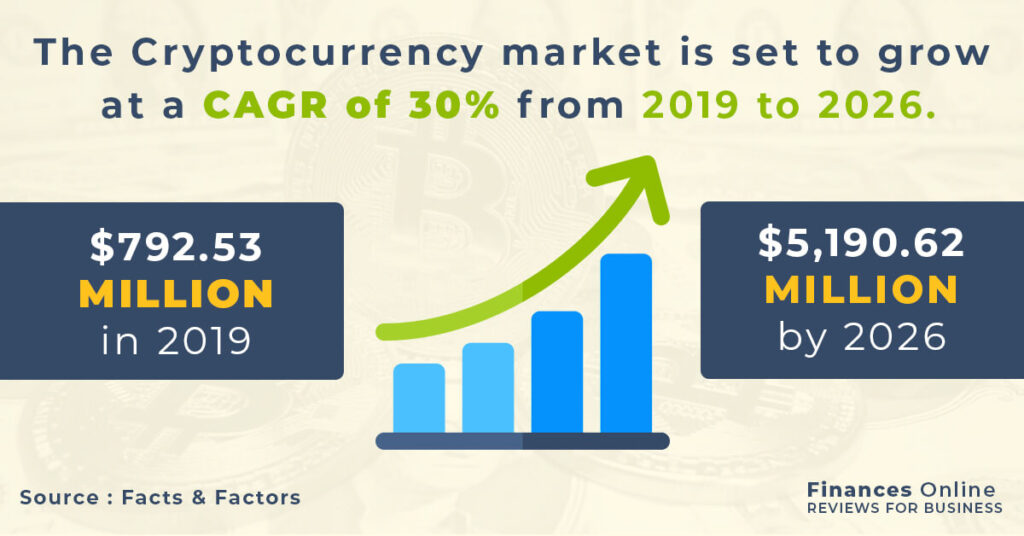 With nearly 3/4th of global users worldwide, mobile devices will have smooth internet connections by 2025, which will trigger digital transactions.
How do startups can benefit from starting a crypto business?
Valiant efforts by startups are aimed at getting assured growth with minimal complexity. Crypto business has significant advantages for new entrepreneurs. The technology offers a lot of pros for anyone who is techno-savvy and wants to grow in the digital tech domain.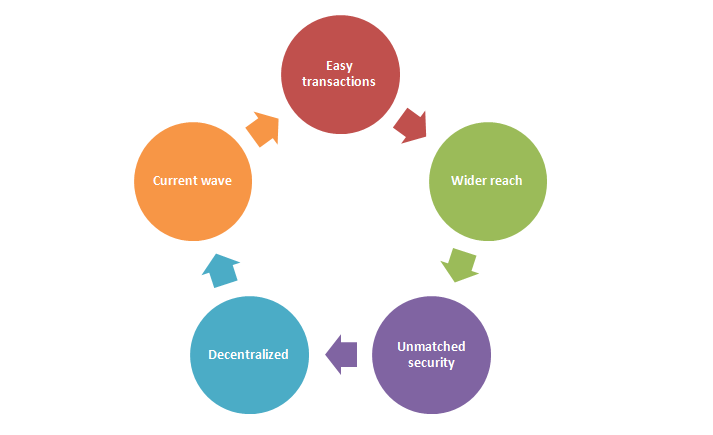 Easy Transaction –
Crypto technology offers ease in transactions i.e. it transfers funds from purchasers to your business account without any banks or cards. The upshot of such transactions is that clients find it quite convenient and money-saving (as they don't have to pay hefty fees or charges for whatsoever transactions or services)
Wider reach –
It has to be underscored that digital currencies have more comprehensive access and reach. In the past couple of years, thousands of companies and now even some countries have made digital currency legal for trade within their territories and service domains. Cryptocurrency has no geo-boundaries and is free from any credit. Hence, for an entrepreneur, this could be an ideal global startup.
Unmatched security –
The translucent bet that new startups or enterprises have on crypto business is the security and limpidness it offers. Blockchain technology offers a unique database that stores information in strata of innumerable blocks connected to each other. Each new datum would have a new block, and that block again becomes a part of an infinite chain, making it impossible to track and hack. A single bit of information could be easily breached or peeped into, but cryptocurrencies based on blockchain technology are diversified and highly secure.
Decentralized –
Governments have little hold over cryptocurrencies, which make them decentralized. Most digital currencies' values don't fall under any national policies; in fact, some governments have or are thinking of having their own crypto. However, cryptocurrencies do fall under properties watched by the federal government; hence, it is a taxable income though not typically like the US dollar.
Crypto wave –
The biggest benefit new enterprise or startup has is that cryptocurrencies are becoming a touchstone of contemporary trading based on which other trading technologies are getting developed; hence, the more startups get into the crypto business, the more it becomes popular. Again, more popularity would make crypto even more adaptable, which ultimately means that the business will skyrocket. A lot of established companies are educating people about cryptocurrencies. Entrepreneurs, too, can jump on the bandwagon.
Startup crypto business – rise above the ruck
Crypto business ideas can help startup entrepreneurs to take the right step in the right direction. Here are a few top business ideas for crypto business –
Start exchange
If you aim big, play big. Creating your own crypto exchange wherein customers can buy and sell digital money on your platform is a good option. The transaction fees you earn for each deposit, withdrawal, transfer, and trade could pile up a good chunk of bucks. There are many cryptocurrency exchange platforms on the market – a little research would help you choose the one.
Exchanges –
Decentralized and centralized
Binary and hybrid
Ad-based and clone script based
White label and order book
Start payment gateway
Whopping demand for cryptocurrencies worldwide has shot the popularity of digital currency transactions. Quite similar to debit/credit card payments, businesses need cryptocurrency platforms for payment processes. Subscriptions, setup fees, and transaction fees on merchant services can help startups grow more extensive in the crypto business.
Crypto asset management services
By chance, if you have hands-on experience in the crypto business but want to get into a new venture in the same field, the startup of crypto asset management services is a good bet. Managing crypto portfolios of clients would get your enterprise a required boost in a short time. The services are quite similar to managing the finance portfolio. The startup's job is to determine the risks, calculate them, and advise investors accordingly. Since such services are primarily digital, overheads and other expenses are cut off.
Product sales and services
The exchange of cryptocurrencies has permeated the selling of everyday products and services. In fact, dealing in crypto is a big business and is likely to boom in the coming years. Though many businesses don't accept crypto as their mainstream payments, the number is now decreasing. In other words, more and more businesses are now welcoming crypto with open arms. Even further, El Salvador has become the first country in the world to accept Bitcoin as legal tender.
Startup idea about crypto business could be having an eCommerce portal where dropshipping can be used to avoid inventory and shipping hassles. The products are shipped directly from the manufacturers or warehouses to the buyers in such a crypto business plan.
Crypto legal advice
Crypto business legal specialists deal with all legal aspects of cryptocurrencies. Crypto legal advisors ruminate on every trivial matter of crypto license, registration, trade, and security which makes them special. Hence, their charges are higher. Premium charges are set for such suggestions and legal matters to get crypto businesses out of predicaments. The laws for cryptocurrencies frequently change for every country. Many nations are setting guidelines to accept digital money, which can open up new opportunities for crypto startups to work with governments and other organizations.
How does a crypto business startup start?
As with any other startup or new enterprise, intense market research and calculated strategies are the primary steps to kick-start a crypto business. Here are a few factors to consider.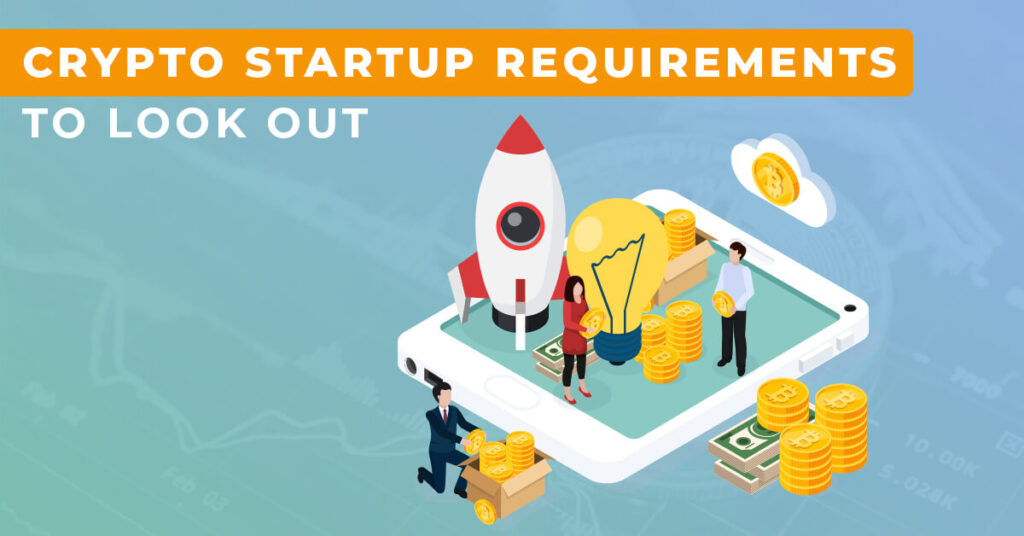 Gain knowledge
From costs to risks, cryptocurrencies are to be studied thoroughly. Tax regulation has been one of the most complex matters for entrepreneurs, and crypto won't be spared. In fact, the rules would be much complex when countries customize the rules as per their national interests. Businesses that adopt cryptocurrencies as a legal tender will have to undergo licensing and registration of all kinds; hence, special legal counseling will be mandatory. Enterprises or startups in the crypto business shall have domain expertise before getting into it.
Target client
People interested in dealing with cryptocurrencies are premium. The luxury clients interested in newer technology for smooth financial transactions or trading are targeted in the crypto business. On the other hand, big companies are also interested in crypto transactions; say, in March 2021, Tesla declared that they would accept Bitcoin for Tesla car purchases. The company backed out later, but that didn't restrict other companies from accepting digital currencies.
Privacy priority
Customers use crypto wallets to make transactions. Make sure that your crypto business gives priority to privacy. It would help if you took extra precautions to make your business a safe portal to deal with. Confidentiality is what the present buyers look forward to.
Multi-currencies
Around 6000 cryptocurrencies exist in the market, and it is growing every day. Since digital money is a new concept, there are chances of prevalent opportunities for skullduggery. Hence, you need to ensure that you adopt more than one currency for your business, but the genuine ones.
A farsighted entrepreneur looks forward to going beyond ossified trading methods and adapting crypto transactions. Thus, your startup business, or let's call it a crypto enterprise, requires professional software development companies that takes care of security and abides by local body regulations. Outsourcing the project to an offshore IT company helps you build crypto solutions without compromising on product quality. Alternatively, you can hire freelancers to build a crypto app or website, but you should go through an authentic agency.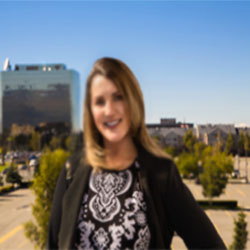 A professionally engaged blogger, an entertainer, dancer, tech critic, movie buff and a quick learner with an impressive personality! I work as a Senior Process Specialist at Topdevelopers.co as I can readily solve business problems by analyzing the overall process. I'm also good at building a better rapport with people!