There has been an immense growth seen in the arena of the web and mobile app development in the last decade. A lot of technologies have been invented and many of the exciting technologies have experienced a boost in their usage.
One such highly admired technologies or framework in recent times is ReactJS as it allows businesses to build robust websites or web applications with an interactive user interface to connect with more and more users.
The ReactJS library is powerful enough to allow businesses to develop innovative web platforms that deliver a better customer experience by maintaining the scalability of the app at the same time. ReactJS plays a role as an application development utilities, components, and architecture of tools.
In the tech world, you can find many alternatives to ReactJS such as AngularJS, Cycle.js, Backbone JS, Ember JS, Preact, Inferno JS, and more. But, due to the advanced capabilities, ReactJS stays ahead in the competition.
Do you want to explore about ReactJS abilities that influence your web development? This post unveils top reasons that convenience you to consider ReactJS as your next web development technology.
We will start with a basic understanding of technology. Here you go.
What is ReactJS?
ReactJS is a JavaScript library that is invented, developed, and maintained by Facebook. Being a declarative, flexible, and dynamic open-source technology, it helps in creating simple, scalable, and fast web applications in less time.
It allows the best web developers to build high performing web solutions with minimal coding. Moreover, it has the exponential capability to build applications with advanced features that are perfectly suitable for all sizes of businesses and all types of industries.

Image Credit: SimilarTech
Today, more than 1,000,000 live websites are using the ReactJS as their framework. Many Fortune 500 companies such as Netflix, Apple, IBM, Walmart, New York Times, LinkedIn, PayPal, Yahoo! are already using ReactJS. It clearly shows that the technology is widely adopted by different industry verticals.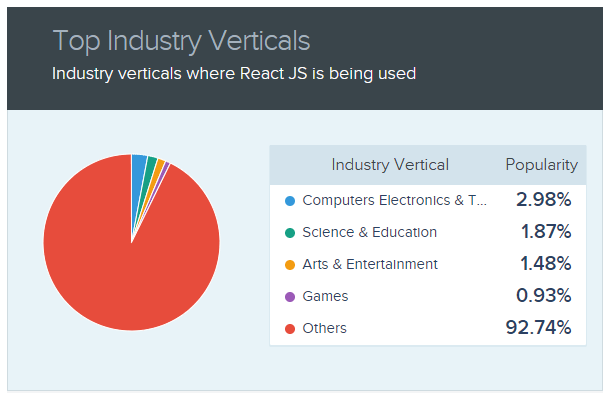 Image Credit: SimilarTech
Though there are many alternatives, ReactJS happens to be a better choice for developing next-generation websites or web applications.
Do you want to explore the benefits of considering the ReactJS library over other alternatives? Let's delve into it.
Why select ReactJS for your Next Web App Development Project
Code Reusability
Code reusability is the main objective of any web developer while developing web apps or websites. ReactJS allows web developers to build sections of codes called components. These components are reusable whenever required. It also makes maintenance and debugging easier for software engineers.
By allowing programmers to reuse the code, ReactJS helps them in controlling the data flow. Code reusability saves a lot of time and effort from web developers for creating the same code repeatedly from scratch.
Easy to Learn
Compared to others, ReactJS is a less complicated and straightforward framework. As it is easy to learn and understand technology, developers prefer ReactJS for creating web apps.
It allows programmers to use JSN extension along with the syntax. Unlike other frameworks, if you want to learn ReactJS, you must have a basic idea about CSS and HTML.
It is because of these reasons that ReactJS is quite easy to learn as compared to other front-end technology like AngularJS.
Code Stability
ReactJS offers better code stability compared to other technologies. It uses the single way downward data flow that ensures even the smallest modification that takes place in the child structure won't affect the parent structure of the code.
ReactJS lets the developers make changes in any specific components with affecting the rest of the code. All ReactJS developers can change the state of the components and modify them for code stability.
Essentially, ReactJS enables web app developers with data flow and structure that allows them to build web applications with code stability and smooth performance.
SEO Friendly
In website development, SEO is a very essential aspect. And, most of the search engines cannot read the website that is built on using JavaScript applications. ReactJS allows the website developers to build SEO friendly websites.
The ReactJS technology contains many advanced features of faster rendering time that adapts app performance in real-time based on current user traffic to reduce the page loading time. The less the loading time, the more chances your website rank high on search engines like Google.
Most of the JavaScript frameworks do not have such capability.
ReactJS runs and returns a Virtual Document Object Model (DOM) request to the browser, and renders as a regular web page. Thus, ReactJS technology allows search engines to crawl JavaScript-based web apps.
Using the JavaScript library, ReactJS benefits businesses by developing websites and applications that can be easily crawled by search engines that eventually optimize your online visibility.
Fast Rendering
ReactJS contains the codes for some advanced rendering platforms and engines that you won't find in other libraries. These platforms allow React developers to build high load applications with ease by maintaining the performance at the same time.
To ensure that ReactJS doesn't face the issue of website loading, the Facebook team has implemented virtual DOM to eliminate the problem of rendering.
Leveraging the DOM operations and selecting the right algorithm from a vast range, ReactJS developers can create dynamic pieces of the web app. Offering fast rendering, ReactJS helps you to improve user experience and maintain high performance.
Strong Community Support
One of the important reasons for considering ReactJS over the other frameworks is its active and strong community support. Developers can learn the technology in different ways by getting quick support from the open-source library as well as coders across the globe.
Due to the strong community support, developers who are new to the technology do not feel hesitant to adopt ReactJS to use it for their projects. They are assured if there will be an issue they can get the required support from the community.
Compatible with React Native
React Native one of the highly popular technology for mobile app development. It is widely used by the top mobile app developers as it allows to build simple to complex cross-platform applications.
To build mobile apps, React Native uses the components of ReactJS. Moreover, both technologies work on the same principle.
Thus, ReactJS plays a major role in your business expansion by allowing you to develop mobile apps. You can use the React Native framework for mobile app development where you can migrate all the react combatants effortlessly.
Using the JS code, software engineers can work faster and more efficiently. Eventually, they can build an app in much less time compared to other frameworks.
Usually, app developers need to restart the developed app to view the changes in it after releasing every update. React Native allows programmers to view the changes just by refreshing the page. Thus React Native helps to reduce your product development cycle.
React Native-based mobile app allows skilled app developers to write the code for one platform and use 80% of the same code for another platform. Though it is a cross-platform technology, the app provides native-like performance.
Optimized App Performances
ReactJS libraries are much more efficient than other technology frameworks. This is one of the key reasons for developers to use ReactJS for web app development.
The technology uses virtual DOM that helps in reducing the usage of substantial code such as JQuery and other bootstrapping libraries. This makes the app development process faster, efficient, and accurate.
To build an amazing web app, ReactJS helps to create an engaging front-end design and combine it with its quick rendering capability.
Conclusion
After analyzing the above-listed points, you might be clear about why you should consider ReactJS for your next web development project. It is an excellent front end framework that enables developers with easy to use features and helps businesses to improve the time to market of their solution.
Using the simple components of ReactJS technology, developers can build an intuitive user interface. Additionally, you can develop simple and highly dynamic web applications using ReactJS that help you in achieving your organizational objectives.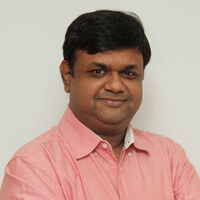 Sandeep holds the position of CEO at Credencys Solutions – a mobile app development services company. He helps clients to bridge the execution gap with services including Consulting, Design & Architecture, Product strategy, Software development, DevOps, Managed Services. He has more than two decades of experience in creating world-class teams and driving innovation through cutting edge products. With a motto of 'Go Digital,' Sandeep delivers an Extraordinary Customer Experience to its every client.