The extraordinary experience contemporary technologies offer today has been unprecedented. The latest icing on the cake is Metaverse –a marvelous fusion of Virtual Reality (VR), Augmented Reality (AR), and Extended Reality (XR). The metaverse is the next and probably a bombastic form of the Internet that can superimpose virtual objects to the real world. If split, it's 'meta' means beyond and 'verse' as in the universe.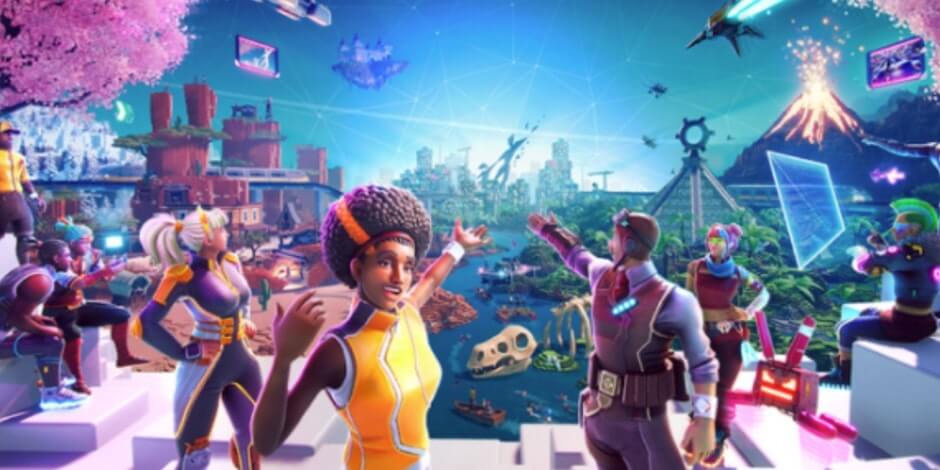 So, the metaverse is what?

A digital utopia that humans can actually live and experience!
The metaverse depicts a common digital world wherein users gather, engage, and share their ebullient experiences without being physically present. In fact, the digital setup is to transform the user's physical self into virtually omnipotent with more power and flexibility. The metaverse would focus more on building a persistent image of a user's character rather than their evanescent being.
Quite limitless! Top-notch companies such as Facebook, Epic Games, Roblox, and Decentraland have already unleashed the metaverse giant to push their products and services toward unparalleled user experience. Whether Paris Hilton in Decentraland's Metaverse Concert or other performers in Lil Nas X concert on Roblox, millions of people witnessed the true marvel of the latest technology. The note "The metaverse is the next big investment theme" from Morgan Stanley is not exaggerated.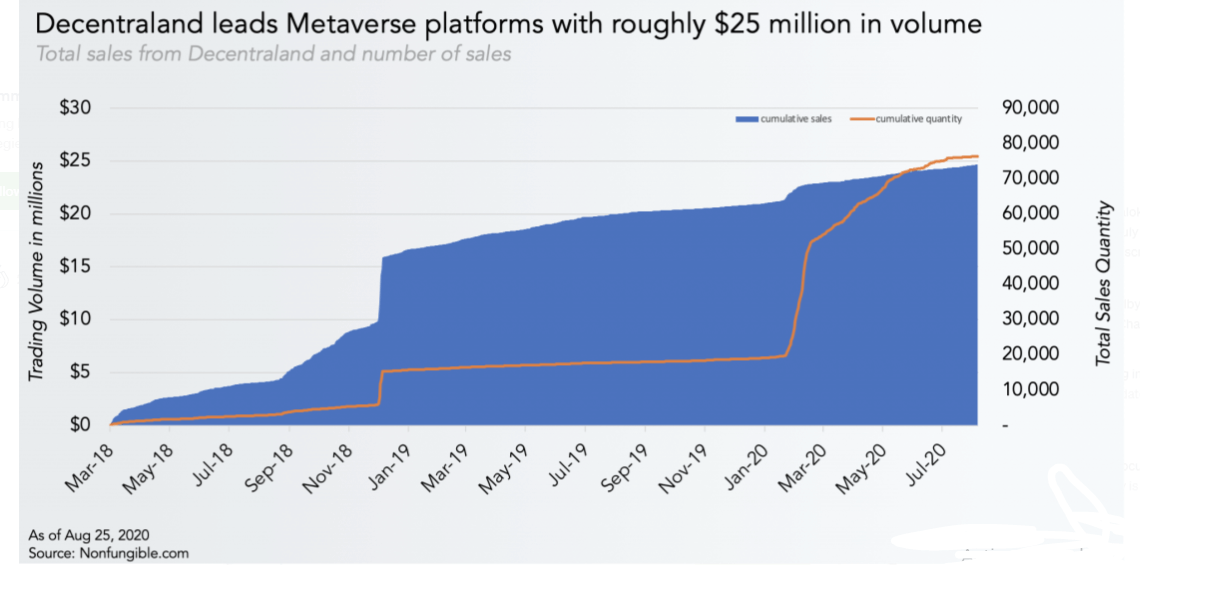 Thus far, big players have built their customized versions of the metaverse, but the 'real' one would be built only when organizations and companies are globally connected and synchronized. The cross-company ties to provide seamless experiences to their collective users through digital empowerment would come soon enough.
A giant leap by Facebook toward Horizon, the social reality networking application, proves that tech companies are serious. The digital beings (or let's call them avatars) from around the world can virtually work, play, and share their experiences with each other. Microsoft, too, is into building enterprise metaverse to add their chapter into the latest trends.
It is not alien to the present-day enterprise that engaging customers and providing them with a unique experience are the two ultimate keys that can open any lock of opportunity. In Cathy Hackl's own words from Forbes,
Just like many in the early 2000s thought they would never need a social media presence (many leaving it in the hands of their summer interns to manage and set up the corporate social media accounts), brands in the 2020s will need to start setting up metaverse teams that will help them enter the era of Web 3.0.
Simply defined as a shared, persistent, three-dimensional virtual environment, the metaverse would enable users not just to look at embodied Internet but also live in that. The technology would involve multiple devices and gadgets ranging from handheld mobile phones to TV, VR headsets, and AR smart glasses.
The social media giant Facebook (Meta) calls itself a metaverse company and has already tried Horizon Workrooms virtual offices. It showed employees in cartoon avatars taking their seats around a virtual conference table and communicating on a common shared writing board.
Likewise, Microsoft, too, showed its virtual collaboration technology Mesh and HoloLens. The Mesh is a step further to augmented reality, which they call 'Mixed Reality (MR)'. Supported by Azure cloud, the technology allowed users from various locations to gather and share holographic experiences all across devices.
Deploying newer software and hardware devices could obfuscate the metaverse technology to adapt; in fact, it is the biggest challenge for startup enterprises. The future industry would need to craft separate technology protocols and communication standards. On the other hand, Nvidia and Unity Software have set their minds to sell tools built on future metaverse technology. Also, it is more than just a network of smart devices –
"To enable widespread adoption and help accelerate the development and evolution of an interoperable peer connectivity and communications framework based on AllJoyn for devices and applications in the Internet of Everything." — Allseen Alliance
Setting standards for the metaverse could be a pretty big sum. Have a look at what DNLA defines –
The Digital Living Network Alliance (DLNA) was founded in 2003 by a collection of global companies with a vision to easily connect and enjoy photos, music and video among networked consumer electronics, PC and mobile devices.
The collaboration between industries and companies for setting and accepting standard-based interoperability is the pillar to adapting the metaverse. Companies like Facebook, Nvidia, Unity, Amazon, Apple, Microsoft, etc., would initially absorb the toolsets that define designs, development, and operations for their own metaverse.
The issue would arise when such players would compete to set open standards but would be reluctant to claim the proprietary rights because of the possible loopholes on the primitive nature of the technology. The APIs would form the pillar of interoperability; nevertheless, it won't be like hitting a sitting duck because various platforms would compete with each other in the same fragments.
A detailed graphical presentation of the virtual (metaverse) open OS model is beautifully carried out by Outlier Ventures.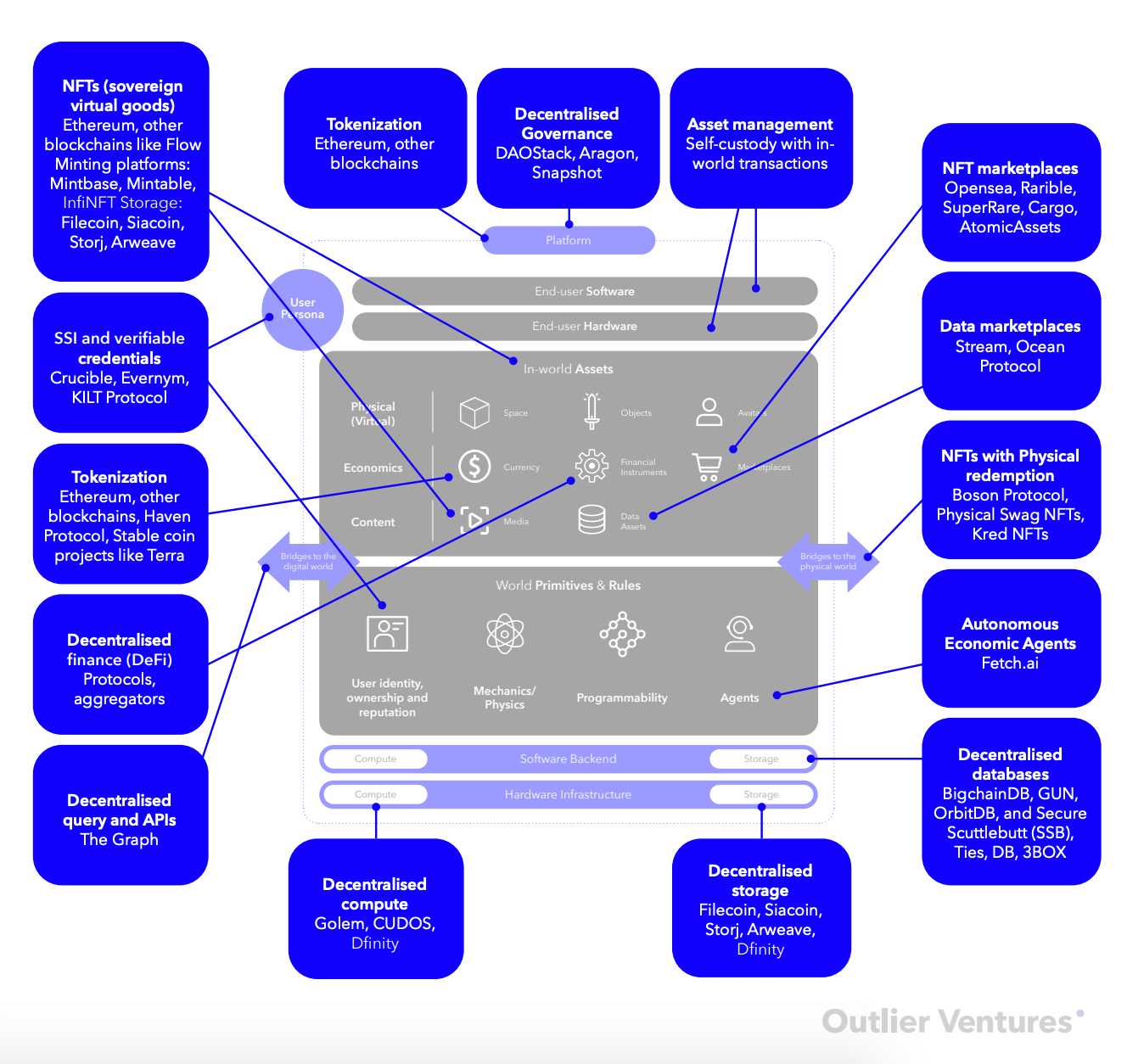 The ray of hope comes with economic trends in the digital market. For instance, Disney's Pixar made its file format, Universal Scene Description (USD), an open source. The result – it helped developers build interchangeable three-dimensional data. Likewise, Nvidia built an Omniverse platform that used USD to successfully pull in assets from AutoCAD, Unreal, and Maya to form a standard sharable virtual environment. In short, there cannot be one encompassing metaverse which can control everything.
The metaverse is to offer many opportunities to enterprises in quite near future. The all-encompassing, closely knitted Internet society of the metaverse has recently shot to be a priority for most companies during the pandemic. The seven layers of the metaverse have a lot to offer. The creation and distribution of content have changed for personal and professional works during the lockdowns worldwide, forcing everyone to opt for metaverse, the untraditional super digital environment. The technology offers a gamut of opportunities to young entrepreneurs to invest in metaverse startups. Here are a few –
Remote work platforms
The meeting application Zoom shot to its fame in the pandemic. The lockdown taught multinational companies that their workforce is more productive from their homes; even further, they observed marked savings in their overheads. Clear as a crystal, enterprises investing in building remote work platforms based on the metaverse make relatively better business sense. Metaverse would offer more dynamic and virtual reality space for collaboration and teamwork.
Also Read: How to hire remote developers from an offshore IT Company?
Digital products
Different avatars have been quite a rage for the past few years. In fact, most games monetize clothing and other accessories of characters and their vehicles as users want their characters to look different and dashing. Literally, anything can be made digital, and this could be a bomb for enterprise businesses in the metaverse.
Games
Games are probably the genre that fueled research and advancement in metaverse technology. Axie Infinite reported a whopping $190+ million revenue in just over a month; the AXS token shot to USD 162 after Facebook rebranding. Lastly, Facebook's latest metaverse announcement has pushed an accelerator on ample blockchain games on their success path. Startup metaverse enterprises may look for building hyper gaming experience with multi-dimensional effects.
Sponsorship
Hosted in the metaverse, giant events and concerts make great headlines all over the world. Sponsoring such events and concerts could be one of the best bets for startup enterprises. Recent examples of such business include Travis Scott's event by Fortnite and Minecraft's popular music event by Massive Attack. These events successfully made headlines and attracted everybody's eyeballs surfacing all hints that the future belongs to events and concerts held in the metaverse.
While enterprise startups can find various sectors of metaverse to invest in, the primary cash will flow into the areas to build metaverse. It is because the technology is still in its infancy but is growing at a tremendous rate. Billions of dollars are put by global tech giants in building metaverse.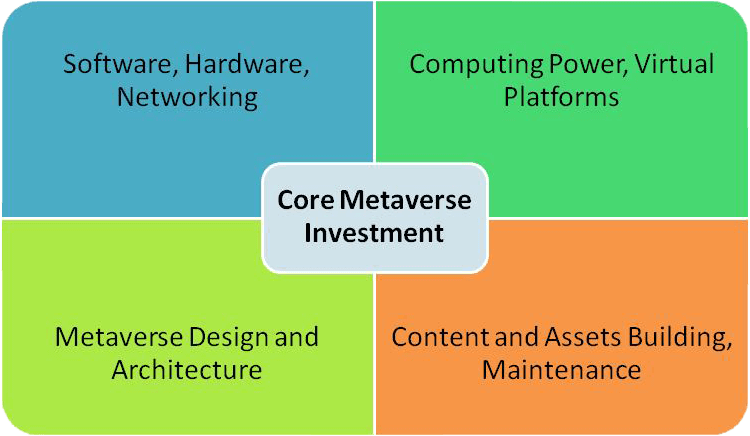 According to Jed Strong, CEO of gaming payments company Tiv, the growth of metaverse is going to be relatively gradual. The wholesome of the metaverse will be felt only when interoperability would power the real-time three-dimensional worlds on a massive scale. Nevertheless, it is pretty evident that any new technology would require significant funds to build the core infrastructure abiding by internationally set standards and regulations.
Lately, crypto and blockchain technology have successfully bagged billions of dollars from investors. The technologies can further enable all payment gateways within the setup of the metaverse. Blockchain technology is also expected to assist users in building a consistent identity across the metaverse atmosphere. For instance, while traveling from the Roblox universe to Fortnite game, the user can maintain a consistent identity.
Brian Biggott, co-founder of social metaverse startup Octi says that there could be innovative ways to conduct commercial activities using the metaverse. The social experience could be made unique by using AR technology for buying and selling goods.
The present bot algorithms track users to know their choices based on the browsing history; instead, the metaverse can open an all-new way to know everything about the user how they build their virtual world. Blockchain technology would help improve persistency to provide real-time network building by maintaining a high-bandwidth and low-latency user experience. Though the metaverse is in its crawling phase, the global-scale VR customized environment will likely grab innumerable users worldwide.
Also Read: How Is Blockchain Technology Reinventing Various Industry Verticals?
The time is now
Established companies have been already adapted the metaverse for their own branding. Crunchbase database has 150 enterprises with the metaverse in their company description. These companies rose just under USD100 million through various funding sources. Companies such as GuildFi, Uplad, and Inworld AI have already invested in virtual characters, NFT metaverse, and gaming platforms. Depending on the funds you have or arrange (bootstrap or crowd), you can venture into the metaverse.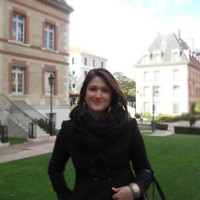 An enthusiastic Operations Manager at TopDevelopers.co, coordinating and managing the technical and functional areas. She is an adventure lover, passionate traveler, an admirer of nature, who believes that a cup of coffee is the prime source to feel rejuvenated. Researching and writing about technology keeps her boosted and enhances her professional journeying.