According to research, worldwide spending on Digital Transformation technologies is to reach a phenomenal $2.3 trillion by 2023. It points out the fact that enterprises are increasingly viewing Digital Transformation as a long-term investment option. When enterprises all over the world are planning to spend so much on Digital Transformation, then as a small business owner, you just cannot afford to sit on the sidelines.
Many small business owners are apprehensive about Digital Transformation. They think that Digitalization is not for them. On the contrary, Digital Transformation helps small business owners take on their bigger competitors head-on. It helps them level the playing field to a large extent through the innovative application of digital technologies.
Top Mobile App Development Companies can efficiently guide you in the process of Digital Transformation.
What is Digital Transformation?
Digital Transformation is a term that is being tossed around quite frequently in the digital world. But very few people actually understand it perfectly. Everyone has their own set of beliefs and understanding which makes it less efficient in implementation.
Contrary to popular belief, Digital Transformation is not just limited to building a website or a mobile app. Many people think that the job of Digitalization is complete when they build a decent website or a mobile app or both. Digital Transformation is the process of taking a completely new approach regarding a traditional offline business.
In Digital Transformation, we are concerned with the integration of digital technology in all the major areas of a business. The idea is to align the business with the needs of the digital customer so that the business can deliver value to the customer in the most efficient manner.
Digital Transformation is more of a cultural change which challenges the traditional status quo of doing business.
Why do Small Businesses Need to Invest in Digital Transformation?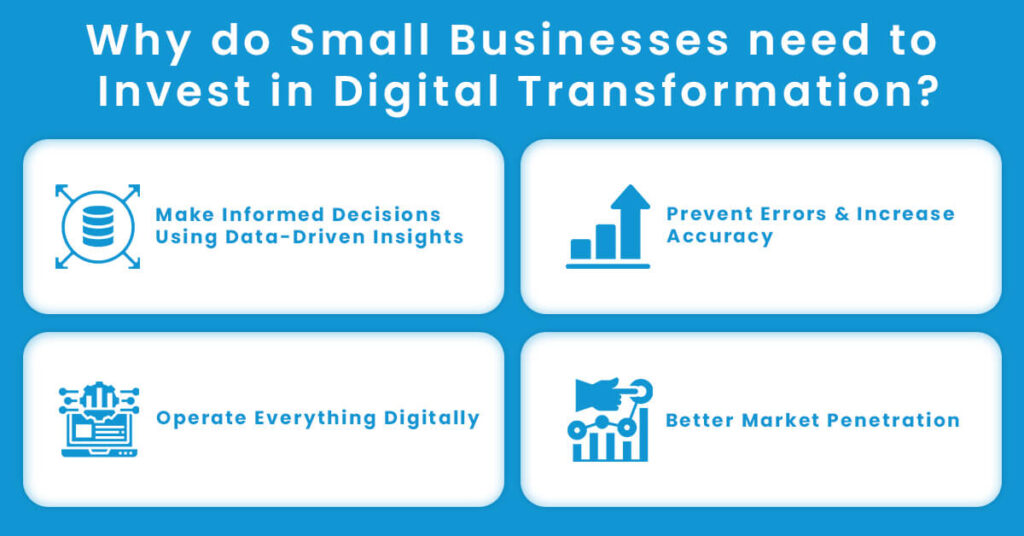 Now the question arises why, as a small business owner, you should opt for Digital Transformation? Let's have a look at some of the top reasons that will help you to make the decision to transform your business to digital.
Make Informed Decisions Using Data-Driven Insights
Gone are the days when you needed to rely on your intuition to make business decisions. Using Big Data Analytics now, you can inculcate the process of data-driven decision-making into your small business. Data helps you in validating a particular course of action in your business before you commit to it.
Data-driven decision making can be used to:
Identify the requirements of customers by analyzing their response to the products and services of the business organization.
Find out potential issues in a particular product or service and also identify possible solutions.
Test the market for a new product or service.
Data-driven decision-making is for businesses of all shapes and sizes. Earlier, only enterprise-level organizations had access to sophisticated algorithms that could derive insights from data produced by these organizations. But with the rise in the number of smartphones and other smart devices such as IoT sensors, the amount of data produced by humanity broke all previous records.
With the rise in the level of data produced, data analytics started becoming more affordable for small businesses. Today any small business can access the treasure trove of data produced by it and gain meaningful insights from it at a substantially lower cost. Lower costs make a case for SMB Digital Transformation more robust.
Operate Everything Digitally
Digital Transformation allows a business to operate digitally. Are Banks closed for the day? Don't worry; you can accept or give payment through digital means which are working 24×7. Employees cannot come to the office for some reason? Let them work from home.
Through Transforming your business processes for digital, your business, be it small or medium size, can automate tasks like employee management, production management, Purchase, supply chain and logistics management. By automating these daily tasks, you will be able to focus on strategic future planning for your business.
The leading web development companies can build the best business solution based on your requirements.
Digitization can help you in operating your business remotely with little human intervention, thus improving the efficiency of your business exponentially.
Prevent Errors and Increase Accuracy
Suppose you are planning to launch a new product in the market, which one of these statements inspires more confidence?
"I have a gut feeling that the colour of this product should be yellow, people love the yellow colour."
"Data shows that the yellow variant of our competitor's product has received good response from the market; sales have improved by 33%."
If I were an analytical businessperson, then definitely the second statement would inspire more confidence in me.
That is the beauty of data, it inspires confidence, and you do not have to remain dependent on your "gut" feeling anymore.
With data backing your decision, you will be able to decide in a much more confident manner. Whether the decision is regarding launching a new app or product, changing the look and feel of your website or app or anything else, with data driving your choices, the propensity of your choices proving correct will improve dramatically.
By increasing the accuracy in your decision-making process, data analytics helps to propel your business in the right direction without worrying about the preciseness of the decision.
Data is more reliable than your instincts because it is concrete, a characteristic that your gut feeling just does not possess. To instill confidence in decision-making, removal of subjective elements from your business decisions is necessary. Data analytics achieves this purpose for you.
Understand that the data must be accurate for data analytics to be correct. If the data collection process is inherently flawed, then you cannot expect great results.
Better Market Penetration
New customers are the lifeline of any business. Transforming your business processes to digital is an initial step in helping the business reach greater heights. Digital Transformation tools are revolutionizing the way we do business, and they can aid you in gaining access to new customers in different geographies.
There is a huge amount of data available to businesses and making sense of the huge chunk of data will ensure that big data plays a vital role in business success. Through Digital Transformation tools, your business will not only penetrate previously unexplored markets but also find out new customers within your existing market.
When you are planning to introduce new products into a particular market, then accurate market segmentation is vital for better market penetration. Digital Transformation tools can help you in correct market segmentation, thus allowing you to target your product/service to the right customers. Digital Transformation tools can help in improving your customer conversion rate manifolds, helping you in building a loyal customer base.
Steps for an Effective Digital Transformation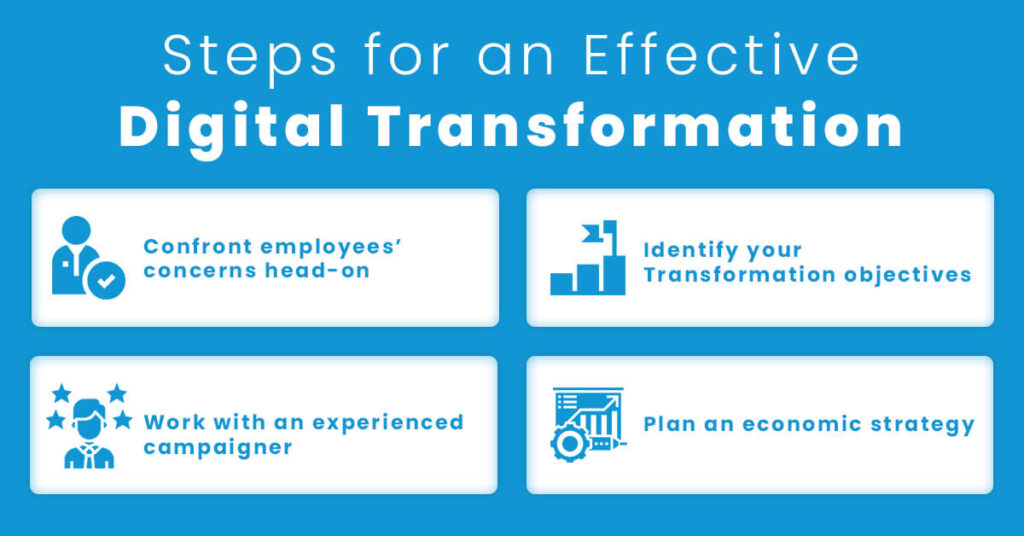 So you are all excited about leveraging the benefits of Digital Transformation for your small business? Then let's delve into the steps required to complete the process of moving to a digital business effectively.
Identify your Transformation objectives
The first step towards your Digital Transformation journey will always entail identifying your transformation objectives. Understand that through Digital Transformation, we are seeking to address specific challenges. Hence the nature and extent of these challenges must be specified in clear terms.
You might need to evaluate all the policies, workflows, and work practices of your business first and see whether they are aligned with the digital way of work or not.
By having clear objectives, you will be able to finish your goal of achieving the digitalization of your business quickly.
Plan an economic strategy
A grave mistake that small businesses make while selecting a Digital Transformation strategy is that they bust the bank in going for bleeding-edge Digital Transformation technologies.
You don't need to spend serious money on availing of that ground-breaking innovation in digital technology. Remember, you are a small business owner, and hence you need to be wise with your investments. There is no harm in going for cheaper options if they serve your purpose well.
First, identify whether Digital Transformation will help you in making the existing processes of your business cheaper or not. By using simple tools like predictive analytics before spending on advertising, you can test the waters of digitalization before delving deeper.
A similar device is CRM (Customer Relationship Management) software, which is cost-effective and small business owners can easily take its advantage.
Work with an experienced campaigner
Some professionals can help you with your Digital Transformation journey. Such Top IT companies will aid you in gaining an upper hand while taking the Digital Transformation journey. Find a technology partner that has experience in helping small businesses in making the process of moving to a digital business.
It will not only speed up the process considerably but also take off a lot of cognitive load from your mind. Understand that you are an expert in your business and not a Digital Transformation expert.
By outsourcing your Digital Transformation project to efficient digital marketing agencies, you will be able to smoothen the process considerably.
Discuss with your potential technology partners about your requirements and chalk out an effective Digital Transformation strategy that will aid you in your journey.
Confront employees' concerns head-on
Digital Transformation is a change, and any change faces some resistance as humans by nature are resistant to change. To make your Digital Transformation strategy work, you must take your employees into confidence. Discuss with your employees upfront about the reasons why the business is making the use of digital technologies to change a business model.
Usually, employees fear that the Transformation of business digitally will be difficult for them, or they might lose their jobs. Win their trust by explaining to them the benefits of Digital Transformation in their daily work and show them how it will help them in increasing their productivity.
Ensure that your employees are sufficiently trained in the digital tools so that they can transform without any hiccups.
Future is Digital
There is no business small for Digital Transformation, and small business owners are an industry group that can benefit more by adopting digital tools. Understand that you will be swimming against the tide if you choose to ignore transforming your business processes for digital. Because the future is digital and you do not want to be an analogue player in a digital world.
By taking the help of Digital Transformation specialists, you can quickly achieve your goal of digitally transforming your company, making it future-ready.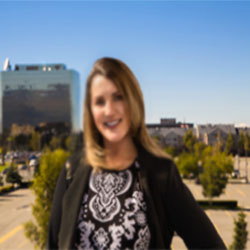 A professionally engaged blogger, an entertainer, dancer, tech critic, movie buff and a quick learner with an impressive personality! I work as a Senior Process Specialist at Topdevelopers.co as I can readily solve business problems by analyzing the overall process. I'm also good at building a better rapport with people!