What are the different types of mobile apps?
Before you go hunting for the best app development companies in the world, it's good to have some basic understanding of the various mobile apps and their types, so as to be clear about your app requirements.
Native apps
The coding methodology used for native apps is such that these types of apps become platform-specific. A native iOS app developed will work on only the iOS platform and the vice-versa is also true.
The companies that develop apps use some specific tools and languages to develop a native mobile app that is supported only by the respective operating system. A native app is normally much faster and has more features as compared to the other two.
You should opt for these kinds of apps only if you need to make use of the lightning-fast processing speed in your app or a large chunk of your targeted users are using a specific Operating system.
PWAs
PWAs or Progressive Web Apps are web applications that give a mobile-like experience to the user.
No requirement of storage space on the device, SEO friendliness, low cost, speed of development, and versatility to work with various screen sizes and devices are the benefits that have made PWAs popular.
PWAs are ideal for businesses looking to provide a similar experience to their users across multiple devices at an economical cost.
Hybrid apps
These apps are platform-independent and they work well on both iOS as well as Android platforms.
They provide versatility to the app as a hybrid app can be easily accessible across many platforms and operating systems.
If you want to reach the maximum number of people quickly, then a hybrid app will be your go-to option.
---
What are the benefits of Outsourcing app development services?
Although you can always choose to develop your app in-house, there are many reasons to outsource your requirements to mobile app development companies.
Saves you from the hassle of hiring and managing a team
If you are starting from scratch, then assembling an efficient in-house app development team can prove to be quite a task. It's much easier to hire the best mobile app development firm that is already established in the market as a reputed app developer. Also, the time taken to build a team can be used more effectively by using it to improve the business processes.
Gain better ROI by saving costs
By outsourcing app development services, you will save money not only on hiring an in-house team but also on the time and money required to set up the relevant infrastructure. Your app development partner will already have the systems and resources required to develop a mobile app and you won't need to break any bank installing them.
Faster time to market
As professional app development companies are proficient in their work and hence can easily ensure that your app gets to the market at a lightning-fast speed.
Round the clock support
Experienced mobile app developers in the world efficiently handle every issue that arises in the app development process right from commencing the ideation phase to the execution stage.
Access to a broad talent pool
One of the most important benefits that you gain by hiring the best app development company to outsource is that you will have the option to select from the top mobile app developers all around the world. While if you decide to hire an in-house team, then the talent at your disposal will be a limited one pertaining to the app developers you have hired as your in-house team.
---
Few things to consider before you hire the best App Development Company in the world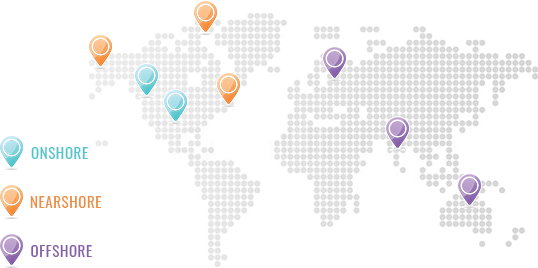 Location of the company
You can classify mobile app development companies, and app design companies based on their location into three categories;
Onshore app design companies are located in your country. The advantage of giving your work to an onshore app design and development company is that you will have the benefit of working in the same time zone, culture, and language. For instance, if your business is located in USA, there is a high probability that onshore mobile app development companies will cost you dearly.
Nearshore mobile app development companies are those that are located near your home country. For the US, Latin American countries like Argentina and Brazil will be nearshore locations. With nearshore companies, you can have a better balance between time zone and cost for app development services.
For a company located in USA, the offshore destinations would be Ukraine, India, and the Philippines. The major benefit that these companies provide is that of cost, you can have your app development requirements taken care of at significantly lower prices.
Domain Expertise
While you are in pursuit of your ideal app development company, look for one that has previously worked in the same industry in which you wish to develop your app. This provides an assurance that the skilled app development service provider already knows certain things about the industry and hence will be able to provide valuable inputs.
Working hours and Communication
Before you zero in on a team of expert mobile app developers ensure that you and your team have the maximum number of overlapping working hours. This will help in having direct communication on any matter and thus saving more time.
The communication protocols should be defined clearly as this leads to confusion in the later stages as the mobile app project progresses. Decide the mode and time of communication with the professional app development firm so that you can be clear about the expectations right from the initial stage.
Various types of app development pricing models by the leading companies that develop apps

Ask for a detailed break-up of the costs involved in the app development process before you make a decision to hire the top app developers in the world. Ensure to have clarity regarding the app maintenance costs as well as the app publishing costs.
Most of the top app development companies will charge you on an hourly basis or on a monthly basis. You can also opt to make the payment on a lumpsum basis, only if the scope of the app development project is clearly defined with a clear timeframe. Otherwise, we suggest that you go for an hourly/monthly-based cost structure.
Let us have a look at the various app pricing models.
In the fixed-price model, the cost of the entire app development project is fixed beforehand. To achieve this, you need to have a fixed scope of the project from the custom app development company which includes the technical specifications and date of delivery.
This helps in getting a more precise estimation of the costs related to app development. The milestones are set along with their deadlines, and these milestones act as payment triggers.
This kind of model is suitable only when the scope of the project is set in stone because if you change the scope frequently then you will need to re-negotiate the cost & time, and this will cause hassle to both you and your developers. This model is apt when the project is small and all the technical specifications are fixed.
In this model, the app development firms charge you according to the number of hours that are spent on developing your app along with the cost of materials that they spend to develop your app.
The model is nimble and allows you to change the scope of work quickly. If you want to add a new feature that was not in the scope earlier, then you can pay an additional amount for developing this new feature. Another benefit that this model accords to you is that the best app developers will be assigned with the continuous delivery of the project. This will ensure that you are always informed about the cost of app development.
This model is recommended when the project is complex as you will have a great level of flexibility with this model and the app development cost won't escalate without you noticing it.
In this pricing model, the mobile app development companies provide an option to hire dedicated resources like UI/UX designers, developers, and testers for your project. The billing is normally on the basis of the number of hours that these resources work on your project. The major advantage when you hire dedicated mobile app developer is that you retain control over the team and can decide on choosing the team members according to their expertise level. This way you will have greater control over managing the cost related to developing a mobile app.
This model is especially helpful when you are doing a project for which the scope is dynamic.
---
Factors affecting the app development cost
The cost of your app development project depends on a lot of factors, some of the most important ones that the leading app developers in the world consider are included below;
Type of Platform
The cost set by any expert app making company varies according to the platform on which you want to develop your app. For instance, iOS development is costlier as compared to Android app development and Hybrid app development.
Level of complexity
The higher the level of complexity, the more will be the requirement of complex backend functionalities like large databases, more storage space. While a simple app costs $3000-8000 a more complex app will cost around $50,000-$150,000 and a gaming app can cost anywhere between $10,000-$250,000.
Level of security
The level of encryption that you choose will have an overbearing effect on the development costs incurred. The nature of the information that you gather and the number of users you intend to reach decides the level of security required. For instance, a banking app will require more robust security as opposed to other types of apps as sensitive financial information will be managed through the app.
Number of plugins & integration
To boost the capabilities of their apps, many businesses need to use third-party plugins. Social media plugins are the most common type of plugins used in many apps. The top mobile app developers will code APIs to ensure that these plugins work seamlessly with all the intended devices. The more the number of plugins and integrations, the higher will be the cost.
Location
The costs of developing an app fluctuates depending on the geographical location of your app development service provider. The average hourly cost of developing an app with USA based app development companies is $70, with UK based app development companies it is $80, while the Indian app developers charge $30 per hour to develop an app.
The Cost and Time taken to develop a mobile app
The time taken to develop an app and the cost involved with developing a mobile app depends on various factors and hence varies from app to app. But every top app development company follows a definite app development process and what changes is the number of iterations of the development cycle.
We can further bifurcate mobile apps on the basis of time and cost factor;
Simple Apps: These apps will cost you anything from $ 5,000-$50,000 and take 30-90 days to develop.
Complex Apps: Developing a complex app with more features will cost $55,000-$110,000 and take 100-180 days or more.
There are apps for which the time and cost go even higher than complex apps with respect to the technologies to be embedded, the complexity of the app, app features, and functionalities to be integrated act as the major deciding factors.
---
App Development Process
Mobile app development is the process of developing applications for handheld devices using various operating systems. Apps should not only be attractive to a user's eye but also interactive and engaging. From building a prototype to testing the final product, a step-by-step approach in app development phases needs to be taken in a professional manner by experienced app development companies. To provide you a brief overview about the app development process here's a procedural approach that consists of various essential stages:

Discovery Phase
The discovery phase includes in-depth research and analysis by the app development service provider you hire. This is the phase wherein the research on various factors and aspects to consider are taken into consideration and finalized. Deciding which core features to integrate first is the most crucial piece of information that will help in creating your MVP (Minimum Viable Product). Having a list of core features and functionalities by analyzing the market and competitors ready will go a long way in enabling the hired professional app development firm to proceed faster.
App Design Phase
The designing phase involves creating a user journey map, wireframes, motion design, screen transitions, animations and visual user interfaces. It is the most vital factor for the success of an app as the design is the first thing any user notices. User interface (UI) design is essential for providing interactive and engaging interface which turns out to be the core to provide a better user experience (UX).
App Development Phase
After defining the roles and responsibilities of mobile app developers and configuring tools, the most important step of developing the application kicks off. The constraints and features of mobile devices need to be considered for developing apps. The development phase is simply the process of turning your idea into an application with some basic functionality.
App Testing and Deployment Phase
One of the most important steps of app development process is testing to ensure the app quality and deploying it concurrently. Before the application goes live, it is imperative to plan properly and test the app in different environments. The app should be updated frequently by fixing bugs and adding other features to the application which can be further covered under the maintenance phase.
App Maintenance and Support Phase
Even after all the phases of app development are executed, it is crucial to maintain the application and address any issues a user may encounter. Constantly monitoring apps' performance, tracking statistics, detecting crashes and enhancing products is crucial for the success of your application. Most app development companies have a clause for the maintenance of the app so that the businesses can truly rely on the hired app development company for all their development needs.
---
Questions to ask to your mobile app development service provider
While selecting from a list of top app development companies with varying expertise, development skill, and productivity, you need to ask the following questions to the firms to have a better insight with refining the list further.
Can you please show me your previous work?
Have a look at the previously completed projects of the app development solutions provider to have an idea about their expertise level. Talk to a few clients if possible, this way you will get to know how the hired mobile app development firm executes that particular project.
What are the credentials of your app development team?
The team for a project generally consists of a team of UI/UX designers, developers (frontend and backend), QA testers, and a project manager. Make it a point to know the credentials of the team, the mobile app development projects that they have worked on. Ask for a dedicated project manager, this way you will have only one contact point with whom you shall discuss your requirements.
What technologies can an app development company work on?
It is always good to keep an eye on the future while working with a custom mobile app development company that is well versed with a wide range of technologies like big data, virtual reality, and augmented reality. This is important because if the need arises in the future, then you do not need to go looking to hire mobile app developers.
What app development methodology do you follow in your company? And based on the methodology can you provide a definite app development timeline for my project?
Your app service providers should be able to give you a definite process, which they will be following while developing your mobile app. An expert agency well-versed with the nitty-gritty of app development will be able to give you a concrete plan with well-defined time-frames for each stage in the app development process.
---
The Balancing Act
Before going forward, consider whether the top mobile app developers you select are really the best fit for your project? Will the app making company take an interest in the project beyond their business interests? Will they just be contractors or be app development partners in the real sense?
Always weigh in the costs not only in terms of money but also in terms of time. For instance, if a company that develops apps bids the lowest but can't deliver before a couple of months past the timeline decided, then you will need to consider the lost business due to extended time.
The lure of low cost is tempting at first sight, but understand that looking at a good feature to cost ratio will benefit you while selecting the right app development company to hire.