Projections are that by 2025, there will be 7.49 billion mobile app users worldwide. As the number of mobile app downloads increases day by day, it's clear how integral mobility is to our society. While understanding major and minor concepts in building such reliable mobile applications, knowing about average app development cost gives you the essential insights on your dream project.
App development cost estimation is what sits at the very bottom of any mobile app development budget. It is not easy to jump on a specific number during the estimation, but here we will guide you towards a better way of summing up all the costing aspects of mobile app development.
How is App Development Cost Estimated?
Mobile app development is a challenging yet exciting venture. Entering the app development endeavor comprehends a thoughtful plan about your organization, your business goals and your app features. The formula for app development is the number of hours multiplied by the hourly rate.
The majority of the top mobile app development companies lend an app development cost estimate so that you have a rough idea of the overall cost of getting an app developed.
The simple formula for calculating mobile app development cost is as follows:

What Aspects will Mobile App Development Cost Depend On?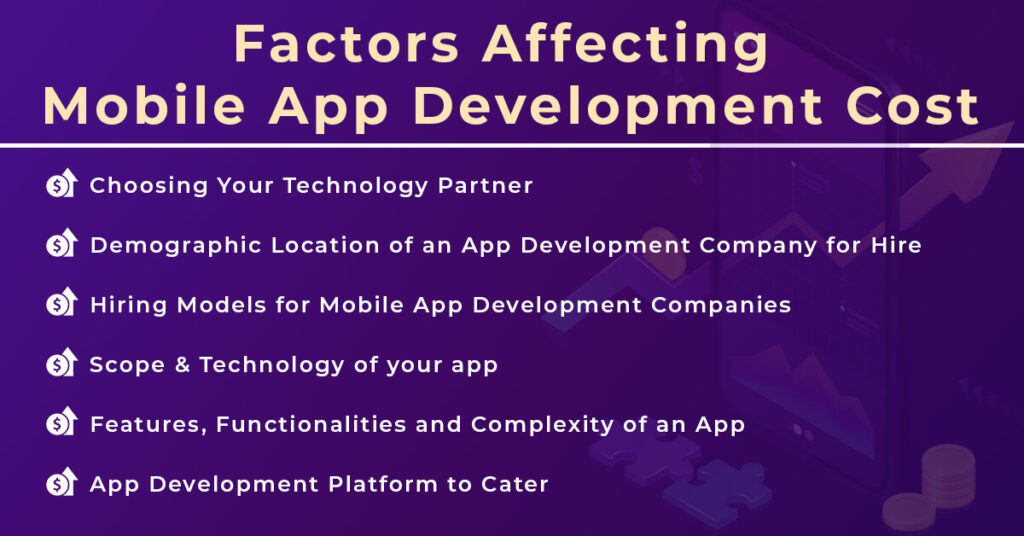 Developing and launching an app is not easy. It takes a lot of technical expertise as well as industry awareness to optimize the mobile app development cost estimation. You can not actually predict the exact amount of the budget required to build a powerful, enticing and compact mobile app.
However, you need to follow a step-by-step procedure to gather the necessary factors that play major roles in the budget for app development. First and foremost, you'll need to gather all the core aspects through which you can establish a base of the project.
Choosing Your Technology Partner
Business owners are often in turmoil while choosing a technology partner for their app development project. Since it heavily impacts the cost of application development, it should be a well-thought decision. Choosing the best mobile app development company gives you an edge over freelancers as they have much more to offer in terms of technology and experience.
On the other hand, hiring freelancers can cut down your typical app development costs to a certain extent.
Pro tip: Establish a communication process that works with both organizations' processes. Based on this information, you can determine the cost as well as the best allocation of project resources.
Demographic Location of an App Development Company for Hire
The demographic location of the offshore mobile app development company, where your app project is going to be developed, plays a vital role in understanding how much it will cost to develop an app. Moreover, the location of the outsourcing agency and remote app developers also matters in the overall budget of your app.
This is because every country or region has its own terms and legal policies for doing business. Their currency expenses differ and so does their market. Hence, how much it costs to make an app, will also differ.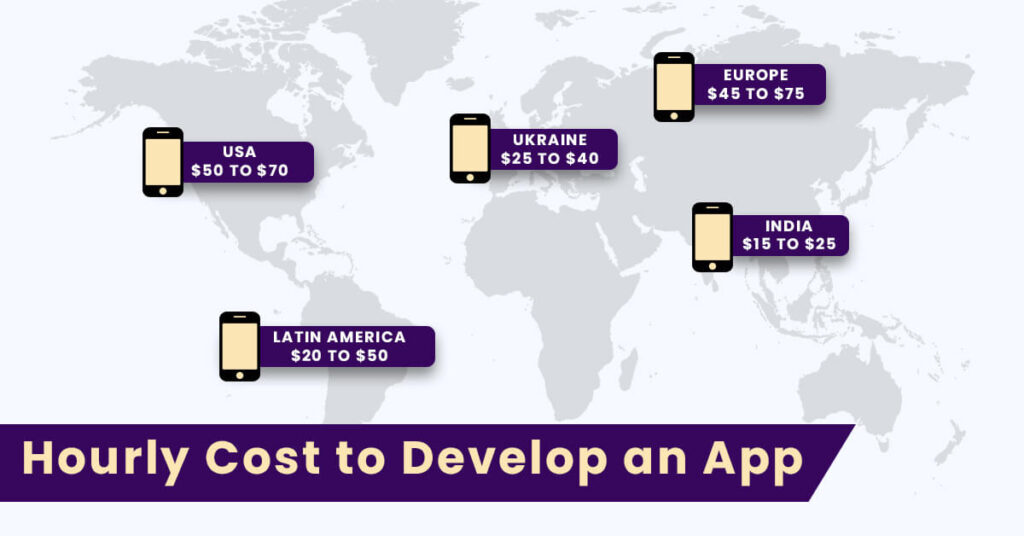 Moreover, the packages offered by a mobile app development agency and freelancing development team also differ. Most of them charge according to the hourly rates, convey how many pages or app functionalities they will build or integrate.
Hiring Models for Mobile App Development Companies
Generally, the mobile app development clients are charged based on the below-mentioned models for mobile app development:
Time and material
Time and material is an elaborate pricing structure that is set on the basis of time and material required for an app development project. It is the best bet for ongoing and complex projects as it gives clients the flexibility of calculating pricing on hourly rates too.
Fixed cost
A fixed charge is a payment structure that is determined by the cost charged for a particular time period. It works best for small app development projects with a well-defined and clear scope of work.
Hourly rate
This hiring model for mobile app development services includes cost based on dedicated app developers' time taken to complete the project requirements. It can vary depending on various regions and the requirements of the mobile application.
Also Read: Which hiring model to choose? Know in detail
Scope and Technology of your app
The scope of app development simply apprises you of the things that should be done to get certain desired outcomes. In other words, if the project scope increases, it leads to increased price as well as time. Ask yourself what are the necessary elements you want to have in your Minimum Viable Product (MVP) and how much of the product you still have to get developed if it's a project on upgrading an application.
The technologies used in mobile application development have grown so immensely not because of the number of development platforms but because of the nearly limitless ways, it magnifies our lives.
Features, Functionalities and Complexity of an App
The cost of app development varies widely based on its features and functionalities. The simpler and smaller the application, the less time you will need for its development, and the cost to develop such mobile apps will be lower. You need to decide on the scale of the upcoming work when it comes to the timing of the app development.
The complexity level of your app depends on the features and functionalities you choose to integrate. Here are the three basic levels of app complexity and their estimated app development quote:
Simple apps- Simple app development costs approx $20,000 to $50,000 for one platform,
Mid-level apps- Mid-level apps cost around $50,000 to $150,000 per platform, For instance, Shopify, McDonalds
Complex apps- Complex apps cost more than $150,000, For instance, Uber eats, Snapchat
App Development Platform to Cater
When it comes to app development, there are two options native and hybrid. The development platform for mobile applications can be chosen based on the business model. It has to be made available if the service demands an app on major platforms such as iOS and Android.
Although these days there is no difference in application development cost based solely on the platform, it varies depending on the features and complexity of the app.
Android apps
Android apps cover the Google play store keeping in mind devices such as android smartphones, tablets, smart TV and much more. Android app development cost differs as the expert android app developers will need to adapt to different screen sizes when it comes to Android OS.
iOS apps
iOS apps on the other hand are made solely for Apple devices such as Apple iPhone, iPad, Macintosh, iWatch and iPod. iOS development cost differs as they are developed keeping a predetermined audience in mind. With Apple backed solution, iOS app development provides a variety of bug fixing tools and supports the entire range of iOS devices.
Cross-platform apps
In order to cash out on both Android and iOS markets, business owners often go for a single cross-platform application instead of two individual platforms. While it seems a jack of all trades, it does reduce development costs with reusable code and a unified interface for both platforms.
App Development Cost Based on the type of app
The cost of app development is directly affected by the app type and the features that are included in the application. For instance, if you are developing a simple app with subtle functions, the app pricing will be less expensive than an app with extensive modern features.
Moreover, based on the services and the features, there are various classifications of mobile applications as follows:
Cost to develop On-Demand Apps – $70,000 – $150,000
E-Commerce App Development Cost – $60,000 – $300,000
Cost to develop Data-Driven Apps – $15,000 – $35,000
Authentication App Development Cost – $40,000 – $80,000
Cost to develop Social Media Apps – $50,000 – $300,000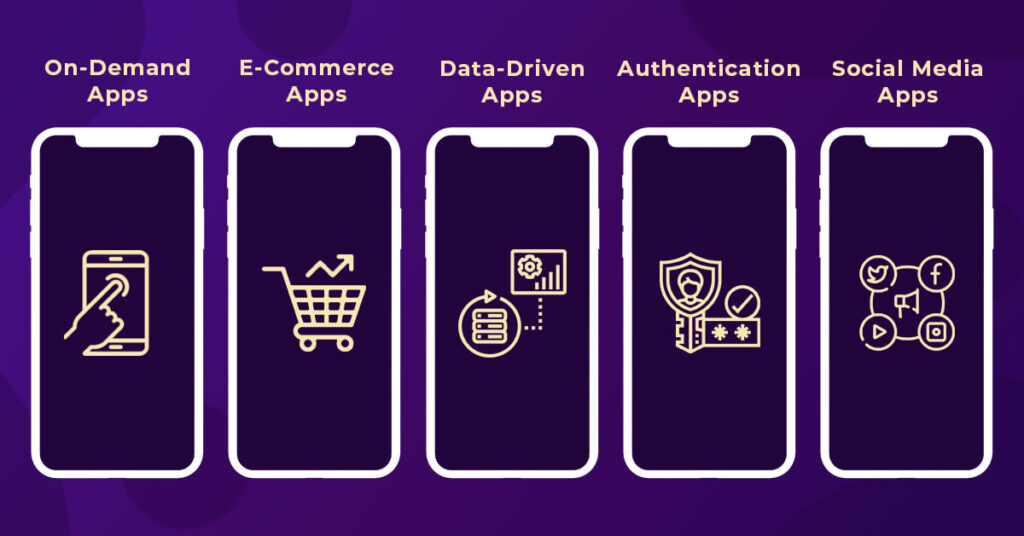 App Development Process – Cost BreakDown
Apart from the key aspects, the subsidiary factors that account for adding mobile app development expenses are in the app development procedure itself. Here is the detailed cost breakdown of the mobile app development process:
Discovery Phase
At the very beginning of mobile app development, there is always the discovery phase that includes in-depth research regarding the application market. The discovery stage includes all the groundwork such as analyzing the market, studying the target audience and gathering industry insights.
You need to decide on the app project requirements and the number of funds allocated for its development. Along with that, the desired development timeline, pricing models as well as the app building platforms to run it and much more. Within a timeline of two to four weeks, the average cost of the discovery phase for app development processes ranges from $10,000 to $15,000.
| | | | | | |
| --- | --- | --- | --- | --- | --- |
| Cost range | Less than $5k | $5k – $10k | $10k-15k | $15k-25k | $25k+ |
| Percentage | 51% | 22% | 7% | 7% | 13% |
Mobile App Design Phase
The mobile app competition is fierce with over a million apps in the market. The first and foremost aspect people notice about an app is how it looks. Even before the user downloads the application to test it and see how it functions, they certainly see its design.
Additionally, UI (User Interface) and UX (User Experience) are essential to make a unique application. Moreover, when it comes to the app designing process, minimalism is the key trend attracting users currently. Designing for simplicity makes the app look modern and chic.
It is tough to create a subtle yet unique UI/UX design and it will have certain additional costs. Its components such as graphic images, icons, push notifications and other design customizations need to be added to your mobile app. The app design costs around $5,000 for an average of 20 basic app screens.
| | | | | | | |
| --- | --- | --- | --- | --- | --- | --- |
| Cost range | Less than $5k | $5k – $10k | $10k-15k | $15k-25k | $25-50k | $50k+ |
| Percentage | 32% | 17% | 14% | 13% | 16% | 8% |
Mobile App Development Phase
The most important step in the entire application development process is the development phase itself. The mobile app development cost estimation varies based on its purpose and the value proportion with the core business function including the steps to create a mobile app. The app development phase includes demonstrating a supportable, producible, interoperable and affordable system in an intended environment.
This phase has two major efforts, system integration and system demonstration. It includes a lot of documentation built upon the necessary details to design the proposed system. The app development project enters a phase when an affordable increment of useful capability has been identified, demonstrated in the relevant environment, and can be developed within a short timeframe.
| | | | | | |
| --- | --- | --- | --- | --- | --- |
| Cost range | Less than $5k | $5k – $10k | $10k-20k | $20k-30k | $30+ |
| Percentage | 9% | 33% | 25% | 17% | 15% |
Mobile App Testing and Deployment Phase
Testing and deployment is just another hurdle that every application has to go through. Testing the app and its features simply ensures a hassle-free service. As the complexity of the app increases, the time taken to test and debunk extends further, thus, the price of mobile app development increases as well.
For instance, a payment application lends various security features along with a navigation interface, a food delivery app comes along with multiple service integrations such as real-time status, payment gateway, communication and location. Therefore, the price entailed in the app development process increases as the feature advances in an application.
If we calculate mobile app development cost, it takes up around 30% of the overall cost of building a mobile app spent on the client-side and around 10% on the admin panel.
| | | | | | |
| --- | --- | --- | --- | --- | --- |
| Cost range | Less than $5k | $5k – $10k | $10k-15k | $15k-25k | $25k+ |
| Percentage | 32% | 31% | 14% | 12% | 11% |
Mobile App Maintenance and Support
It is no secret that mobile applications require time to time maintenance and application updates. Along with that, the app developers need adequate technical assistance for the application to function smoothly. Enterprises need to revamp the app functionalities and integrations as the app platform transforms into advanced technologies.
The periodic app maintenance and support is a lifelong process that is an important factor to refine mobile apps persistently. It also improves the user experience as the applications need to maintain their APIs regularly too. Along with support and maintenance, the cost for app security never goes in vain.
Whom should you Hire for Mobile App Development Project Requirement?
One of the most significant factors of app development cost estimation is choosing whom to hire to create your brainchild. At this point, you can choose between hiring an IT company or freelancers or hiring an in-house team altogether. You can choose between the options as follows:
Hire In-house App Development Team
An expert in-house app development team to create your application is a great solution. A viable option in mobile apps for business owners is that if they already have a thriving business organization or can afford to have an experienced in-house IT team to do the job right.
The costs of assembling such a team can be prohibitive as recruiting and onboarding new hires is time-consuming. On the other hand, you do get to have sole control over the entire process of app development.
Hire Freelance App Developers
Hiring freelance mobile app developers are a great fit when it comes to small-scale app development projects, product fixes or minor upgrades. You save up to 40-50% of the overall cost for app development by hiring freelancers from major online platforms such as TopDevelopers.co, Upwork, Linkedin and many more.
Although hiring freelance app developers is a bit of a gamble, you can easily monitor the progress of their work and impact on the app development project at each stage.
Hiring Outsourcing Mobile App Development Companies
Between standing up your own in house team and taking a risk working with a freelancer, outsourcing to a mobile app development company offers a middle ground. You are not limited to the project size with mobile app development companies. Not to mention the added benefits of access to new tools and technologies as well as professional expertise.
When you outsource your app development requirements to an experienced mobile app development company it benefits in a lot of ways such as:
Brings wide range of skills
Puts forward wealth of experience
Reduces project costs
Enhances product quality
Shortens time to market
Gives expert insights
Integrates modern technologies
Provides qualified assistance
Closing thoughts on App Development Costs
Last but not least, you will need a credible estimate of the cost to develop an app for the sake of your budget whether you are just a startup or a major enterprise. An experienced mobile app development service provider will be able to customize app development costs according to your needs. Although, it is worth noting that each project is unique and hence, mobile app development cost differs.
Conclusively, the best way to estimate the app development cost based on your project requirements is to reach out to the top app development agencies and discuss your project.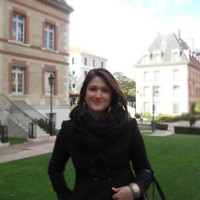 An enthusiastic Operations Manager at TopDevelopers.co, coordinating and managing the technical and functional areas. She is an adventure lover, passionate traveler, an admirer of nature, who believes that a cup of coffee is the prime source to feel rejuvenated. Researching and writing about technology keeps her boosted and enhances her professional journeying.