Online marketplaces like Uber, Amazon, Alibaba, and Airbnb have tasted phenomenal success over the past decade. The rapid penetration of affordable internet and smartphones all over the world and the increased acceptance level of the customers towards availing services and products online are the factors that have fuelled the growth of online platforms. 
A majority of popular online platforms are marketplaces, a place where the buyers and sellers meet online to serve their respective needs. The huge potential of the marketplace business model has attracted a lot of entrepreneurs who now want to build their own online marketplace. Many entrepreneurs think that ecommerce app development agencies can solve all their problems. While this is true for app development, you need to be clear about your business model before you approach the ecommerce app developers.
If you are one of those entrepreneurs who want to build an efficient marketplace business model, then this blog will answer a lot of your queries regarding an online marketplace. 
What is a marketplace business model?
Online marketplaces are platforms that link buyers with sellers. Normally the marketplace operators do not sell the products themselves but just act as facilitators in the transaction. The marketplace provides shipping, marketing, and payment processing support to the sellers and allows the buyers to browse through the product catalog of various sellers. 
The online marketplace allows the sellers to focus on their primary competency, building great products.
When we think about marketplaces, one of the major questions that pops up is what is a marketplace business model? Although there are many bifurcations in the marketplace business model, the marketplace model is most commonly classified as vertical or horizontal. 
A marketplace model that operates horizontally has a wide range of product categories. Amazon, for instance, sells everything from groceries to high-end gadgets. A vertical marketplace, on the other hand, focuses on a single product category but includes a lot of products from that category. Etsy is an example of a vertical marketplace as it focuses on artworks and collector's items. 
Advantages of the online marketplace business model
The marketplace model owes its popularity to the fact that it provides a lot of benefits. We will have a look at the most prominent ones.
Network effects
A marketplace platform gets the benefit of a huge network of buyers and sellers. As the number of sellers and buyers increases, it will attract more buyers and sellers towards the platform.  
A high user engagement rate
A marketplace boosts the user engagement rates because the customers can search for a wide range of products on a single platform. The sheer number of products available results in customers spending more time on the platform.
Not easy to replicate
Normally people remain loyal to a platform they are used to using. The competitors who wish to replicate your model will need to build a significantly better marketplace to outclass your marketplace. The time-consuming and costly process of establishing a marketplace acts as an entry barrier. 
High margins
Once a marketplace is established, it can command higher margins. This is because dominating marketplaces can demand a higher fee or commission from sellers. The margins can become very high if the marketplace becomes the market leader in its segment. With market leadership, the marketing costs also come down, improving the margins in the process once you establish your marketplace as a solution to the user needs. 
User data
Marketplaces produce truckloads of valuable consumer data. You can use this data to send personalized offers to the customers, increasing the conversion rates. Amazon is a marketplace that has mastered the art of analyzing customer data to its advantage. The smart recommendation algorithm of Amazon provides the customers with the most appropriate products according to their requirements.
Revenue models for a marketplace
A marketplace can earn money in 6 major ways. We have discussed the major revenue models of a marketplace model below.
Commission
Charging a commission from every transaction happens to be the most common revenue model for marketplaces. Marketplaces normally charge only the sellers on every successful transaction completed from their portal. A major advantage of this commission model is that the sellers pay the marketplace only when the transaction is completed. They do not have to pay anything if they do not get any value from the marketplace.
Major marketplace platforms like Amazon, Etsy, and Fiverr use the commission-based model on their platforms. The biggest challenge that marketplaces face in the commission model is that they need to provide enough value to the sellers as well as the buyers. If the marketplace fails to provide value, then nobody will use the marketplace, and the users will look for other alternatives. 
Pricing is another challenge that the marketplace operating on the commission model has to overcome. 
As a marketplace owner, you need to answer the following questions. 
How much should be the commission rate?
Should you keep the commission the same for all sellers?
Should you charge a commission to both the sellers and buyers or only to the sellers?
Is it a good strategy to keep a lower commission at first and then gradually increase it as more people join?
A commission model may not be the best fit in certain cases like
When the transaction is big, it is difficult to justify the commission fees, for example, car and real estate sales.
When money is not involved in the transaction, for example, a dating site.
If the invoicing process is too complex for the marketplace
In such cases, you will need a different type of marketplace revenue model.
Listing fee-based model
In the listing fee-based model, the marketplaces charge the sellers a fee for publishing new listings on the marketplace. The listing fee model is used whenever the people who list products get value based on the number of listings they have on the marketplace.
Classified ads use this kind of revenue model. A classified ads marketplace has a simple value proposition. The marketplaces aggregate a large number of listings on a single platform and provide a lot of visibility to these listings. 
Craigslist is a well-known example of the listing fee-based model. Craigslist is a collection of local sites where people can post listings about jobs, real estate, dating, services, or any product they want to sell. Although posting on Craigslist is free, the portal charges fees on certain categories like real estate listings and jobs in some major U.S. cities.
Many marketplaces sometimes use a lot of revenue models on the same site. The Etsy business model is an example of such a multi-vendor marketplace business model that gains a major part of its revenue from commissions and listing fees. The reasoning of Etsy is that the probability of certain items being sold varies as there are a few extremely popular items on Etsy, while most items won't be sold ever on the platform. Listing the unpopular items also requires costs on Etsy's side, and this is the reason why Etsy charges based on listings to cover these costs. 
For expensive items, a listing fee can prove to be a better proposition for the marketplace. For instance, Mascus is a portal dedicated to selling expensive machinery, and due to the cost of the products that it sells, Mascus charges a listing fee. 
A major problem with the listing fee model is that, unlike commissions, the sellers have to pay upfront without the guarantee of their product being sold. This is why you need to keep the listing fees low otherwise, your marketplace will fail to attract the sellers. In order to have a sustainable revenue model that relies on listing fees, you will have to build a marketplace that has a very large volume of listings. 
Subscription fee model
A subscription fee-based model is a revenue model in which the marketplace charges either some or all of its users a recurring fee to access the marketplace. Typically the marketplaces operating on such models help the sellers acquire new customers. The customers find unique experiences or save costs by subscribing to such marketplaces. The membership or subscription fee model can work well if the value that you provide is good and if the revenue model is such that the user keeps coming back. Dating sites like Match.com, Tinder, and OkCupid use the membership fees model.
These sites verify the credentials of all the subscribers to ensure quality matches. The quality matches and the sense of exclusivity that these dating sites provide justifies the subscription fees.
Companies like linkedIn and StackOverflow charge businesses a subscription fee to provide them access to the talent pools they have on their portals. In many B2C companies, the platform is free for the customers but requires a paid subscription for people who want access to these users.
A membership model can sometimes prove to be a good starting point for marketplaces that want to charge commissions but do not have the requisite infrastructure right now. Vennu is a classic example of such a business. The founders at Vennu started their portal with a membership model. The idea was to validate their business plan and attract investors. Once the revenue model was proven to be a successful one, Vennu started charging commissions.
A major hurdle that marketplaces that want to charge a subscription fee face is that without a certain number of users, it's hard to attract people to the marketplace. Take the example of dating sites. You cannot start charging people a subscription fee if there are only a couple of thousand users on your site. You will have to wait till hundreds of thousands of users join the marketplace and people have enough choices to validate paying a subscription fee. One way to solve this problem is to keep signing up to the portal free or heavily discounted initially and start charging once the number of users reaches the desired level. 
Lead free
In a lead fee-based model, the marketplace provides qualified leads to people who want to sell products or services. The customers who want to buy a product or service come to the marketplace and put in their contact details. The marketplace then provides this lead to sellers, and the sellers contact the customer to sell their products.
The lead fee model provides a much better value proposition to the sellers than the listing fee model. This is because the sellers only pay when the marketplace finds a potential customer for them.
The lead fee model will work only when the value of the lead generated by the marketplace is high. This is the reason why usually B2B or B2C marketplaces tend to use this kind of model. This is because, in the B2B and B2C models, every new lead can turn out to be a long-lasting customer that provides repeat business. Thumbtack, a marketplace for all kinds of local professional services like electricians and samba teachers, is a successful model that uses lead fees. 
The issue with a multi-vendor marketplace business model that is lead fee-based is that once the customers and service providers get to know each other, they no longer use the marketplace. The service providers and customers build a relationship outside the platform. This is the reason why Thumbtack decided to provide invoicing and payment processing tools to the professionals to provide them an additional incentive to do business in the marketplace. 
Freemium model
A European platform Peerby has built an innovative platform where people can borrow stuff from each other at no extra cost. While the basic experience is free for all users, Peerby offers premium services like an insurance service wherein the product provider can request that if the item is damaged or stolen, the insurance company pays for it. Apart from insurance, Peerby also provides a delivery service that allows the users to get the item delivered to their doorstep instead of having to pick the item from the provider.
The idea behind the freemium model is that while the core offering is free, once the users are hooked to your platform, you can sell premium services to them. While offering a freemium model, you need to ensure that the premium offering lures a large part of your users and converts them into paying customers. This is because if only a small portion of your users are interested in your offering, then the revenue model won't be sustainable. Initially, when your paid users are fewer, you can consider including ads on your platform to generate a revenue stream. 
Many marketplaces use the freemium model in addition to the other revenue models. Etsy is one such marketplace. Etsy offers premium services like direct checkout, shipping labels, and listing promotions to sellers. 
In many cases, it is seen that a marketplace starts offering the premium services as an add-on but eventually shifts the entire revenue model to focus on paid services. The disadvantage of this approach is that it is very hard to scale premium services as compared to a commission revenue model. A major reason is the amount of money and human resources that one has to invest in to provide premium services. 
Advertisements and featured listings
Advertisements are one of the most common and easy to set up revenue streams for a marketplace. You can link up with Google AdSense and start earning whenever a user clicks on the ads displayed on your platform. 
Featured listings are promoted listings that normally feature on the top of a page or on other eye-catching places. Featured listings can prove to be another decent source of ad revenue. The featured listings provide more visibility to the sellers on your platform. In the featured listing revenue model, the sellers are allowed to list their products on the platform for free, but if they want their offering to get more visibility, then they will have to pay for it. Etsy provides featured listings as one of its premium services.
A major challenge with the featured listings and advertising revenue models is that a significant number of users are needed to build a sustainable business. This is because the revenue generated per user is a lot less as compared to other revenue models like subscription and commission models. Advertisements act as a hindrance to the user experience, and this can act as a deterrent to the revenue generated.  
Advertisement-based models work best when you have a specific niche. For instance, a European marketplace named Haatori lets users borrow used wedding dresses. The website earns by placid featured listings from service providers in the wedding industry like photographers, wedding planners, and flower providers, to name a few. 
How to attract buyers
A marketplace app will need to reach a critical mass of buyers to taste success. There are various tactics that you can deploy to attract buyers.
Joining rewards
You can provide the customers with joining rewards for signing up on the platform. Many companies do this; they provide a monetary reward or a certain number of reward points for using the platform and making a purchase on the platform. You can also start a referral program under which the users who refer to other users get bonuses. 
Sell products 
A few marketplaces started their journey as sellers of their own products and then slowly metamorphosed into marketplaces selling wares of other sellers. Lazada is an example of such a marketplace. This way, you can ensure that your customer has the best buying experience, and suppliers can be sure that the platform already has a paying customer base.
Appealing business proposition
One of the best strategies to attract buyers to your marketplace is to have an appealing business proposition. Uber, for instance, started as a marketplace that wanted to solve the real-world problem of availing a cab at the time and place of the user's choosing. The bigger is the customer pain, the easier it will be to attract buyers to your platform.
How to attract sellers
Apart from buyers, to build a sustainable marketplace business model, your marketplace will also have to attract sellers on the platform. 
Convenience
Make it easy for the sellers to sell on your platform with minimal paperwork. The easier it is for the sellers to sell on your platform, the more is the likelihood that these sellers will start selling on your marketplace. To attract sellers to your platform, the cost and time spent on setting up a shop on your platform should be minimal. 
Seller programs
To attract sellers on your platform, create seller programs to show sellers how much they could earn by selling on your platform. Help sellers navigate through the process of setting up shop on your platform and answer all their queries like payment processing time, revenue model, and how to maximize the reach of their shop on your marketplace. By running seller support programs, you will send a clear message amongst the sellers that your marketplace cares about the sellers.
Why build a marketplace app?
A majority of users prefer to use their smartphones to access various services instead of web platforms. To ensure a better reach amongst your users, it is highly recommended to go for marketplace app development. The deep penetration of smartphones is one of the major reasons why you need to consider building your own marketplace app. 
A study found that the average user spends around 80% of the internet time on the smartphone. All leading marketplaces know that the balance is tilting towards smartphones and have built their own applications to serve their customers.
Mobile apps work much faster than websites, have an intuitive user experience, and allow you to send push notifications to keep your users engaged with your marketplace application. 
Using smartphone hardware like cameras and GPS sensors, you can provide innovative features like AR(augmented reality) and location-specific offers and boost your conversion rates. 
How to develop a marketplace app?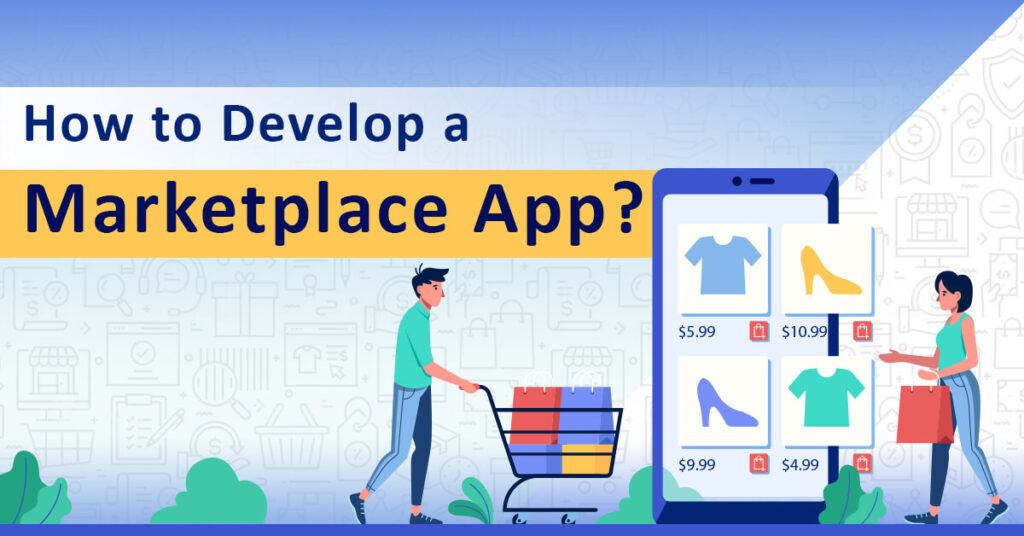 Marketplace app development is a complex process, and you might require expert help to build a high-quality marketplace app. In case you are wondering where to start, then we have defined the steps to build a marketplace app to give you a brief idea about building a marketplace app. 
Select the marketplace business model
Before you start marketplace app development, you should first define clearly the kind of marketplace that you want to build. The following are the broad classifications of a marketplace.
Audience type
Peer-to-peer:- People with certain products sell or exchange items with other people.
Business-to-business:- this is a type of marketplace model in which businesses buy and sell products with other businesses.
Business-to-consumer:- In this model, the businesses sell to the consumers.
Merchandize type
Products marketplace:- Marketplaces that primarily sell products are categorized as products marketplaces. Amazon and Alibaba are examples of product marketplaces.
Service marketplace:- In a service marketplace, people come to search for various services. TaskRabbit is a popular marketplace from where customers can avail various home repair services. 
Hybrid:- The hybrid marketplaces work as a marketplace for both goods and services. Craigslist is a good example of a hybrid marketplace.
We have already discussed the most widely used monetization models for a marketplace. Once you know the type of app and the monetization model that you want to build, you can then move on to the next step.
Determine the buyer and seller features
According to a report, mobile commerce sales reached $359 billion in 2021. The mcommerce market is a highly competitive one with lots of new mcommerce apps being released every single day. The kind of user experience you are able to provide will decide the fate of your mcommerce app. To crack the mcommerce game, you need to  add features into your marketplace app that appeal to both buyers as well as sellers. Hence before you start building a marketplace app, you will need to decide the key buyer and seller features that your marketplace app will have.
Seller features
Order management

Communication with customers

Payments processing

Way to provide discounts and promotional offers

Analytics tools
You need to make the app easy and intuitive to use for the buyers. Provide robust security measures as the buyers need to trust your solution to spend money on it. Here are some of the buyer features that can lure buyers towards your platform.
Buyers features
A search engine that has a lot of filters like price, location, category, and popularity

A trustworthy review system

Shopping cart

Wishlist

Convenient return policy

Embedded payment system
Create an MVP
Building an MVP(minimum viable product) before you build a full-fledged app with all the bells and whistles can reduce the risk factors for online marketplace app development. 
When you build an MVP, you will realize the kind of challenges that you will need to face during full-scale product development. An MVP will also help you test the waters and make the necessary tweaks to the product in case it does not fit the market requirements. An MVP will also help you gain invaluable feedback from your target audience and help you improve your product. 
Maintenance and support
Once you build and release the app to the market, you will then need to start the unending process of maintenance, support, and upgrade of your marketplace app. Once the app reaches the hands of its intended users, a lot of bugs will invariably start cropping up. You will need to ensure that all these bugs are sorted and the app functions as desired. Apart from maintenance, you will also need to constantly upgrade your product according to the requirements of the users. For instance, if your customers demand AR(augmented reality) features while shopping, then you will need to upgrade your app accordingly.
Our app development guide can help you delve deeper into the factors that you need to take care of while building an app. 
We hope that this 4 step simple process has helped answer the question of how to develop a marketplace app? Remember, the process is simple, but executing the process is a different ball game altogether, and it is best to hire expert mobile app developers for the job. 
The marketplace is where the future lies.
As people start relying on the internet for buying everything right, from real estate to diapers, we are going to witness exponential growth in the marketplace arena. Marketplace app development can prove to be a tedious task as it requires meticulous planning and top-notch execution to build an app that can handle millions of transactions. If even a simple thing goes wrong, then the reputation of your marketplace can get tarnished irreversibly. This is why you should always hire expert ecommerce developers that will help you with the online marketplace app development.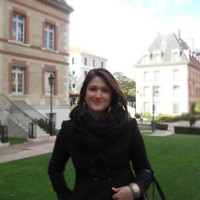 An enthusiastic Operations Manager at TopDevelopers.co, coordinating and managing the technical and functional areas. She is an adventure lover, passionate traveler, an admirer of nature, who believes that a cup of coffee is the prime source to feel rejuvenated. Researching and writing about technology keeps her boosted and enhances her professional journeying.