We live in unprecedented times where we are trying to adapt to the new normal. In times when the final goal is unclear, with dedicated developers you have a general direction. They are a great fit when you already have an in-house or outsourced team of software engineers developing a project, but you need a workforce boost. Harvard business review suggests that an average dedicated development team can boost productivity by 10% and is more likely to stick to the budget.
Dedicated developers are known to use the best of their skills to assemble all the project parts,whether it is a startup or advancements in existing systems. Although, it is a big challenge to find reliable dedicated developers to fulfill your business vision within a strict timeline and budget. Let us walk through the several benefits and ways of hiring dedicated developers to magnify your successful app development dream.
Advantages of hiring dedicated developers
When you hire dedicated web developers, you avoid the peril of developing solutions on your own. This will simply allow you to concentrate on the other important aspects of your business such as marketing, operations, branding, finance and promotions. Hiring dedicated developers have its own pros and cons. However, as the benefits outweigh the negative sides, today big and budding enterprises are plump for collaborating with dedicated developers. Here are the top advantages of hiring dedicated developers from top web development companies:
Cost-effectiveness
Planning to hire dedicated web developers simply cuts down the cost of recruitment and management to a great extent. Besides, this also enables companies and organizations to relish the other important aspects of the app development project. According to some statistics, companies from the United States can reduce over 50% of IT costs by hiring a dedicated development team.
For instance, if you hire someone in-house or some known personnel then the entire budget of your company becomes twice as much as the cost doesn't get looped into multiple folds. Aside from search and recruiting costs, considerable administrative costs such as extra office infrastructure, equipment, HR, IT support and training costs can be avoided.
Excellent quality
It is not unusual that dedicated developers come with their own QA experts which means that the developers will test your application periodically to ensure flawless code and excellent quality. When it comes to large-scale projects involving the collaborative effort of many people, testing is paramount. You may get better performance and robust quality with no downtime when you engage a specialized development staff. They can anticipate difficulties and provide a solution to keep your troubles at bay and the project running. You can obtain excellent counsel or advice if you need it throughout or post the project development process.
Fluent communication
Software development isn't just code and coffee. While technical chops are the baseline expectation of getting you in the door, a third 'C' is critical for a successful web development project: communication. The quality of your project is heavily influenced by its well-established processes and effective communication between teams and even with external clients when required plays a huge role in the success of the project. Dedicated developers provide you with full support during the process so, this collaboration is worth the cost.
Comfortable taxation
When you outsource your app development project to a company located far away from your region, you'll be able to optimize your taxation remarkably. These adaptable taxes can be provided for many regions including the U.S. You can even maximize There's even no need to deal with tiresome paperwork and care about organizational issues.
Streamlined process
For companies in need of starting a software project quickly, hiring dedicated developers is picture-perfect. As the developers are already trained to execute software projects, they won't take time to get things in the right place. Hire dedicated developers from top web development companies for a robust and exquisite experience throughout the process. These developers carry out given tasks within the stipulated time with quality results. This leads to easy management and helps you get productivity fast without any delayed work leading to an overall streamlined process.
Global talent pool
When it comes to the app development process, specific tasks need the use of specialized expertise. If you consider this option, you can access a much larger talent pool if you partner with the right people. One of the primary advantages of hiring dedicated developers is that you are no longer limited to your local talent pool. Instead, you can hire people from all across the globe and choose the best experts that suit you and your company to get your project going fast. You can hire any tech stack depending on your project specs and business needs.
Increased productivity
Having a competitive advantage in terms of productivity and development speed is critical in this fast-paced software industry. Building a highly effective workforce starts with well-established collaboration, adaptability and unswerving concentration. This is where the dedicated developers excel as they are fully committed to the tasks you assign them. They are probably teammates who have worked together in past projects, share common goals, have an established process and motivate each other to be more productive.
Characteristics of good dedicated developers
Good dedicated developers are rare. They tend to be more productive than average and serve as a force multiplier in their team. This is because, in addition to writing superb code, these developers also boast some intangible traits that make them a valuable asset to the web development project. Here are a few characteristics of good dedicated developers:
Positive attitude
Dedicated developers are devoted to their projects and won't be afraid to go the extra mile to ensure it'sadequately completed on time. They maintain a positive outlook for themselves and even inspire other members of their team. With a positive attitude, dedicated developers
Self-reliant
Quality developers have intense time and task management skills. They can accurately estimate how much time it will take to complete a particular task, know how to optimize their workflows, and be relied on to deliver their work on time.
Responsible
Good developers go out of their way to master new technologies and solve existing problems more efficiently. This enables them to switch team roles or learn new programming languages promptly. They tend to put their whole concentration and dedication towards the accomplishment of the project with flying colors.
Commitment
Unlike project-based outsourcing, dedicated developers help organizations to stamp out possible distractions. The dedicated developers are committed to the assigned project and are never impacted by the competitive spirits of other clients.
Where to find dedicated developers
There are a lot of convenient options to choose from while hiring dedicated developers but you should consider your project requirements to make the most appropriate decision for your project. Here are the two most acquainted ways to find and hire dedicated web developers:
Offshore IT companies
Mostly the dedicated development team hired from offshore IT companies is self-managed but they can make your development process smooth by taking complete control over the project. They can communicate with the team, evaluate the workflow and measure the progress of the task. Just in case you don't know where to start with outsourcing, you can go through the top IT firms and trace those offering dedicated teams and developers. Have a look at the following resources to hire web developers:
Good Firms
TopDevelopers.co
Clutch
 IT firms
The digital ecosystem evolves new technology and is updated regularly. Training in-house developers to remain on your toes and be updated constantly comes with a huge tag that can be avoided by working with an offshore IT company. Reliable IT firms have an entire team capable of implementing projects of any degree of complexity and scale by their own force of experience. Here are the pros and cons of hiring developers from top offshore IT companies:
Pros
Quality assurance
No additional charges
Lower hourly rates
Experienced developers
Risk reduction
Cons
 Time difference
 Language barrier
Freelancers
You can use renowned internet platforms and job boards such as Up work, Toptal and LinkedIn to hire freelancers. This requires intense research sorted by experience, location, expertise and other considerations. Another way of employing freelancers is to look out for them in IT conferences where talented developers gather to learn about the latest tools and modifications in the app development sphere. You must weigh up the pros and cons before hiring freelancers as dedicated developers for your project. Here are the pros and cons of hiring freelancers:
Pros
Lower financial risk
Talented individuals
Cons
Lack of supervision
Need to train
No commitment
Lower investment
Rates of dedicated developers across the globe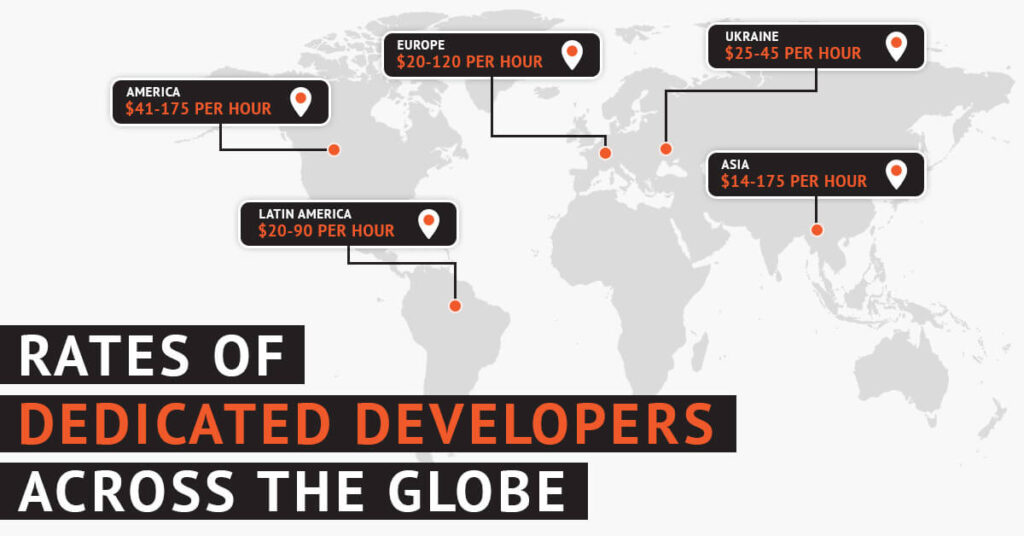 The best part about hiring dedicated developers is that you can hire them from different regions. Here are the average hourly rates of developers in various regions:
 America-$41-175 per hour
 Latin America-$20-90 per hour
 Asia-$14-175 per hour
 Europe-$20-120 per hour
 Ukraine-$25-45 per hour
Closing word
Hiring dedicated developers is the modern way of developing a technically solid product that is flexible, scalable while adapting to the new trends in the market. At the same time, you lower operational and development costs and have fewer legal responsibilities, paperwork, and less recruitment headaches. Last but not the least, signing NDA-Non Disclosure Agreement is an additional layer of protection that makes sure that all your assets are protected and secure. Every dedicated developer is aware of the inaccessible areas of your business and protects the NDA.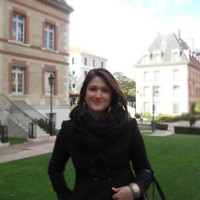 An enthusiastic Operations Manager at TopDevelopers.co, coordinating and managing the technical and functional areas. She is an adventure lover, passionate traveler, an admirer of nature, who believes that a cup of coffee is the prime source to feel rejuvenated. Researching and writing about technology keeps her boosted and enhances her professional journeying.