Any startup that is likely to turn into a unicorn certainly has three potentials –brilliant ideas, dedicated and talented teams, and a powerful technology stack. In fact, the first two potentials heavily rely on the third because without the right enterprise startup technology stack, the previous two sound quixotic.
The technology stack that ruled 2020 and 2021 is likely to drive most startup enterprises in 2022 with alacrity. Nevertheless, there could be some addition to the pile as a result of the constant evolution of tools and technologies.
Benefits of the appropriate startup technology stack
Tech pundits admonish young entrepreneurs against using obsolete systems to save money; thus, the right tools in the right place at the right time help startup enterprises to scale up and assure its stability to sail through undulating waters. The primary benefit of the right tech tool is developing a proper MVP (Minimum Viable Product), a product with minimum features required for a product to work. For instance, the MVP of a website that features file uploading contains a simple UI that lets a user select file, upload it, and then download it again. You don't require fancy jargon, intuitive UI, or blazing flashes to showcase. Hence, the MVP is the first simplest foolproof version of your product achieved through the right tech stack.
Once the prototypes are out and rolling, gathering information and feedback drives the further course of software development. The benefit of the right startup technology stack is that it can scale up the tool and make it more useful. Meeting rapid market and consumer demands, startup enterprises need to change their strategies built through the right technology stack's data. Businesses with the right enterprise tools in stack indulge in healthy software practices and hence create better business values for their stockholders.
How technology stack affects your startup strategies
There should be a mindful approach to choosing the startup stack while building the company's strategies for the establishment, operations, and management. The blueprint of how your startup would shape and will keep running is a primary concern to any young entrepreneur. Largely, startup enterprises need to rely on data-driven decisions rather than going with a traditional flow.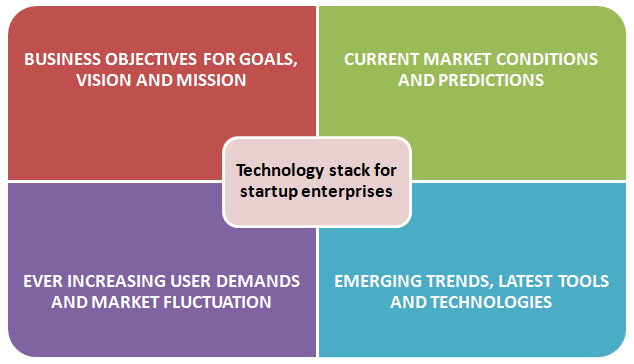 The technology stack you choose shall have a direct or indirect impact on the data-driven decisions ultimately affecting enterprises' kick start and its operations in the future. Well begun is half done and therefore selecting the right stack for your enterprise startup in 2022 would ensure company's delectable experience.
Criteria to choose a startup technology stack
Startup enterprises are cautious about every step they take. Young farsighted entrepreneurs are not expected to be swayed away by the hyped or familiar technology tools. Largely, choosing an appropriate startup technology stack should depend on four major criteria.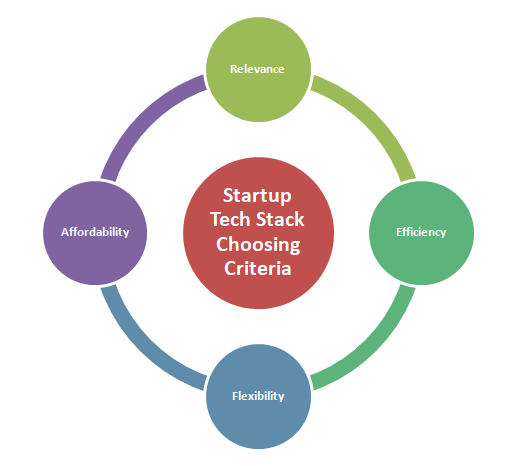 Relevance: the technology stack that meets business objectives by adhering to the company's vision and mission is relevant. In other words, such technology tools would suit your business operations. For instance, Python suits better compared to C/C++ for web but not for Android.
Efficiency: the startup enterprise technology stack is expected to be stable, highly responsive, and heavy enough to carry a large number of requests. Efficient tools could be costly but in the long run, they would prove their economy.
Flexibility: Software's ability to grow and scale decides startup enterprise's overall progress. As the market is volatile and customers' needs change constantly, scaling up the software tools with the latest technology is one of the criteria to decide the startup technology stack.
Affordability: Not all startup enterprises are backed by huge funds. Licensing fees, hosting costs, marketing, and maintenance are a few factors that affect startups' budgets heavily. Relying on affordability keeping budget in mind is one of the deciding factors.
Top technology stack used by unicorn enterprises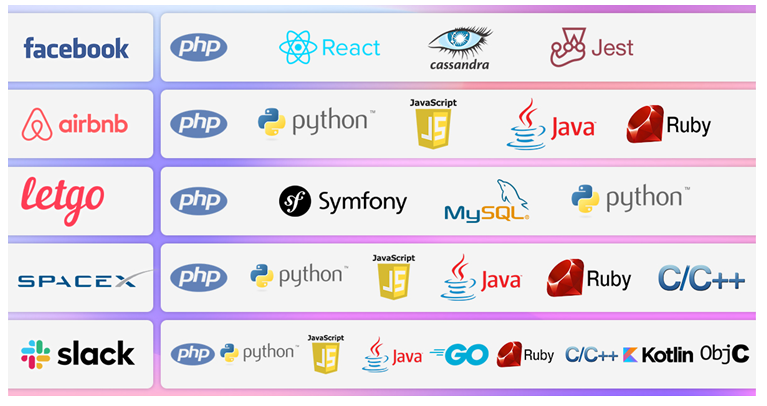 Unicorns have proven that their technology stack has helped them grow enormously and make challenges tractable. Here are the top five companies and the platforms or tools they use for their data-driven businesses.
It is worth noting that most of them are inclined towards using PHP as their primary technology stack. Likewise, ReactJS heads the technology stack in frameworks used by top unicorn companies worldwide.
Most used technology framework by top 25 unicorn companies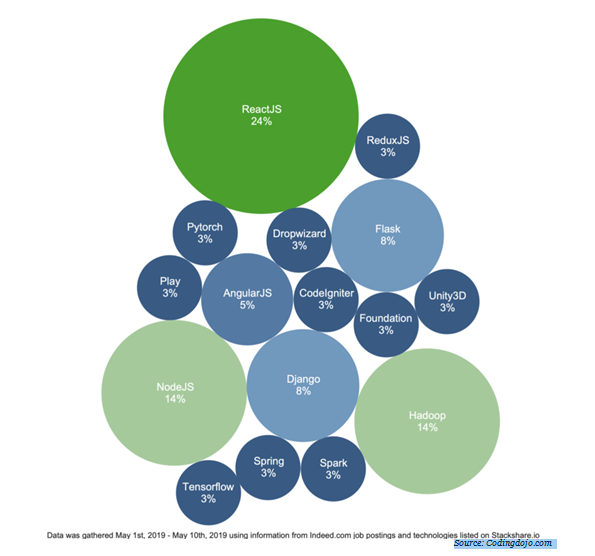 Furthermore, MySQL and Redis maintain to be the top priority in database technology used by giant companies.
Also Read: Data Security: A Quick Guide for Startup Enterprise
Most used database technology by top 25 unicorn companies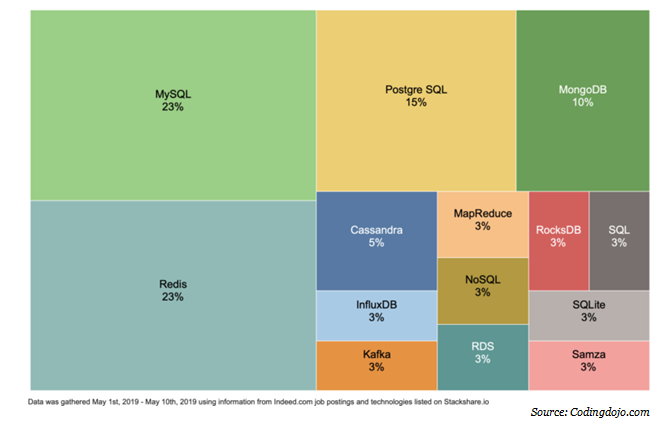 What will rule the startup enterprise technology stack in 2022?
It is all likely that the trend of the best technology tools for startup enterprises in 2022 shall continue fueling the hunger of young entrepreneurs to build companies with revolutionary products and services. Nevertheless, a few add-on tools and platforms would augment the current stack for better creativity rendering ultimate UX.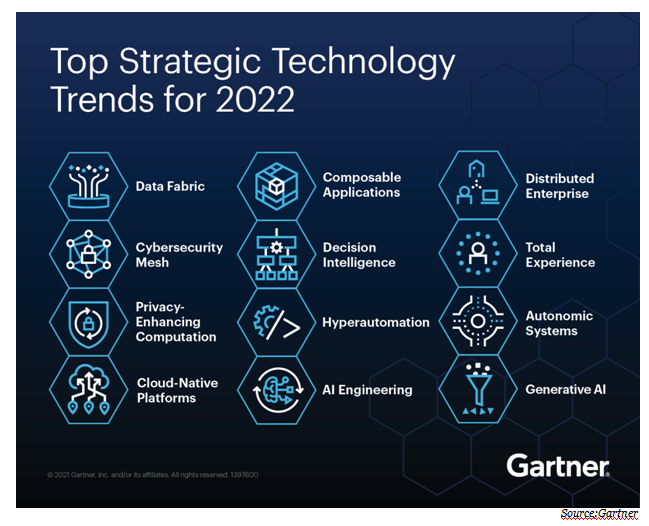 According to Gartner, a dozen strategy technologies would augment digital business and innovation in a couple of years. Every year, Gartner identifies tech trends that would run most businesses and make CEOs drive their startup enterprises with better prospects.
Hire developers or offshore IT company
If you aim to have a foolproof plan for an enterprise startup in 2022, hire freelance developers or outsource IT projects to an offshore company. Outsourcing software development projects will save a big chunk of your budget, and developing customized tools shall give your enterprise the right boost to kick start, avoiding insipid performance. Nevertheless, while approaching any offshore source, you should make it sure to check their expertise on top technology stack used by startup enterprises.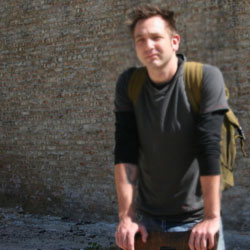 Analyzing business activities and data to formulate the best business development ideas is where I earn appreciations and remunerations. I'm an ardent reader, business adviser, gadget aficionado and an amateur yet an avid writer. My urge for innovative writing evokes every time I come across new gadgets, neo technology and novel technical events.