Technology is changing fast and so is the mobile app design trend. What was relevant one or two years ago, may now be considered as outdated.
But how a mobile app owner can know when is the right time to redesign their mobile app?
Let's say that you developed a mobile app about two years ago, which is not bringing in the same amount revenue or conversion as it did in the first couple of months after launch.
Now, this might be a clear sign that your mobile app needs a redesign.
But again, the redesign process takes a lot of work. So, the decision should not be made solely based on this.
Fortunately, there are certain factors you can consider to identify when you should redesign your mobile app.
In this article, we will explain the most important factors you must consider before redesigning your mobile app.
But first, let's start with a basic question…
What is the purpose of redesigning your mobile app?
As I mentioned earlier, the mobile app redesign process takes a lot of work and hence costs a lot of money.
So, it should never be done without having concrete reasons. You need to have a clear purpose behind redesigning your mobile app.
Ask yourself – Why do I want to redesign my mobile app? What is the main goal or purpose that you want to accomplish?
Uber, for example, started redesigning their mobile app by asking the same question – Why should they redesign their app?
Upon asking this question, the Uber team discovered that even though their app was full of rich features, there were certain complex features that caused confusion among their users.
As a result, asking this simple question helped Uber put an end to all confusion their users had before.
Similar to Uber, you need to identify the main purpose behind redesigning your mobile app.
Is it to enhance the user experience?
Optimize conversion rate?
Embrace new app design trends?
If you're not sure, here are the main indicators that your mobile app needs a redesign.
Factors to Determine When to Redesign Your Mobile App
Let's discuss the important factors that you should consider to know when to redesign your mobile app.
1 – When one-third of your users say your app sucks
 If your mobile app is live on the App Store & Play Store for some time, you can easily identify certain red flags by reading user reviews.
For example, if your app has received:
Email from users with definite problems
Low app ratings on App Store or Play Store (less than 3 stars)
Negative Reviews from long-term users
Angry comments on social networking platforms
If you spot more than one problems mentioned above, then it's a sign that your mobile app needs a redesign.
2 – When your conversion rate has dropped
In the beginning, we already mentioned that if your conversion rate has dropped, then it might be a clear indication that your mobile app needs a redesign.
Simply put, your mobile app's user experience needs a quick and urgent repair.
Take GrowFit for example. The mobile app helps users to improve their diet. After thoroughly analyzing the app, we discovered that GrowFit has considerably a lower registration rate.
The number of active users compared to the total downloads of the app was lower than expected. As a result, GrowFit lost a significant amount of revenue.
The point is, if you're experiencing something similar to your mobile app, then it's definitely time to redesign your mobile app.
3 – When your app idea has evolved
Apart from user reviews and drop in conversion rate, there are other indicators that point out the fact that your mobile app needs a redesign.
Now, when you first launched your mobile app, it might have been to solve a specific problem. But today, things might have changed.
Twitter, for example, was started as Odeo, a platform to subscribe to audio podcasts. But success only hit the doors when Odeo changed their entire concept to a social networking platform like Twitter.
Needless to say, the pivot also required a strategic redesign of their app.
Same way, if the concept of your mobile app has changed, then it's time for a mobile app redesign.
4 – When you want to target a new audience
If you want to target a new segment of the audience, you need to first prepare a solid marketing strategy and new product vision. This also inevitably involves new design requirements to attract a new target audience.
Let's take Flickr for example. Flickr was once an online role-playing game called Game Neverending. In this game, people could build, buy items, and interact with other players.
In addition, the game also allowed players to share photos with other players, which actually became very popular with time. So, the guys at Game Neverending decided to focus on photo lovers and turned it into a new product called Flickr.
Since then, Flickr has become a community of millions for photo sharing.
Similarly, if you decide to change your product for a specific functionality which made the highest impact in growing the user base of your mobile app, then it should only be done with an entire mobile app redesign.
5 – When you're rebranding your business
Lastly, if you're thinking to rebrand your business entirely, then redesigning your app becomes a necessity.
This applies even if you're not adding new features to your mobile app.
You see the main reason behind redesigning your app while rebranding your business is to have people to be able to identify your brand and easily associate it with your mobile application.
Google, for example, had acquired an ad tool called DoubleClick. And immediately after acquiring the DoubleClick, Google redesigned the UI and UX of the tool in accordance with Google's all other products.
Why? – Simply because people can easily identify that it's Google's product.
Today, that tool is called Google Ad Manager.
Conclusion
Now that you know all the indicators to know when to redesign your mobile app, we'd like to highlight a fact that mobile app redesign process can become overwhelming.
So, it is recommended to hire professional mobile app development services to ensure the new design brings money to you and you are not losing…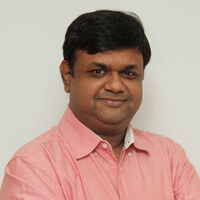 Sandeep holds the position of CEO at Credencys Solutions – a mobile app development services company. He helps clients to bridge the execution gap with services including Consulting, Design & Architecture, Product strategy, Software development, DevOps, Managed Services. He has more than two decades of experience in creating world-class teams and driving innovation through cutting edge products. With a motto of 'Go Digital,' Sandeep delivers an Extraordinary Customer Experience to its every client.