The car rental industry is a lucrative one with the top five companies in the USA having around $35 billion market capital. Although a car rental business demands a lot of planning, legal paperwork, inventory and hard work, it has a decent payoff. With diminishing parking spaces and a high cost of owning a car more people now prefer to rent a car instead of owning it.
Many entrepreneurs want to get a share of the car rental pie but don't know where to start. If you are one of those entrepreneurs, this blog will give you the basic steps you need to take to start an automotive rental business. We will also show you how a mobile app can boost the success prospects of your vehicle rental business.
Why start a car rental business?
The global car rental market is poised for explosive growth in the coming years. The market size for the car rental business was estimated to be around $98 billion in 2020 and is expected to reach $141.17 billion by the end of 2028. The rising costs of owning a car, the millennial and Gen Z priority to rent something instead of owning it, and the cost-effective online model of leasing a car are the factors that will drive the growth of the car rental industry in the future.
Getting into the car rental industry is not easy, but with a proper plan you too can start a successful car rental business. Let's start with the process of starting your own car rental startup.
How to start a car rental business?
To ensure the success of your car rental startup, you need a robust car rental business strategy. A good amount of research and market analysis is required to ensure that you don't burn cash in your car rental agency. Mentioned below are the steps that you need to take to start a profit-making car rental business.
Decide the business model
Before you start your automotive rental business, you need to be clear about the type of car rental business that you want to start. You might want to work with a car dealership, build your own brand or choose the franchise model.
Let's take a closer look at some of the car rental business ideas.
Franchise
With a franchise model, you get the added support of a well-known and successful brand name and the guidance to launch and grow your business.
automobile rental businesses like Thrifty and Hertz provide franchise opportunities to budding entrepreneurs.
The major drawback of going for a franchise business model is that you will lose some autonomy over your business and will need to face some higher costs.
Dealership
Another option to set up your car rental business is that you could set up an agreement with a car dealership to offer car rentals to the dealership's customers. In most cases, your customers would be people who come for repairs in the car dealerships and want a car for a short time till their car gets repaired. The benefit of going with a dealership is that you can start your business with a lower initial cost as you won't need to own a large fleet of cars to start the business. The drawback is that you will have a limited pool of customers.
Independent small business
Having your own automobile rental business is another option that you can take. The major advantage of having your own car rental business is that you can make decisions independently. The disadvantage is that you will have to spend a considerable amount of money and time on building your brand in the independent vehicle rental business model.
Determine your target audience
Targeting the wrong and right customers can be the difference between a failed and a successful startup respectively. This is why customer segmentation is an important part of your car rental business strategy. The same holds true for a car rental business also. You would have done hard work to acquire precious startup funding for your car rental startup and you do not want to waste precious funds on marketing to customers who are not interested in renting a car.
Your target audience could be
Tourists
Business travelers
Customers of mechanics or car dealerships
Long-term rentals for people moving into the city
To determine your target audience, have a look at your location and assess the needs of the local population. If the place where you want to start your car rental business is a tourist hot spot, then you need to provide cars that cater to the requirements of the tourists. The type of cars you offer will depend on the taste of the customers. For instance, a luxury car rental business has proven to be a good idea in places like southern France and the Bahamas.
Finish the registration process
Once you have finished the internal process and are clear about the kind of car rental agency that you want to build, then the next step would be to finish the legal paperwork. The paperwork includes choosing the type of business entity and registering it with the concerned authorities.
Common types of business entities include sole proprietorships, LLCs, corporations, and partnerships.
While a sole proprietorship is an entity with the least paperwork, this is likely not the best choice for an automotive rental business. This is because you will be risking your personal assets to any legal action taken against your car rental business. A corporation or an LLC can prove to be a better choice as it separates your business and personal assets.
Have a look at the pros and cons of each type of business entity before you make the decision.
You will need to acquire the appropriate licenses and permits from the concerned authorities. Consulting with a business attorney might be a good idea to ensure that you have the proper licenses to operate a car rental startup.
Contact an insurance company to get insurance cover for your cars as well as the physical spaces from where your business operates.
Acquire cars for your business
If you have access to funds, then you can consider purchasing cars. You could either go for purchasing new cars or start with second-hand cars. An important part of the car buying process is to select the type of vehicle. The choice of the car would depend on factors such as the location of your business, the type of customers you would be serving and the cost of cars.
Another way to build a fleet of cars without actually owning them is to build an on-demand car rental platform. In the on-demand model, you would act as a connecting point between the people who want to rent out their cars and the people who want to get cars on rent. Zipcar and Sixt are examples of such on-demand car rental businesses.
Prepare a rental contract.
A rental contract is a contract between the rental car company and the customer who rents the car. The contract covers liabilities in case of an accident and an explanation of who is responsible for what. Consult a legal professional to ensure that your rental contract protects the rights of your business as well as that of your customers.
Ensure digital presence
Establish an online presence for your auto rental business to ensure that the customers can find your business easily. There are a few ways in which you can build your online presence.
Build a website
Build a mobile app
Create business social media pages
By being active online, you will build a brand as well as attract new customers. You cannot expect to have much business if nobody knows about your company.
A few critical questions regarding an automotive rental business
You need to ponder a few critical questions before you start your car rental startup. We have mentioned the questions below, along with the answers.
What are the ongoing expenses for a car rental business?
Once you start the vehicle rental business, you must account for certain ongoing expenses required to run the business. The ongoing expenses will include:
The salaries of the employees.
The maintenance costs of the cars.
Marketing expenses.
Rent of the office space and parking lot.
The following is a ball-park range of the expenses, remember that the expenses will vary depending on your location and the size of your fleet.
Salary expenses: $8- $25 per hour, depending on the type of employees.
Utilities: High-speed internet and server costs, maintenance of automobiles, and office expenses like cleaning and electricity will add up to $25,000-$35,000
Marketing costs: Although there is no upper limit for marketing your vehicle rental business, you must allocate at least $500-700 per month.
To avoid hiccups, ensure that you always have enough working capital on-hand to run your business.
The revenue model for your car rental business model?
The primary source of revenue for your business would be from car rentals, the money you get by renting out the vehicles to those who need it for a short period. Another source of revenue can be the ad revenues that you get from your website and app. You could also tie up with people related to the automotive industry or travel and hospitality industry for cross-selling products. For instance, a local hotel can tie up with your car rental business to put ads on the website or app and even in rented cars.
How to ensure repeat business?
Like any business, the success of your vehicle rental business will depend a lot on how much repeat business you can generate. To generate repeat business, the quality of your mobile app and website matters a lot. Make the car reservation process easy and keep in touch with customers who have rented your cars once. Gather data regarding the customers to preempt sales.
Business travelers, for instance, will make monthly or quarterly visits to a place, and will give you repeat business if they like your service. Offer a wide range of vehicles to the customers. Ideally, your fleet should consist of the right mix of luxury and economy cars. You should even try to include a healthy mix of compact cars, SUVs, and sedans to cater to the needs of a wide variety of customers. Finally, ensure that your vehicles are always clean and in good condition.
Benefits of mobile app for car rental business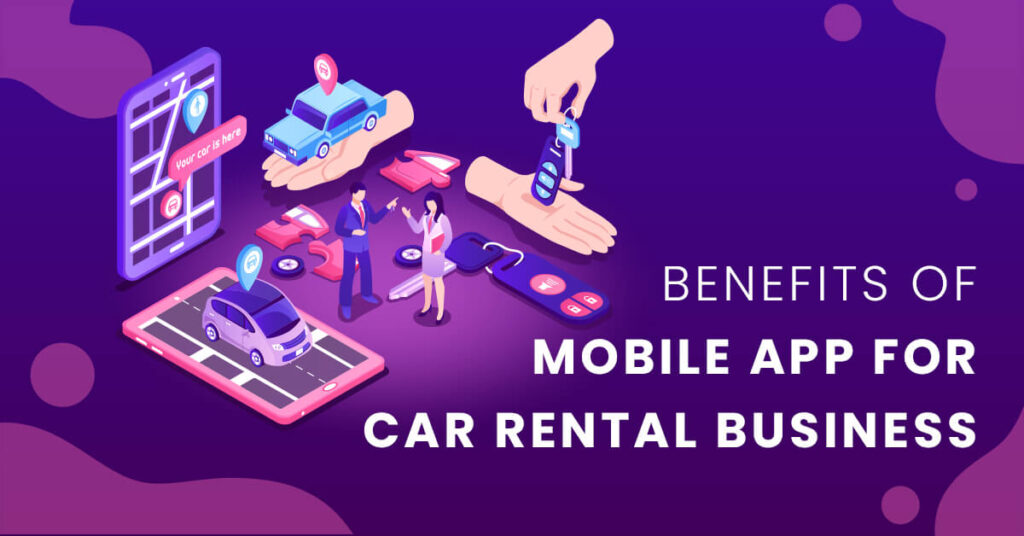 Building a mobile app can prove beneficial for your car rental business. We have listed below the most important benefits that a mobile app can provide to your car rental business.
Convenient booking process
Booking car rentals through a website can prove to be a cumbersome process for customers who like to use mobile devices more often than desktop ones. A mobile app provides a convenient online car rental booking option for your customers.
More control and reduced cost
You get more control of your auto rental business when you opt for car rental app development. With a car rental app, you can manage a lot of locations and vehicles without hassle. A car rental business can help you reduce the operational cost of your business substantially as a lot of functions can be handled through the app. By using the car rental app, You can reduce the number of employees and thus save on the labor costs and use the extra funds to expand your business.
Focus on core business
In a car rental business, a lot of resources are spent on managing the rental resources. With your attention divided on managing the business, you will have no time left to create the strategies that can help you achieve your goals. By using a car rental app, you can manage your business easily and clearly focus on the important aspects of your business.
Gain a wider reach
The estimated number of smartphones in use was around 6 billion by 2020, that was three times that of PCs. With falling device prices and faster mobile internet connections, smartphones have become ubiquitous. With a mobile app, it is easier to expand the reach of your business to a wider range of audiences. A wider reach of your business can easily translate into better profitability for your auto rental business.
App Solution for a car rental startup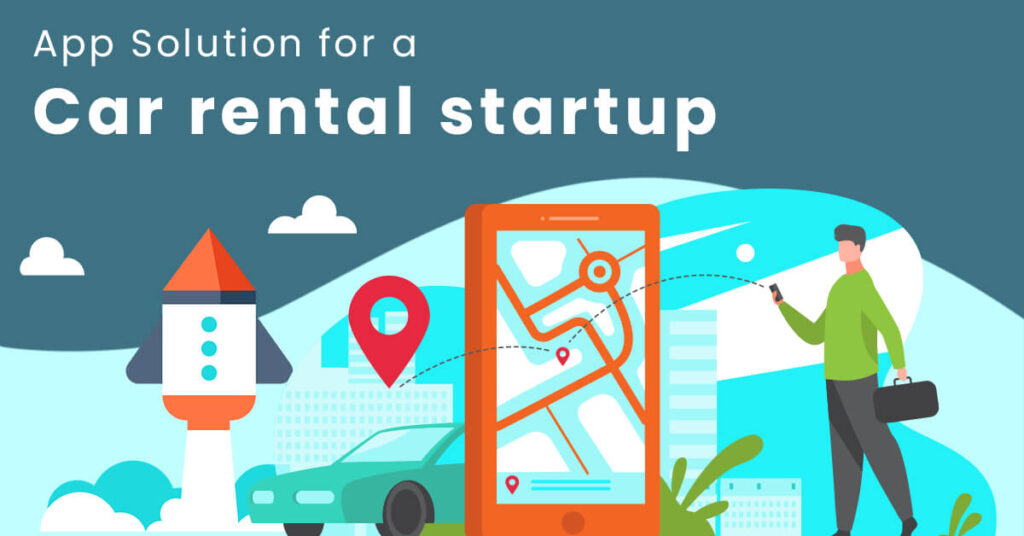 So far, we have discussed how you can set up your car rental business and the benefits that a car rental app can provide to your business. We will now have a brief look at the basics that your car rental app needs to have.
The car rental mobile app is one area that connects the startup operator with the customer, and hence it must be resilient.
A car rental app will not only cater to the customers but also serve as a tool to get a bird's eye view of your business. The following are two major types of app interfaces that you need to have in your car rental app.
Customer app interface
Admin app interface
Contact the top mobile app development companies to know how a mobile app can help your car rental startup.
Customer app features
Let's have a look at the basic car rental app features of each interface, starting with the app features of the customer app.
Sign-in panel
The customers should be able to sign in with a few basic details. You can also provide a social sign-in option to make the process easier for the customers. Once the registration is complete, the customers should be able to access the app without the need to re-enter the details every time they want to use the app.
Push notifications
The customers should get notifications for every step of the user journey. Starting from booking a car to delivering the car once the ride is over. You can also use push notifications to send promotional offers and discounts to customers.
Car selection
The customer should have the liberty to choose the car based on various parameters like car model, mileage, amenities, and color.
Advance booking
Apart from instant booking, the app should allow users to schedule bookings according to their preferences. You can sync the scheduled bookings with the calendar so that the customer is notified when the time of their booked trip comes near.
Admin app features
The following admin app features will help you to keep track of your vehicle rental business.
Vehicle tracking
Apart from GPS, you can also consider IoT integration with your car app. This way you can provide a wide range of features to your customers like personalized recommendations, a better route based on traffic and weather conditions and places to see for tourists.
Interactive dashboard
An interactive dashboard will help you to easily manage the thousands of rental requests that you get in your app. Through interactive dashboards, you can get any kind of information related to transactions and rides easily. The dashboard will also provide you the statistics related to the business operations like cars booked, earnings per quarter/month or day, the total number of customers, and so on.
Verification of new users
Renting out cars without verification could land you up in big trouble. Verify the car renters with police records to ensure that your car is rented to the correct person.
Review management
The admin can check the reviews and ratings effortlessly from the admin dashboard.
Customer management
The admin should have the liberty to add or remove any customer.  These are just basic features and you can always add more features depending upon the user demand.
Zoom ahead with a car rental app
When you are just starting a car rental business, the process can seem cumbersome. But with some patience and attention to detail, you can build a thriving car rental business. A car rental mobile app can help you in your endeavor. Having a car rental app for your car rental startup would not only help you streamline your business it would also boost your chances of success. Contact the top automotive app development companies to build a robust car rental app for your business.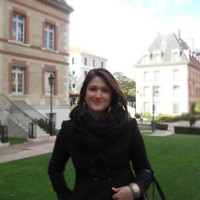 An enthusiastic Operations Manager at TopDevelopers.co, coordinating and managing the technical and functional areas. She is an adventure lover, passionate traveler, an admirer of nature, who believes that a cup of coffee is the prime source to feel rejuvenated. Researching and writing about technology keeps her boosted and enhances her professional journeying.