The emergence of mobile apps has changed everyone's life altogether. Be it for business or personal daily activities, smartphones virtually dictate communications, shopping, and other daily tasks. Thus, it will be safe to say that the 'mobile commerce' space is constantly evolving and is here to stay.
The importance of mobile commerce (mCommerce) can be gauged from the fact that the global mcommerce market valued at US$ 628 billion in 2020 is poised to grow at a CAGR of around 34% during 2021-2026.
With the advent of technology, consumer behavior has changed at a rapid rate. Because mobile commerce provides them ease of usage, it will continue to thrive in the future.
To ride the bandwagon of mobile ecommerce, you need to be completely aware of the changing mcommerce trends. In addition, you need to have the top ecommerce app development companies by your side to render you the best possible service.
We will see the mobile commerce trends and strategies that will impact the business in 2022 and beyond. Moreover, we'll also dig deep into the impact that these trends will have on the entire ecommerce realm.
A brief explanation of Mcommerce
Mobile commerce is also known as mcommerce or m-commerce is one of the most promising trends in ecommerce. This space includes everything related to any monetary transaction that is done through the mobile device. While on ecommerce, you associate buying or selling things using any digital platform, mobile commerce is related to smartphones and tablets only.
The emergence and evolution of mobile commerce have also given rise to a plethora of new services. It includes:
Mobile banking
Electronic money transfer
Location-based services
Mobile marketing
Digital content delivery and purchase
Different types of Mobile Commerce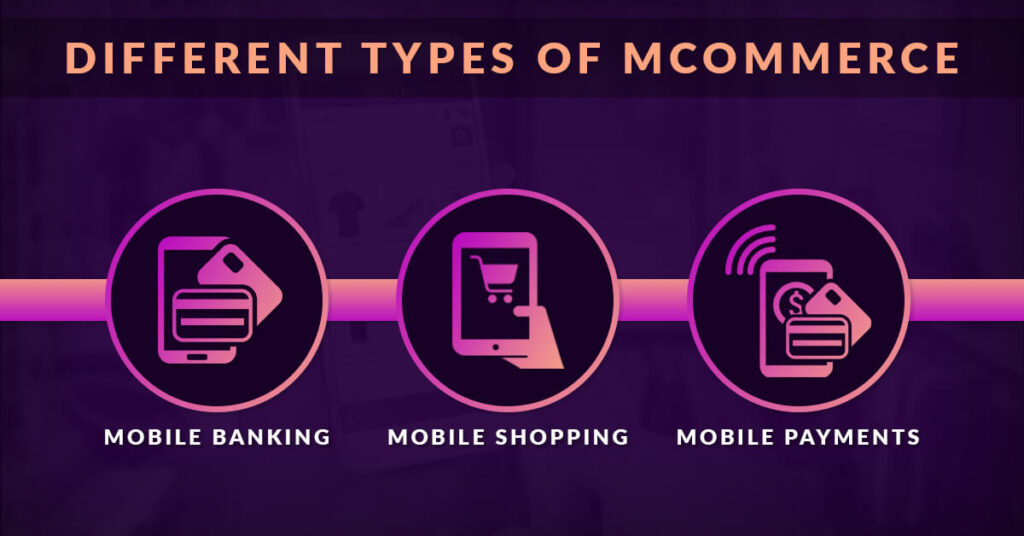 The mobile commerce world is very diverse. Within this digital realm, there are three different types of mobile transactions happening:
Mobile Banking
Mobile Shopping
Mobile Payments
Mobile Banking
It includes transferring money from one bank account to another using a mobile device. In addition, through mobile banking, you can do the required banking work through a mobile device.
Mobile Shopping
The shopping that you do through your mobile device like ordering a book online or buying new clothes comes under mobile shopping.
Mobile Payments
Doing payments through the mobile device by using different apps falls under the mobile payments category. Be it paying for your grocery bill after dinner through Apple/Google Pay, everything falls under the umbrella of mobile payment.
Stats and figures for Mcommerce
There are some promising statistics that we make you understand about the present and the future of mobile commerce. We have listed a few of the highlighted stats below:
By 2023, the mobile payment market will hit a mark of $4.574 billion. This means that the mobile payment market has shown a compounded growth of 33.8% since 2017
Mobile payments are projected to continue their unprecedented rise and will show a growth of 26.93% between 2020-2025
50% of the total ecommerce sales in 2021 came from mobile.
Mcommerce sales are expected to reach $3.56 trillion in 2022
Mobile devices were used for conducting 6 out of 10 Google searches
60% of consumers use social media to research new products and services.
Importance, Advantage and Disadvantages of Mobile Commerce
Mobile commerce is constantly gaining popularity as it is easy to use. Moreover, through mobile commerce, business organizations can expand their horizon and even excel in untraded paths. Over the years, mobile commerce has become one of the most effective revenue-generating mediums for companies.
But with the high points, there are some drawbacks of Mcommerce.
Here, we will see all the benefits and disadvantages of M-commerce in detail.
Advantages of Mobile Commerce
Mobile commerce has all the ingredients to take the overall ecommerce shopping experience to newer heights. Here is the list of some of the most pertinent advantages of mobile commerce:
Extraordinary growth potential
Researchers believe that the global mobile commerce revenue will reach a whopping $3.56 trillion in 2022. This is because more than 50% of the traffic for online retailers comes from mobile devices. Thus, investing in mobile commerce could reap rich benefits for the retailers as it will give a high return on investments.
Enhances the overall customer experience
With mobile commerce, customers can have access to a wide range of products. In addition, the companies can incorporate dynamic pricing to increase their customer base through mobile commerce. With the mobile device, your product is not subjected to just a brick-and-mortar store.
Mobile commerce also allows businesses to render more personalized services to their customers. Because with the mobile device, the customers can shop whatever they want, wherever they want.
Different payment options
Mobile commerce is a phenomenon that is in constant evolution. With new solutions emerging, it is now easier to render different payment options to the customers. Since the checkout process is hassle-free, it has reduced the bounce rate.
The one-click checkout process allows the customers to complete their overall shopping experience seamlessly. Moreover, as mobile commerce has m-wallets, the checkout process becomes easier as they don't have to enter their card details manually.
Multi-channel shopping experience
A multi-channel experience comprises both online and offline stores. With mobile commerce, you can let your customers shop within your brick-and-mortar store while seeing new offers and products on your mobile phone.
Drawbacks of mobile commerce
Now, after the high-flying advantages, let us take a look at some of the drawbacks of mobile commerce:
Connectivity Problem
In areas with poor internet, the users might get irritated while using m-commerce as everything will become distorted. It will be safe to say that internet problems are one of the significant obstacles in mobile commerce.
Security issues
No one can deny the presence of fraudulent activities relevant in the mobile commerce realm. Looking at the severity of the problems, many people still refrain from using mobile commerce. Moreover, users also have a fear of losing their personal information to fraudulent activities.
Not coming out of the comfort zone
Despite the proliferation of technologies, there is still a section of society that is living in denial. They are not ready to embrace technology and change with it. Thus, these kinds of people cause a significant hurdle in the proliferation of mobile commerce.
Global mobile commerce trends for 2022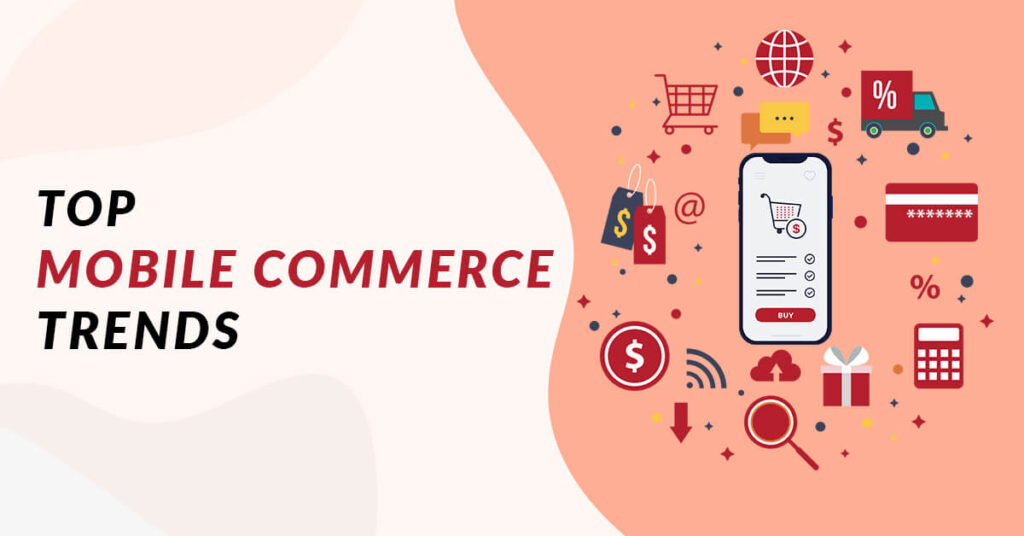 We will have a look at the global mobile commerce trends that will have their say in 2022 and years to come:
Location-based marketing
Location-based marketing is one of the emerging trends in the advertising industry. The targeted mobile advertising spend in the United States alone is forecasted to surpass $32 billion by the end of 2023. Many leading retail companies such as Target, Macy's, and JCPenney have turned towards location-based marketing to increase sales and drive in-store traffic.
Brands use location based marketing to help the consumers find the nearest location of their favorite stores. Retailers also utilize location-based marketing to provide a more personalized shopping experience to their users.
Location-targeted ads are an effective way of cutting through the marketing noise, delivering the offers that shall meet the needs of the consumers.
Retailers can benefit from the following two types of location-based ad strategies
Geofencing
In geofencing, the retailers create a specified radius around a physical location in which targeted ads are served to attract customers.
Geotargeting
In geotargeting, the retailers target the customers based on past visits to specific locations.
Location-based advertising will be one of the hot mcommerce trends in 2022 as it will help brands connect with the users on a deeper level.
Video marketing
By 2022, video marketing will make up more than 82% of all consumer internet traffic. That will be 15 times higher than the 2017 levels. According to EyeWideDigital, a video boosts the conversion rate by 80%. One reason for the high conversion rates of a video, as opposed to text, is that humans process an image much faster as compared to text.
The popularity of video as a marketing tool has received an impetus with the emergence of short video platforms Such as Youtube Shorts, Instagram Reels, and TikTok. Many businesses have now built their own video production departments to focus on video marketing.
Businesses use video marketing in the following ways
Provide video of the products on the product page
Allow the users to attach the product videos to their reviews
Video marketing can prove to be one of the most important trends to watch out for in 2022 as it is a proven performer in terms of conversion rate.
QR codes
Companies such as Starbucks, Walmart, and Boston Market have integrated QR codes as an integral part of their marketing strategy. While McDonald's has put QR codes on its packaging to allow the consumers to get details of the nutrition value on their food, Boston Market enticed consumers towards its restaurants by offering them prizes if they scanned a QR code.
Retailer Express is a brand that places QR codes on the emails that it sends to the consumers, this allows them to shop the featured looks directly from the email.
The QR codes provide the following benefits to the marketers
Effective call-to-action tool
Enhance SEO and SMO
Measure effectiveness of the marketing campaign
QR code is one of the most exciting trends that will be explored by brands in 2022.
Social commerce
The global social commerce market is expected to reach $2.9 trillion by the year 2026.
Through social commerce, businesses sell products directly via social media networks. Social commerce is different from social media marketing as the business won't redirect the users to an online store, but instead allow the users to directly checkout from the social media network.
A majority of smartphone users spend a significant amount of time on social media and this is why social commerce is going to be one of the trends to look out for in 2022.
Social commerce can provide the following benefits to a mcommerce business
Consistent audience growth
Better reach amongst millennials
Improved customer insights
One-click ordering
A hassle-free checkout process plays a very important part in delivering a comprehensive experience to the users. We all know that while checking out, the customer has to enter a lot of information. Thus, one-click ordering is essential as it allows the users to complete the entire shopping process in, yes, just one click.
This reduces the shopping cart abandonment rate, which is a win-win situation for business owners and customers. The implementation of the one-click ordering technology is one of the important m-commerce trends that more ecommerce businesses will apply in the future.
The insurgence of Voice commerce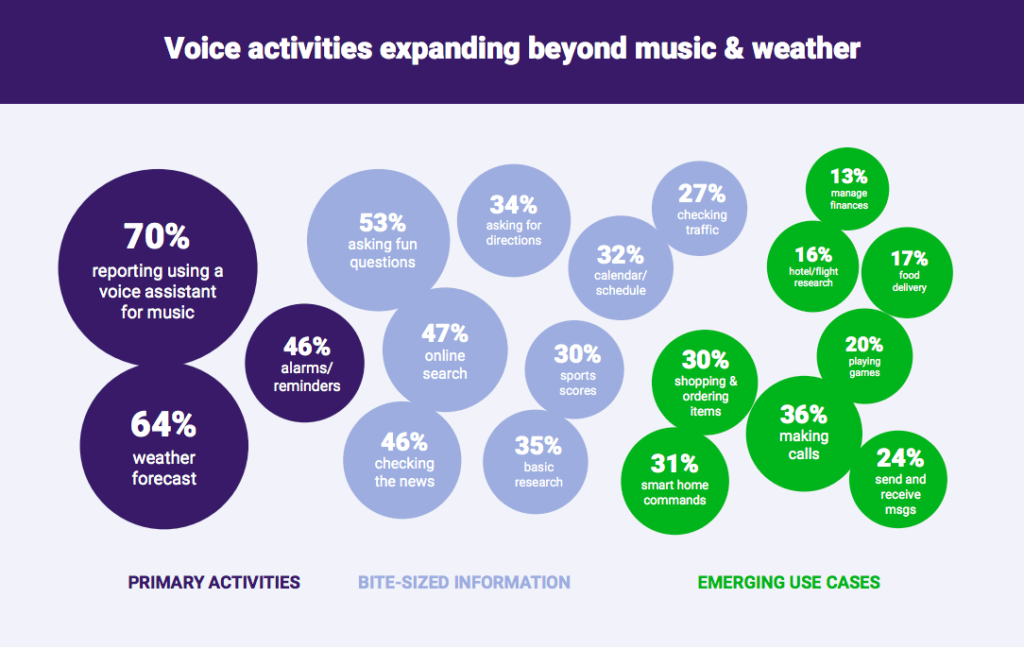 Be it Google's Assistant or Apple's Siri or Amazon's Alexa, the popularity of voice assistants is growing by leaps and bounds. Voice commerce has emerged as one of the most popular mobile commerce trends and its popularity can be realized through two distinct statistics:
Voice shopping is estimated to grow to 40 billion by 2022
There will be 8 billion devices worldwide with voice assistants in them by 2023
Voice technology is perfect for multi-taskers as they do not require keyboard or mouse to enter the data. Moreover, there is still scope for improvement in Voice technology. It needs to support more accents and languages. But despite the need for improvement, Voice technology is still vital for mobile commerce on the whole.
Live Chat
It's no hidden fact that chatbots have been around in the digital realm for ages. And now leveraging the chatbot technology for your ecommerce website can help you achieve new levels of customer satisfaction.
Rendering personalized services is very important as it plays a pivotal role in keeping your customers hooked to your app. Chatbots, although with some amazing benefits, are still finding their feet in the mobile world. This gives you an opportunity to ride on one of the most promising m commerce trends and take the early bird advantage from your peers.
Below is a complete pictorial representation of the potential benefits of chatbots in mobile commerce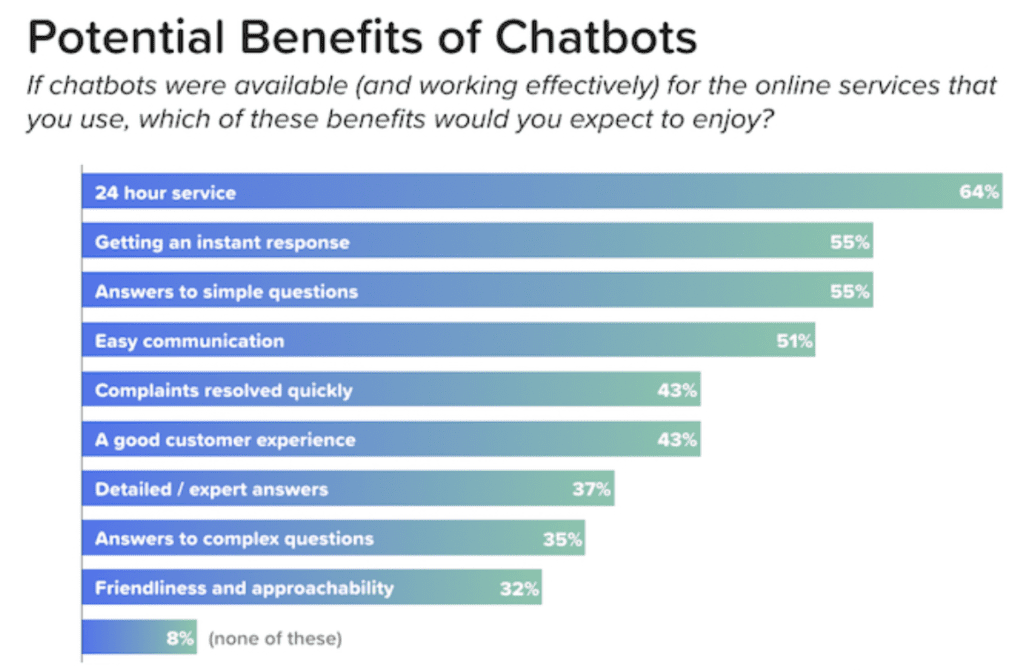 NFC Payments
One of the most important mobile commerce trends that will shape 2022 is NFC(Near-Field Communication). NFC is a part of a multichannel experience that enables contactless payment for mobile owners. Thus, it allows them to complete their overall in-store transactions swiftly.
The NFC systems use the same chip found in credit cards, but when the mobile owners opt for these services, they are referred to as NFC payments only.
The prime objective of NFC is to remove the complexity of the payment process and complete all kinds of transactions speedily. Moreover, the users can use the NFC tags to obtain more information about the product as well. Thus, they also make their entire shopping experience more eventful.
Multichannel Marketing
In the modern era, a seamless shopping experience is one of the primary requirements of the customers. Thus, you must include an omnichannel approach in your mobile commerce strategy. The new-age customers tend to switch between devices; thus a multi-channel marketing approach will help increase the range of your product.
Moreover, multichannel marketing strategy is not as hard as it seems. You can start it by following these simple steps:
Always have personalized content according to the buying habits and likes of the customers.
Focus on using consistent branding of your product across all the channels. This technique will increase the 'positive word of mouth' publicity of your product.
Allow your customers to create a user profile across multiple platforms. Thus by this, you will have more chances to be in their attention frame
Augmented Reality and Virtual Reality
The augmented and virtual reality market is expected to reach $454 billion by 2026. Although many people tend to use the terms interchangeably, there is a significant difference between AR(Augmented Reality), VR(Virtual Reality) and MR(Mixed Reality).
While VR immerses users in a fully artificial digital environment, AR overlays virtual objects in real-world environments. Mixed Reality anchors the virtual objects into the real world.
Augmented Reality (AR) gives a wholesome experience to the users by displaying digital items more comprehensively. AR-tools with AR-powered virtual assistants can render a prolific and unique virtual experience for the customers.
Artificial Intelligence and Machine Learning
Artificial Intelligence allows the technology to understand the pattern of repetitive human habits. Along with Machine learning, it has become one of the hottest mcommerce trends going around in the realm of ecommerce.
With AI and ML, the marketers can automate and give the customers a personalized shopping experience all at once. Before the emergence of modern algorithms, the process of recommendations was done manually and it was error prone.
Along with recommendations, Machine Learning can also help in a product by giving thoughtful and more relevant results. By providing more personalized recommendations Artificial intelligence and Machine Learning can increase sales for businesses.
Progressive Web Apps
The popularity of the Progressive Web Apps (PWA) is increasing by leaps and bounds as this new technology enables more app-like features for stores. Moreover, the PWA has all the essential features of the native apps like offline mode, push notification, installability, and many more.
Inherently PWAs are based on web technologies but it can work across every device with a supporting browser. Thus, with PWA, you don't have to develop platform-specific apps that add to the overall cost-benefit. Moreover, with the right kind of implementation, the companies can publish their PWA app and the customers can download it just like the native app.
Why are businesses investing in Mobile Commerce?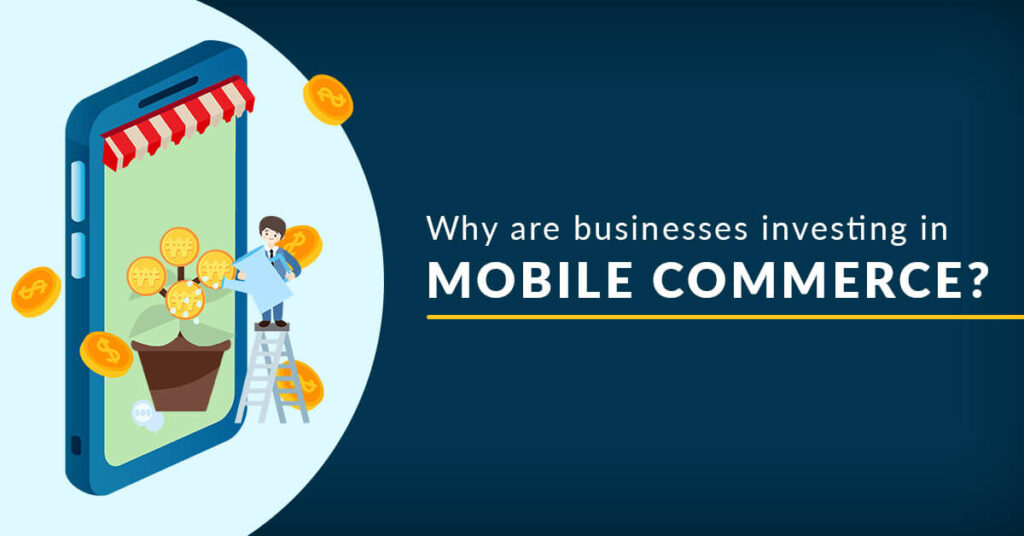 Below are some of the top reasons why companies are investing in mobile commerce on a very large scale:
Better internet presence
In today's digitally driven world, no business can afford to have a limited internet presence. Mobile commerce helps set up a good online shop, which will increase the visibility of your product and its overall user base. Moreover, you can effectively use the right keywords for the online content to gain more organic traffic.
The horizon of online purchase is rising
Online purchases have risen to unprecedented levels and now with the emergence of mobile commerce, it is set to go even higher. Online shopping is easy and looking at the present pandemic situation, it is best to have an online shop for the betterment of your business
Knowing what your customers want
By understanding the buying pattern, you can understand and track your customers' needs with mobile commerce. The mcommerce store has a variety of tools that will keep you at par with the evolving buying habits of your customers.
Cost-effective
It's no-brainer that setting up an online shop is far more economical than having a physical store. Moreover, running an ecommerce store is a viable option for small businesses as they don't have to deal with the overhead costs.
Also Read: Why do most ecommerce and mcommerce platforms fail?
How to design an amazing mobile experience with ecommerce apps?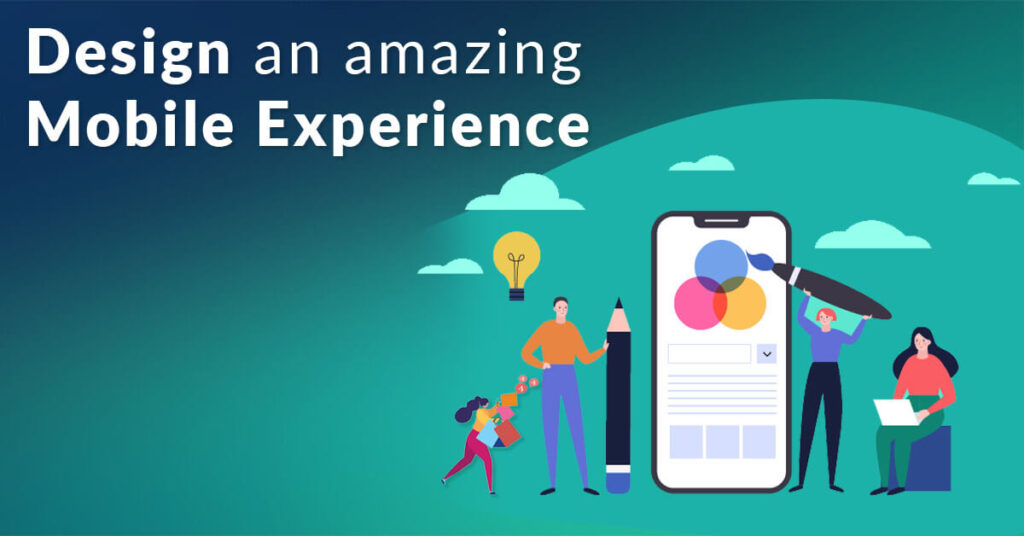 A credible mobile experience can skyrocket your sales through mcommerce while the opposite of it could lead to your downfall. Thus, we have suggested some amazing methods to provide a better mobile experience to your customers.
Always have a mobile-first approach
To give a proper mobile experience, you should think about everything from the context of the small screen. Because this is how you will understand how the behavior of the users changes when they use their mobile devices. Do not just send a stripped version of your desktop website as a mobile app; it will ruin the entire user experience
Understand the users
Having a complete understanding of the buying habits of your targeted audience is paramount for a mobile commerce business. Mcommerce businesses must conduct in-depth in-depth analyses about the customer needs to provide them with more personalized services. In addition, refrain from designing the mobile app based on any assumptions and untrustworthy opinions.
Know the usage patterns as well
Companies need to know that each user is unique in their way. Thus with a view of giving the best mobile experience, understand the device usage pattern of your users as well. There will be inaccuracy in taps and there will be users who will use their fingers instead of thumb while operating the phone. Thus, while designing the mobile app, you should keep every aspect in mind.
Future of Mcommerce
Mobile commerce is an undisputed rising star in the ecommerce realm. Moreover, as far as the numbers are concerned, they are terrific for mobile commerce. For example, the total spending on mcommerce is projected to reach $740 billion in 2023. This means it has a whopping 150% increase as compared to the status in 2018.
In addition, research has also shown that more than 66% of the total money spent by customers in online shopping is done using a mobile device.
As the trends suggest, the future of the ecommerce realm will be dominated by mobile commerce. Moreover, a comprehensive ecommerce development guide will assist you in building a competent mobile commerce platform. And to ride the bandwagon of mcommerce, you need to be aware of all the latest mcommerce trends. Moreover, with the expansion of technology, the businesses would be looking to build a niche mobile commerce market to cater to the needs of their customers.
Thus, it has become necessary for businesses to have a competent mobile commerce strategy for the upcoming trends.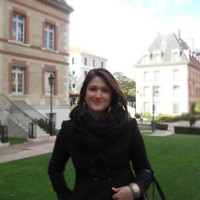 An enthusiastic Operations Manager at TopDevelopers.co, coordinating and managing the technical and functional areas. She is an adventure lover, passionate traveler, an admirer of nature, who believes that a cup of coffee is the prime source to feel rejuvenated. Researching and writing about technology keeps her boosted and enhances her professional journeying.