If you are searching how to convert the Android app to iOS, you are looking to expand your business which is a good space to be in. And given the fact that iOS users have more spending ability than Android users, the platform conversion decision is a smart one. But here, businesses should also understand that it is not easy to convert Android to iPhone, as is the case for Android APK to iOS conversion.
But you might be thinking; Android apps have the biggest market share, so why are we saying that converting Android to iOS is a good marketing decision? The answer to this lies in the spending power of the iOS users, which is significantly higher than the Android users.
Now, when as a business owner, you decide to convert the Android app to iOS, there will be a lot of questions that will creep in. How tough will it be to convert the app? Where should you begin with? What are the concrete steps to convert Android to iOS? Etc. But as an entrepreneur, you must also remember that leading applications like Instagram and Airbnb too began as a single platform application and then escalated their way ahead.
Therefore, this blog will help understand the concrete steps to convert Android apps to iOS. Moreover, we will also understand why it is beneficial for business organizations to follow this route of converting app platforms.
Why is converting an Android app to iOS a good idea?
Before beginning the app porting process, it is necessary to have an explicit explanation behind it. Whether it is to convert Android to iPhone or vice-versa, the process must have a clear explanation; otherwise, it will not achieve the desired results. So if the app conversion process depends on these following factors, it becomes a success.
Research the existing market
Businesses need to understand what their target audience specifically wants. So if most of the audience use either Android or iOS platforms, there is no point in converting Android to iOS or vice versa.
The business organization then can do in-depth research based on the users' geo-location. Because of the in-depth market research, the business houses would know whether it is beneficial to follow the process of converting Android to iOS.
Analyzing the app indicators and metrics
Along with analyzing the needs and wants of the target customers, the decision to convert Android to iOS should also be dependent on hard facts and countable metrics. For example, business organizations must look at the number of active users and sufficient downloads to make a call.
These indicators will bring forward the true reality of the market and allow the businesses to think in a broader sense and then make an informed decision.
How to convert Android app to iOS: A four-step process
To convert Android to iOS, business organizations must follow a strategic process to achieve the desired results. Below is a detailed four-step process that will help organizations get a fruitful Android to iOS conversion.
1. App functionality and requirements
Many elements would be included in the existing Android application. Therefore, the client firm must hire from the top mobile app development companies that give detailed attention to all the elements. Whether it is the application's design, source code, or functional specifications, everything should be studied in detail to help align the app's functionality and business logic.
Moreover, businesses must also take care of both perspectives, technical and business, while implementing the initial step to convert the Android app to iOS. Therefore, they must take the help of expert business analysts and software architects to perform this process tactfully.
From the technical point of view, here are some important points to consider:
Understand the business logic and then apply it to the new project
Important to check the app optimization and improvement possibilities
Thoroughly check the compatibility with third-party frameworks
And from the business deliverables viewpoint, here are some important things to look at:
Concrete market analysis
Code and design review
Understanding the list of features and their description
Project mind gap
2. Design adjustment for app conversion
In-app porting, it becomes necessary to code from the absolute beginning. Therefore, logically speaking, the layout and the interface of the layout must be changed too. Moreover, businesses should not make the mistake of just copying the existing UI as it could break the look and feel of the converted app.
Here are some important app design aspects to look at:
Flat design patterns vs. material
IOS and Android OS platforms have different design patterns. Therefore, flat design patterns are required to convert Android apps to iOS apps. While on the other hand, iOS to Android app conversion requires material design. The material design is a more three-dimensional process, while the flat design patterns are direct in design.
UI design
Both Android and iOS have different User Interface (UI) components. Therefore, it is important to understand their differences in detail.
Design slicing for Android or iOS conversion
Before beginning the app development process, it is necessary to slice the app design into assets. This process helps the app development team put the relevant design to the code.
So when converting an Android app to iOS, the application design is sliced into 1x*pdf. Moreover, it is also necessary to understand that it is a vector format. So it can be resized as per requirements by the app developers to 2x or 3x.
URL mirroring
Understanding what kind of languages the app supports before porting it becomes crucial. The prime difference between right-to-left (RTL) languages and left-to-right (LTR) languages is the content's direction. Therefore, when converting Android to iPhone, this becomes an important aspect.
Starting from Android 4.2 Jelly Bean, Android has built-in support for the RTL interfaces. Thus, it becomes easier to control the URL mirroring.
3. Architecture components and coding
When converting an Android app to iOS takes place, it becomes almost impossible to recompile the code. Apart from the programming language, the application utilizes third-party integrations, external solutions, and libraries. Therefore, it is necessary to check the compatibility of the Android application that will be converted with the given elements.
Moreover, when businesses hire from the leading Android app development companies or iPhone app development companies, they take care of the tech stack that assists Android to iOS conversion and reverse.
Tech stack to convert Android app to iOS or in reverse: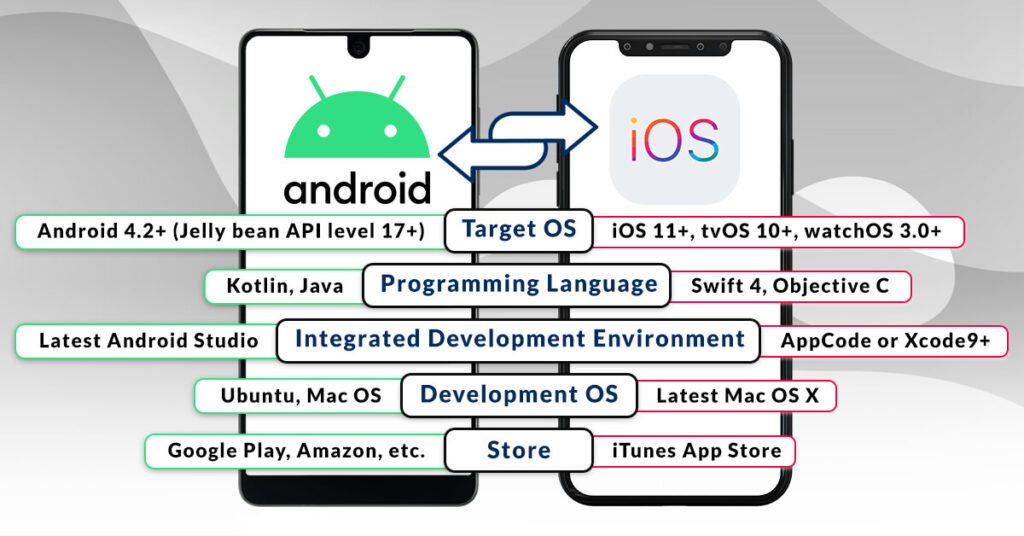 Along with the tech mentioned above the stack can use some third-party services to convert Android to iOS and reverse:
Social networks: Linkedin, Facebook, Twitter, Instagram, SinaWeibo+
Postal service: FedEx, EasyPost, etc.
Payment: Paypal, Braintree
Analytics: Crashlytics, Mixpanel, Google Analytics, Flurry
4. Testing the app and launch
It is necessary to have detailed and well-thought-out app testing to get the desired result from the app conversion process. Therefore, along with app design and coding, it is necessary to have quality assurance while converting Android to iOS applications or vice versa.
Below is the quality assurance engineers' list of tests in terms of design interface, navigation, and code functioning.
Usability testing
Validation testing
Control testing
Security and access
Functional testing
User acceptance
Load and performance testing
Moreover, as Apple's app store has stricter guidelines for submitting the app, following the common software, tools, and devices for testing is recommended. Using the common tools will help the app to meet the specific guidelines.
Additional tip: iOS to Android app conversion
For iOS to Android app conversion to take place smoothly, it is necessary to take care of the main Android design features:
Material design
Three main options: Home, Back, and Multitasking
Device variety with different OS versions
List of common mistakes to avoid
The process of converting an Android app to iOS can be a tricky task. Therefore, business organizations must avoid these common pitfalls.
Always check the app localization functionality.
If there is a multi-language app, it is necessary to check the development works.
Understand out of the work solutions thoroughly.
Have an Apple and Google account beforehand.
Check all possible backend system adjustments.
Final words
The bottom line is whether the business organization is looking to convert Android app to iOS or iOS app to Android, they must make the development time shorter. Moreover, it is also essential to look at the iOS app development trends and Android development trends before making the conversion process functional.
Finally, and as mentioned earlier, both the business and technical aspects should be given equal importance and convert Android to iOS skillfully.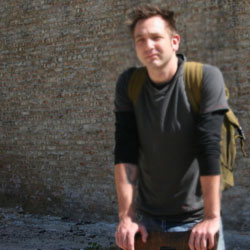 Analyzing business activities and data to formulate the best business development ideas is where I earn appreciations and remunerations. I'm an ardent reader, business adviser, gadget aficionado and an amateur yet an avid writer. My urge for innovative writing evokes every time I come across new gadgets, neo technology and novel technical events.