The emergence of mobile apps has changed everyone's life altogether. Be it for business or personal daily activities, smartphones virtually dictate communications, shopping, and other daily tasks. Thus, it will be safe to say that 'mobile commerce' space is constantly evolving and is here to stay.
The importance of mobile commerce (mCommerce) can be gauged from the fact that it accounted 34.5% of the total ecommerce sales in 2017. This number swelled and now in 2021, M-commerce accounts for 54% of the total ecommerce sales.
With the advent of technology, consumer behavior has changed at a rapid rate. Because mobile commerce provides them ease of usage, it will continue to thrive in the future.
To ride the bandwagon of mobile ecommerce, you need to be completely aware of the changing trends. In addition, you need to have the best ecommerce development agencies by your side to render you the best possible service.
We will see the mobile commerce trends and strategies that will impact the business in 2021 and beyond. Moreover, we'll also dig deep into the impact that these trends will have on the entire ecommerce realm.
A brief explanation of Mcommerce
Mobile commerce is also known as mcommerce or m-commerce. This space includes everything related to any monetary transaction that is done through the mobile device. While on ecommerce, you associate buying or selling things using any digital platform, mobile commerce is related to smartphones and tablets only.
The emergence and evolution of mobile commerce have also given rise to a plethora of new services. It includes:
Mobile banking
Electronic money transfer
Location-based services
Mobile marketing
Digital content delivery and purchase
Different types of Mobile commerce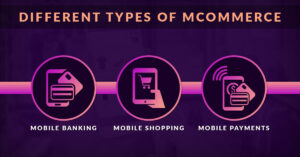 The mobile commerce world is very diverse. Within this digital realm, there are three different types of mobile transactions happening:
Mobile Banking
Mobile Shopping
Mobile Payments
Mobile Banking
It includes transferring money from one bank account to another using a mobile device. In addition, through mobile banking, you can do the required banking work through the mobile device.
Mobile Shopping
The shopping that you do through your mobile device like ordering a book online or buying new clothes comes under mobile shopping.
Mobile Payments
Doing payments through the mobile device by using different apps falls under the mobile payments category. Be it paying for your grocery your bill after dinner through Apple/Google Pay, everything falls under the umbrella of mobile payment.
Stats and figures for Mcommerce
There are some promising statistics that we make you understand about the present and the future of mobile commerce. We have listed a few of the highlighted stats below:
Importance, advantage and drawbacks of mobile commerce
Mobile commerce is constantly gaining popularity as it is easy to use. Moreover, through mobile commerce, business organizations can expand their horizon and even excel in untraded paths. Over the years, mobile commerce has become one of the most effective revenue generating medium for the companies.
But with the high points, there are some drawbacks of Mcommerce. Here, we will see all the advantages and disadvantages of M-commerce in detail.
Advantages of mobile commerce
Mobile commerce has all the ingredients to take the overall ecommerce shopping experience to newer heights. Here is the list of some of the most pertinent advantages of mobile commerce:
Extraordinary growth potential
Researchers believe that the global mobile commerce revenue will reach a whopping $3.56 trillion in 2021. This is because more than 50% of the traffic for online retailers comes from mobile devices. Thus, investing in mobile commerce could reap rich benefits for the retailers as it will give a high return on investments.
Enhances the overall customer experience
With mobile commerce, customers can have access to a wide range of products. In addition, the companies can incorporate dynamic pricing to increase their customer base through mobile commerce. With the mobile device, your product is not subjected to just a brick-and-mortar store.
Mobile commerce also allows businesses to render more personalized services to their customers. Because with the mobile device, the customers can shop whatever they want, wherever they want.
Different payment options
Mobile commerce is a phenomenon that is in constant evolution. With new solutions emerging, it is now easier to render different payment options to the customers. Since the checkout process is hassle-free, it has reduced the bounce rate.
The one-click checkout process gives the customers to complete their overall shopping experience seemlesly. Moreover, as mobile commerce has m-wallets, the checkout process becomes easier as they don't have to enter their card details manually.
Multi-channel shopping experience
A multi-channel experience comprises both online and offline stores. With mobile commerce, you can let your customers shop within your brick and mortar store while seeing new offers and products on your mobile phone.
Drawbacks of mobile commerce
Now, after the high-flying advantages, let us take a look at some of the drawbacks of mobile commerce:
Connectivity Problem
In areas with poor internet, the users might get irritated while using m-commerce as everything will become distorted. It will be safe to stay that internet problems are one of the significant obstacles in mobile commerce.
Security issues
No one can deny the presence of fraudulent activities relevant in the mobile commerce realm. Looking at the severity of the problems, many people still refrain from using mobile commerce. Moreover, users also have a fear of losing their personal information to fraudulent activities.
Not coming out of the comfort zone
Despite the proliferation of technologies, there is still a section of society that is living in denial. They are not ready to embrace technology and change with it. Thus, these kinds of people cause a significant hurdle in the proliferation of mobile commerce.
Global mobile commerce trends for 2021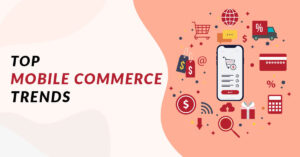 Now is the time to see the global mobile commerce trends that will have their say in 2021 and years to come:
Keeping away from stagnant pricing
If you want to know the hottest trend in mobile commerce these days, it is dynamic pricing. Dynamic pricing is also known as time-based pricing or demand pricing which allows the brands to offer similar products at different rates. For example, there is a high demand for clothes and apparel during festivals. Thus, brands here can seize on the opportunity and offer clothes at a lesser price to have the interest of the customers.
Despite lowering the prices, business companies will make more profit by selling more units than usual. Different tools such as Minderest will assist you in finding the best competitive price in the market.
Diverse payment options
Your customers will always appreciate you if they get easy, fast and diverse payment options. Yes, multiple payment options play a pivotal role in enhancing the overall customer experience. Thus a mobile app or website with a seamless navigation feature and a single click checkout will attain more attention of the potential buyers.
In addition diverse payment options such as mobile wallets, credit/debit cards, etc will give you more options to convert your customers.
Multichannel Marketing
In the modern era, a seamless shopping experience is one of the primary requirements of the customers. Thus, you must include an omni-channel approach in your mobile commerce strategy. The new-age customers tend to switch between devices; thus a multi channel marketing approach will help increase the range of your product.
Moreover, multichannel marketing strategy is not as hard as it seems. You can start it by following these simple steps:
Always have personalized content according to the buying habits and likes of the customers.
Focus on using consistent branding of your product across all the channels. This technique will increase the 'positive word of mouth' publicity of your product.
Allow your customers to create a user profile across multiple platforms. Thus by this, you will have more chances to be in their attention frame
The insurgence of Voice commerce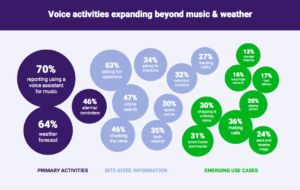 Be it Google's Assistant or Apple's Siri or Amazon's Alexa, the popularity of voice assistants is growing by leaps and bounds. Their level of popularity can be realized through two distinct statistics:
Voice shopping is estimated to grow to 40 billion by 2022
There will be 8 billion devices worldwide with voice assistants in them by 2023
Voice technology is perfect for multi-taskers as the they do not require keyboard or mouse to enter the data. Moreover, there is still scope for improvement in Voice technology. It needs to support more accents and languages. But despite the need for improvement, Voice technology is still vital for mobile commerce on the whole.
Progressive Web Apps
The popularity of the Progressive Web Apps (PWA) is increasing by leaps and bounds as this new technology enables more app-like features for stores. Moreover, the PWA has all the essential features of the native apps like offline mode, push notification, installability and many more.
Inherently PWAs are based on web technologies but it can work across every device with a supporting browser. Thus, with PWA, you don't have to develop platform-specific apps that add to the overall cost benefit. Moreover, with the right kind of implementation, the companies can publish their PWA app and the customers can download it just like the native app.
Augmented Reality and Virtual Reality
Augmented Reality (AR) gives a wholesome experience to the users by displaying digital items more comprehensively. The impact of AR can be realized from the fact that in 2020 it generated $120 billion in the ecommerce market. AR-tools with AR-powered virtual assistants can render a prolific and unique virtual experience for the customers.
Along with Augmented Reality, Virtual Reality has become a popular buzzword in the tech space. The combination of AR and VR provides endless opportunities for the business company to level up its mcommerce game.
Artificial Intelligence and Machine Learning
Artificial Intelligence allows the technology to understand the pattern of repetitive human habits. And along with Machine learning, it has become one of the hottest trends going around in the realm of ecommerce.
With AI and ML, the marketers can automate and give the customers a personalized shopping experience all at once. Before the emergence of modern algorithms, the process of recommendations was done manually and it was error prone.
Along with recommendations, Machine Learning can also help in a product by giving thoughtful and more relevant results.
Live Chat
It's no hidden fact that chatbots have been around in the digital realm for ages. And now leveraging the chatbot technology for your ecommerce website can help you achieve new levels of customer satisfaction.
Rendering personalized services is very important as it plays a pivotal role in keeping your customers hooked to your app. Chatbots, although with some amazing benefits, are still finding their feet in the mobile world. This gives you an opportunity to ride on this rising trend and take the early bird advantage from your peers.
Below is a complete pictorial representation of the potential benefits of chatbots in mobile commerce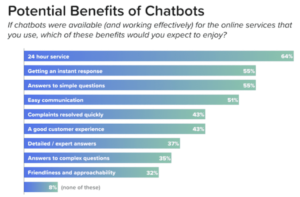 One click ordering
A hassle-free checkout process plays a very important part in delivering a comprehensive experience to the users. We all know that while checking out, the customer has to enter a lot of information. Thus, one-click ordering is essential as it allows the users to complete the entire shopping process in, yes, just one-click.
This reduces the shopping cart abandonment rate, which is a win-win situation for business owners and the customers. The implementation of the one-click ordering technology is on the rise and more ecommerce businesses will apply it in the future.
NFC Payments
Near-field communication or NFC is a part of a multichannel experience that enables contactless payment for the mobile owners. Thus, it allows them to complete their overall in-store transactions swiftly.
The NFC systems use the same chip found in credit cards, but when the mobile owners opt for these services, they are referred to as NFC payments only.
The prime objective of NFC is to remove the complexity of the payment process and complete all kinds of transactions speedily. Moreover, the users can use the NFC tags to obtain more information about the product as well. Thus, they also make their entire shopping experience more eventful.
Shop tags on Instagram
Social media is by far the most important platform if you wish to enhance your mobile commerce business. The social media platform these days have a long way from just being a place for posting pictures. For example, if you understand to the deep, Instagram is a competent sales platform that you can incorporate into your sales strategy.
As far as the stats are concerned, more than 74% of users consult social media while making their purchasing decisions. In addition, 31% of the users use social media platforms to see new products, which is more than online magazines or websites.
Thus, along with posting photos, you have to incorporate shoppable tags. These tools will redirect the users directly to the website from the Instagram posts. Adding the tags is an excellent feature to upscale your overall sales using the social media platform.
Brands are extensively using social media platforms to increase their user base. Moreover, social media platforms give more exposure and better brand exposure.
Why are businesses investing in mobile commerce?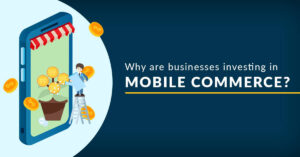 Below are some of the top reasons why companies are investing in mobile commerce on a very large scale:
Better internet presence
In today's digitally driven world, no business can afford to have a limited internet presence. Mobile commerce helps set up a good online shop, which will increase the visibility of your product and its overall user base. Moreover, you can effectively use the right keywords for the online content to gain more organic traffic.
The horizon of online purchase is rising
Online purchases have risen to unprecedented levels and now with the emergence of mobile commerce, it is set to go even higher. Online shopping is easy and looking at the present pandemic situation, it is best to have an online shop for the betterment of your business
Knowing what your customers want
By understanding the buying pattern, you can understand and track your customers' needs with mobile commerce. The mcommerce store has a variety of tools that will keep you at par with the evolving buying habits of your customers.
Cost effective
It's a no brainer that setting up an online shop is far more economical than having a physical store. Moreover, running an ecommerce store is a viable option for small businesses as they don't have to deal with the overhead costs.
Also Read: Why do most ecommerce and mcommerce platforms fail?
How to design an amazing mobile experience with ecommerce apps?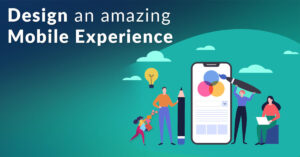 A credible mobile experience can skyrocket your sales through mcommerce while the opposite of it could lead to your downfall. Thus, we have suggested some amazing methods to provide a better mobile experience to your customers.
Always have a mobile-first approach
To give a proper mobile experience, you should think about everything from the context of the small screen. Because this is how you will understand how the behavior of the users changes when they use their mobile device. Do not just send a stripped version of your desktop website as a mobile app; it will ruin the entire user experience
Understand the users
Having a complete understanding of the buying habits of your targeted audience is paramount for a mobile commerce business. Mcommerce businesses must not shy away from doing in-depth analysis about the customer needs so as to provide them more personalized services. [REWRITE WITH BETTER WORDS]. In addition, refrain from design the mobile app based on any assumptions and untrustworthy opinions.
Know the usage patterns as well
Companies need to know that each user is unique in their way. Thus with a view of giving the best mobile experience, understand the device using pattern of your users as well. There will be inaccuracy in taps and there will be users who will use their fingers instead of thumb while operating the phone. Thus, while designing the mobile app, you should keep every aspect in mind.
Future of Mcommerce
Mobile commerce is an undisputed rising star in the ecommerce realm. Moreover, as far as the numbers are concerned, they are terrific for mobile commerce. For example, the total spending on mcommerce is projected to reach $740 billion in 2023. This means it has a whopping 150% increase as compared to the status in 2018.
In addition, researches have also shown that more than 66% of the total money spent by customers in online shopping is done using a mobile device.
As the trends suggest, the future of the ecommerce realm will be dominated by mobile commerce. Moreover, a comprehensive ecommerce development guide will assist you in building competent mobile commerce platform. And to ride the bandwagon of mcommerce, you need to be aware of all the latest trends. Moreover, with the expansion of technology, the businesses would be looking to build niche mobile commerce market to cater to the needs of their customers.
Thus, it has become necessary for businesses to have a competent mobile commerce strategy.