Since the last decade, the on-demand business model has gained immense popularity. Soon after Uber disrupted the taxi industry, businesses from various industries have adopted the on-demand business model to provide their consumers with 'on-demand', 'same-day delivery' option.
In fact, there are many on-demand delivery startups making it big day-by-day. Startups like Grofers, GrubHub, Postmates, Lyft, and many more seem to have broken the code to the on-demand success.
In general, on-demand delivery apps are actively disrupting the traditional ways of doing business by ushering the practice of instant gratification of consumers' demands, making the waiting period for a product or service a thing of past.
But, what is an On Demand Delivery App Exactly?
An on-demand delivery app is basically a bridge between businesses & consumers, which helps sellers to provide instant services to their customers' needs.
To be precise, an on-demand delivery app can deliver everything between groceries and food to electronic items and medicines right at customers' doorsteps.
Following are some statistics on the on-demand economy that will get you excited for launching your own on-demand delivery app startup.
On-Demand Economy Statistics That'll Blow Your Mind!
Let's see some numbers on the on-demand subject that prove why adopting the on-demand business model is totally worth it.
About 82 Million Americans are using on-demand apps on regular-basis, according to this research.
Another research also revealed that 49% of shoppers are more likely to shop online if the brand offers the same-day delivery option.
In fact, the same research also revealed that over 25% of shoppers would abandon a shopping cart if the same-day delivery option is not available.
60% of Americans are even ready to pay extra to get their packages delivered on the same day.
These stats clearly prove that the future of business belongs to on-demand, and those who are still being ignorant, will fade away soon.
In a nutshell, the on-demand delivery apps have created a wide range of opportunities for startups & businesses. On-demand has not only increased customer satisfaction & the number of sales, but it has made business processes easier.
Following are the top 5 reasons why businesses need to start investing in On Demand App Development right now!
Top 5 Reasons to Invest in On-Demand Delivery App
The on-demand delivery apps, in general, are a great way to boost the growth of a business. The process of doing business becomes easy and customers also enjoy a great deal of convenience.
Here are the top 5 reasons why your business should invest in on-demand app development.
Increase in Time Efficiency
On-demand apps reduce the time of service exchange by connecting consumers and businesses on a mobile app. This means there will be less or no physical interactions involved while making a purchase, resulting in prompt service.
In addition, as consumers get faster service through special apps such as 10-minute delivery apps, their level of satisfaction increases. It results in generating more loyalty towards your brand.
Ease of Doing Business
On-demand delivery apps, in general, integrate 2 major stakeholders under a single digital platform, making the delivery of services highly convenient.
Nowadays, consumers almost always have access to their smart-phones and the internet. Therefore, accessing on-demand services through their smart-phone devices has become a kind of a blessing in disguise.
This ease of service exchange increases the demand from consumers, increasing revenue as well as making the business grow way faster than any traditional method can do.
Real-Time Tracking
Most on-demand delivery apps provide the benefit of tracking the delivery of service or product in real-time. This means consumers can easily locate the delivery driver, track the status of their order and estimated time for arrival.
In short, real-time tracking feature arms consumers with a tool to identify the distance to be traveled by the driver and the approximate time he will take to deliver the ordered item.
Cashless Payment Option
With your own on-demand app, you can offer a wide range of payment options, just like all the popular brands, to your customers.
This gives customers the convenience of opting for cashless options like utilizing their credit card, debit card, and Internet banking.
Moreover, customer preferences to make payments online are increasing. So, it makes total sense why to provide cashless payment options in your on-demand delivery app.
Cost-Effective Business Model
If you're planning to launch an on-demand delivery app, then the first thing you need to know is that your app will be built using the latest, cutting-edge technologies which lower the dependency on human resources, saving you a lot of money as a result.
In simple words, with an on-demand delivery app every process in your business, from marketing your products/services, finding potential customers, receiving orders, payments, and arranging the delivery boys, can all be managed easily by just a couple of people, while the same tasks in the traditional business model requires an army of employees.
That means, the on-demand model is cost effective and provides the best ROI since the majority of customers prefer to make a purchase from a business that offers the on-demand option.
Also Read: The Real Cost of Developing a Mobile App
Conclusion – The Future Belongs to On-Demand Businesses  
The on-demand economy is only getting stronger every passing day, while more and more users are getting online at the same time.
In fact, businesses from all across the globe are already following this trend to meet their business goals. And by building on-demand mobile apps, businesses from all around the world have already tasted benefits mentioned.
Overall, it is high time to invest in on-demand app development for your business, no matter which industry it belongs to.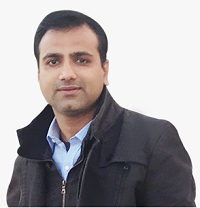 Pranjal Mehta is the managing director of Zealous System, a software, web, and mobile application development company which provides innovative and futuristic business solutions to its clients. He has a fierce passion for technology, which is why he is deeply committed to delivering solutions to the key problems faced by startups as well as enterprises.