If you are looking for a guide to transform your eCommerce website into an m-commerce app, then you have come to the right place. In this blog, we have detailed the process you need to adopt to achieve the website to mobile commerce solution. We have also added a list of must-have features in your mcommerce app that will ensure success for your business in the cut-throat competition arena of eCommerce.
As the eCommerce market grows rapidly across the world, consumers, especially from developing nations, are quickly shifting towards mobile commerce. The m-commerce sales are expected to reach $3.56 trillion by the end of 2021.
The following stats will address all the concerns regarding the potential of m-commerce:
Smartphones are used for 2/3rd of all purchases done in ecommerce.
4 out of 5 smartphone users have made a purchase online using their mobile devices.
It is expected that around 72% of all e-commerce will be m-commerce by the end of 2021.
Here are a few players who have nailed it in 2021 in the m-commerce arena:
Amazon
Walmart
Target
eBay
Groupon
The convenient experience of shopping from a smartphone increased smartphone and internet penetration in developing nations. The cost-effective nature of smartphones, as opposed to desktop computers, are the reasons that have helped boost mcommerce sales in recent years. With the onset of technologies like 5G, the trend will continue and give an impetus to m commerce.
In this write-up, we will have a look at the transition process from an eCommerce store to a mcommerce app. Although expert eCommerce developers will aid you in the smooth transition process, there are other factors also that you need to look into before you proceed. First, let's check out various reasons that will encourage you to launch a mobile app for your eCommerce business.
Why convert an eCommerce website into a eCommerce app?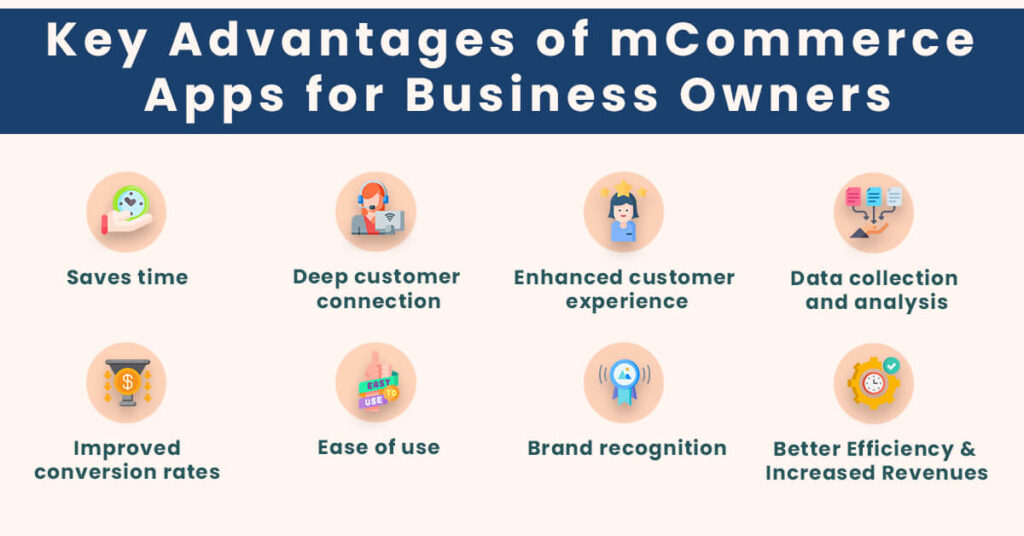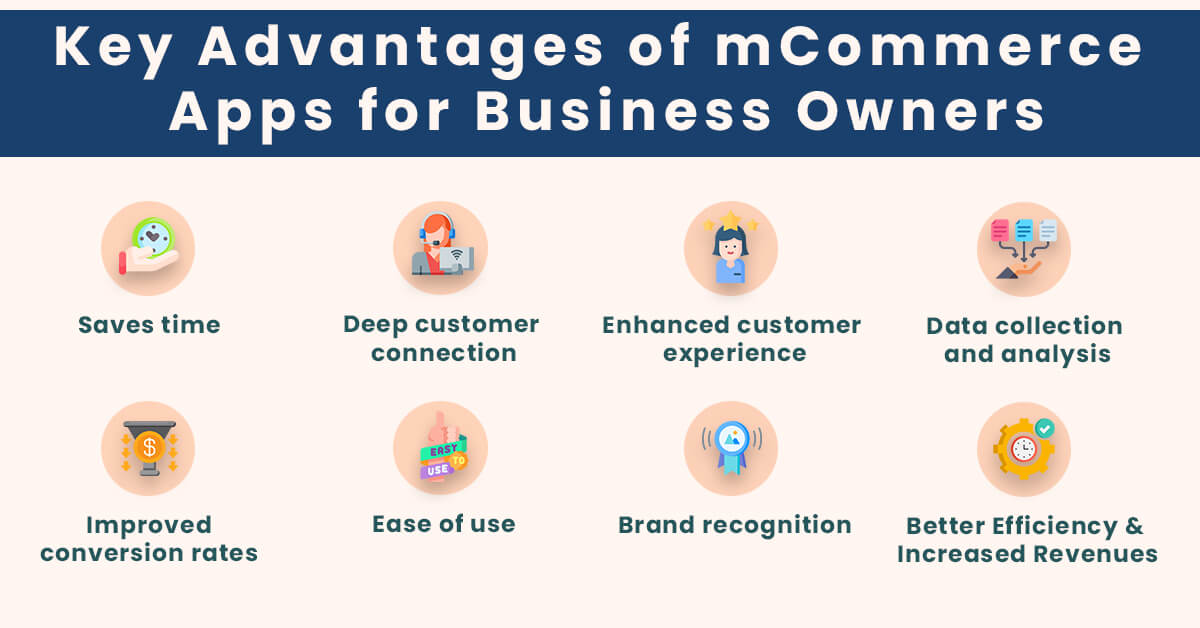 Some of the world's top eCommerce companies already have a mobile app. An eCommerce mobile app offers many game-changing benefits as compared to an eCommerce website. We have enlisted some of the most prominent benefits that you will find with an eCommerce mobile app as compared to an eCommerce website.
Saves time
You stand to lose a whopping 49% of your visitors because of slow load times. This is because the human attention span is dropping, and at 8 seconds, it is now lower than the goldfish. With an eCommerce website, you will lose the eCommerce battle as the average loading time of an eCommerce website is 10 seconds.

A mobile commerce solution saves time because the app loads faster as compared to websites. Faster loading time normally translates into increased sales velocity for your eCommerce business.
Brand recognition
An eCommerce app allows the brand to easily catch the attention of its users through features like push notifications. Push notifications can boost the app retention rate by 300 to 1000%. eCommerce stores can lure customers towards their stores by offering great offers, deals, and coupons sent via push notifications. You can also integrate various social media platforms into your mobile apps and allow your customers to discuss your products.
Enhanced customer experience
Technologies like AR (Augmented Reality), AI (Artificial Intelligence), and VR (Virtual Reality) can boost eCommerce business. 
One of the major questions of users of products like makeup is, how would it look on me? Using modern technologies like AR, an m-commerce app can allow the users to try makeup virtually from the convenience of their sofa. Brands like Sephora have already tried this successfully.
By using AI-enabled targeting tools, you'll be able to know which leads are worth pursuing, where you can find them, and how you can engage with them effectively. AI-enabled chatbots help the customers get quick resolutions of their issues, improving the customer experience exponentially.
Also Read: 8 Tips to improve the performance of your eCommerce UX.
Data analytics and better conversion rate
An eCommerce mobile app can help you easily gather relevant data about your customers. This data is related to the persona and buying behavior of your customers. Data gathering allows you to build targeted promotional campaigns, develop a better mobile commerce strategy and deliver personalized offers and other content to your users.
As an eCommerce business owner, one of the most important eCommerce metrics that you should track is the conversion rate. The one thing that tilts the scales in favor of an eCommerce mobile app instead of an eCommerce website is the fact that mobile apps tend to have a better conversion rate.

Features like push notifications assist in improving the conversion rate. Moreover, mobile apps can leverage the device features like cameras and GPS sensors to boost the conversion rate.
How to convert your eCommerce website into an m-commerce app?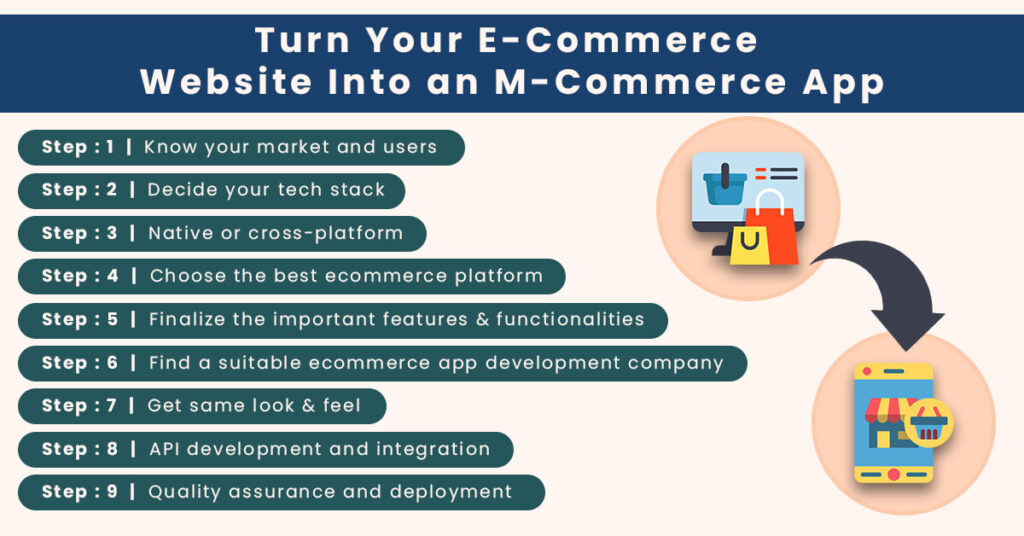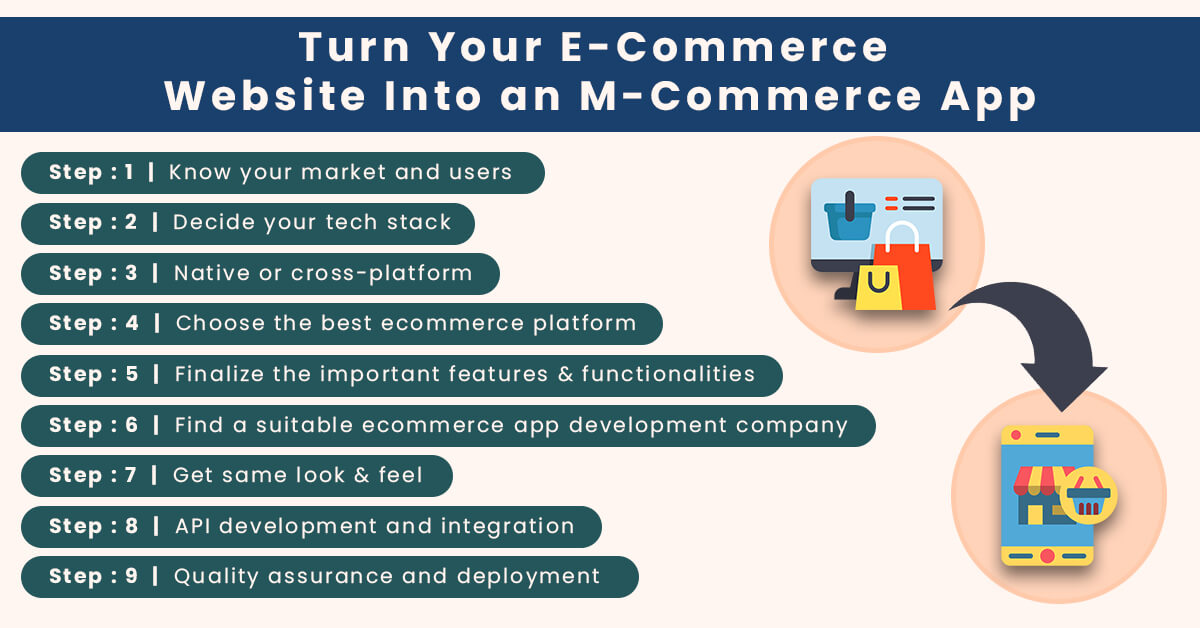 When you start your journey of converting an eCommerce website into a mcommerce app, there are many phases that you will need to take care of. We have mentioned below a suggested process to complete the transition smoothly.
Step:1 – Know your market and users
Although you might have done market research and would have sufficient knowledge about your users when you started an ecommerce website, it is a good idea to revisit this critical step before you embark on your m commerce journey. Conduct thorough research about your target audience and get data about their …
Demographics
Geographical location
The platforms (iOS or Android) they are on
Their likes and dislikes
The products they use now
The features they would love in an m-commerce app
Once you do a thorough analysis of the market and your customers, you will be able to build a mcommerce app that your users would love.
Step:2 – Decide your tech stack.
The tech stack directly affects the cost of your eCommerce mobile app and is a critical step of any ecommerce app development guide. To make your decision easy, you should first try and find out the kind of device (Android or iOS) that your target audience uses and the geographical area where your target audience resides.
Ask the following questions to yourself before you finalize the tech stack.
Will the tech stack allow us to build a scalable mcommerce app?
Are developers easily available for the current tech stack?
Is the tech stack reliable and tested?
Is there a big and supportive developer community available to help with the technical issues in case the developers get stuck?
What's the best combination for my business niche?
Consult with your eCommerce developers to select the most appropriate tech stack according to your business needs.
Step:3 – Native or cross-platform
An important decision that you will need to take for your mcommerce app is whether to go for native or for cross-platform app development.
When to choose Native app development?
If you are going to provide features in your mobile app that need to utilize more device-specific features like GPS and camera, then you should opt for native mcommerce app development. This is because a native app can prove to be of great help when you think about launching a mcommerce app that either has a complex architecture or an app that relies heavily on device-specific features.
When to choose cross-platform app development?
If you plan to build an app with a simple or medium difficulty level architecture, then you should opt for cross-platform app development. The other factor that can prompt you to choose cross-platform app development is the ecommerce app development cost. If you are on a tight budget or if you want to build an MVP before the full-fledged app, then you should go for cross-platform app development as it is economical as compared to native app development.
The choice of native or cross-platform app development really depends upon your requirements. You should consult an expert m commerce app development company to ensure that you choose what is best for your business.
Step:4 – Choose the best mobile commerce platform
In case if you do not want to build an app from scratch, then you can opt to develop the app on an m-commerce app development platform. Before you go scouting for the best m-commerce app development platforms, confirm with your technical partner if it would be feasible to transform the eCommerce website to an m-commerce app using an m-commerce platform. 
Before you finalize the eCommerce platform, you should have a thorough look at the features of ecommerce platforms, select the platform that is the best choice for your business and then make a choice.
Shopify
When it comes to popularity, Shopify takes the lead with more than 1.7 million merchants choosing to sell their products on Shopify. Shopify has an impressive range of designs that covers a majority of eCommerce niches.
The issue, however, with Shopify is that most of these templates are not free. However easy it may seem, with more than a million Shopify store owners out there, you will need the support of Shopify app developers to build a Shopify m-commerce app that stands out from the competition. 
WooCommerce
WooCommerce is another popular m-commerce app development platform. WooCommerce provides great flexibility as all kinds of businesses, regardless of their niche, can build a mobile app that suits their needs on WooCommerce. Another benefit of WooCommerce is that the platform offers a high degree of scalability, and a growing business does not need to worry about the business expanding past the plugin's ability.

With WooCommerce, the businesses would need to shell out money for most of the extensions. If you choose to go with WooCommerce, then ensure that you avail the services of expert WooCommerce developers to build a stable and secure WooCommerce app. 
Magento
Magento has a host of features that allows m commerce store owners to manage multiple stores with multi-currency and multilingual support. The fact that it is mobile-friendly, scalable, and has a big community of users makes Magento a very popular eCommerce platform.

One of the key factors to consider when you choose Magento is that the Magento apps are difficult to customize and have a slow loading time as compared to other mcommerce platforms. Hire Magento developers to overcome the limitations of Magento and build a high-quality m-commerce app.
BigCommerce
Unlike other mcommerce platforms, BigCommerce does not put a limit on the number of products that one can put up in their stores. Moreover, BigCommerce proves to be economical for products that have lower margins and more transactions as BigCommerce charges a very low transaction fee. These reasons make BigCommerce app development a popular choice amongst m commerce app developers.

With BigCommerce, although many integrations will be free to install, you will have to pay money to use the service. Hire BigCommerce experts to ensure that you leverage the power of BigCommerce in the most optimum way and develop a robust m-commerce app. 
Step:5 – Finalize the important features and functionalities
Once you have decided whether you want to go for a standalone app or want to build your m-commerce app on an eCommerce platform, you will then need to finalize the important features and functionalities. We have discussed certain must-have features in a mcommerce app in detail in the later section of this write-up. 
Step:6 – Find a suitable eCommerce app development company
Unless and until you have an in-house eCommerce app development team, it would be wise to hire professional mcommerce developers. This is because top m-commerce developers would have the necessary experience and skill-set to ensure that you get a bug-free and robust mcommerce app.
To select a proper eCommerce app development team, you will need to check their work portfolio, take reference of their clients, check their reviews on the internet and have a detailed discussion regarding their work process and the kind of eCommerce app developers they possess.
Sign an NDA to ensure that your data does not leak, and always insist on testing the app thoroughly before you accept delivery of the m-commerce app to get a robust application. 


Step:7 – Get the same look & feel
A consistent look and feel of your eCommerce ventures is important from a branding perspective. If your m commerce app is too different from your eCommerce website, then it would leave your old users confused as they are accustomed to a particular layout. Confused customers are bad for business.

When we talk about maintaining a consistent look and feel, it is not limited to the color palettes, the fonts, the images, and the layout of the buttons. The entire user experience should be consistent all throughout your business.
Step:8 – API development and integration
In an eCommerce website, CMS plays a critical role in making the process of website development easy. With CMS, there is no security issue, and the data exchange is seamlessly done between different software components like database, web server, frontend, and platform.
The same cannot be said about mobile apps. This is because, with mobile apps, the developers do not build a closed system with a database. Hence in the case of an m-commerce app, you will need to utilize APIs (Application Programming Interface) for successful data exchange with the database. To build a mobile app from the same database as your eCommerce website, the developers will need to build different APIs.
Step:9 – Quality assurance and deployment
Testing is an important part of the eCommerce app development process. As an m-commerce app owner, you would not want your mobile app to crash at a critical point like on a big sale day. That is why you need to ensure that the app you get is properly tested on all parameters.
Ideally, you should test the m-commerce app for worst-case scenarios if possible before you take the delivery of the app. Both manual, as well as automated testing methods, can be employed to ensure a fail-proof m-commerce app. Bad quality assurance is one of the major factors why most e-commerce platforms fail.
Once the testing phase is successfully completed, it's time to take your m-commerce app to your users. Although there are many third-party app stores and other platforms available, the Apple app store and the google play store are the two major platforms where app developers upload their apps. Upload the app on the Apple app store or the Google Play Store, or on both, depending upon your user base.
Must-have features of a mobile commerce app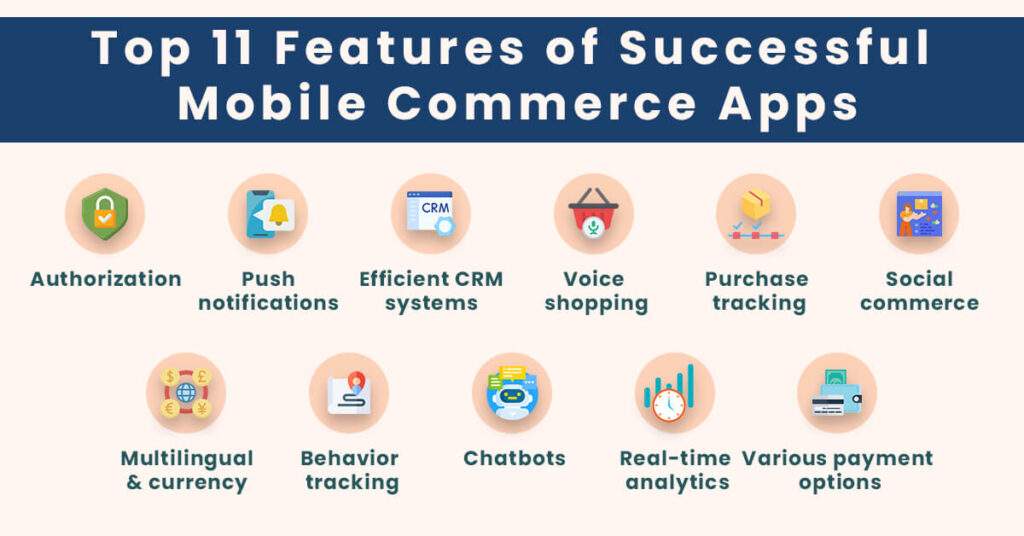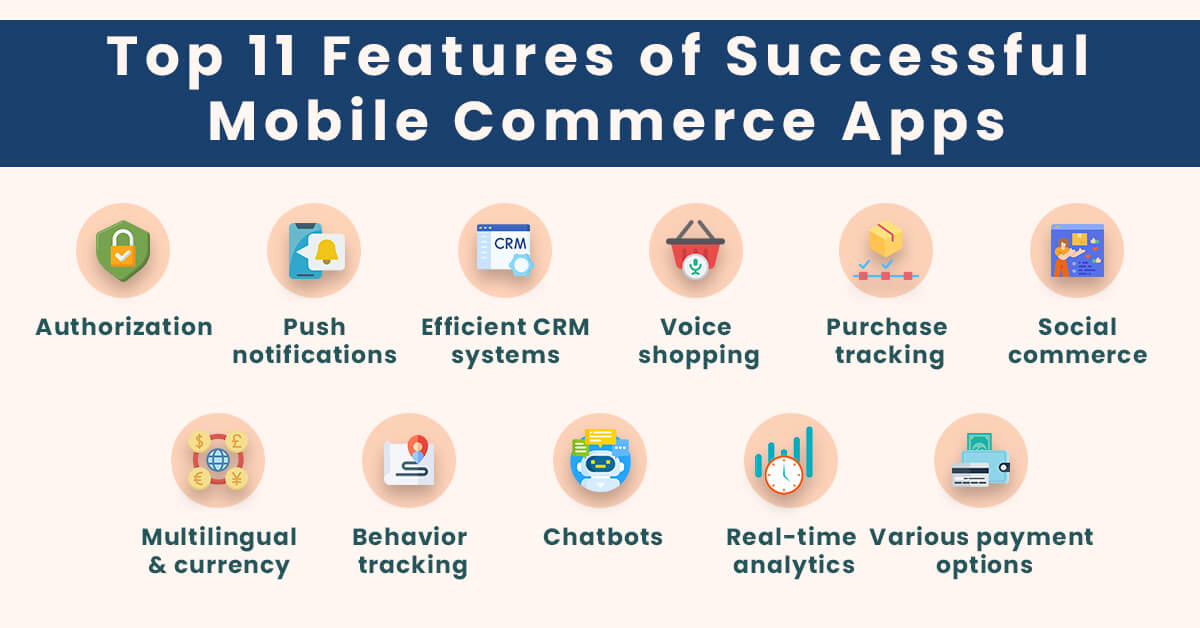 Now that you know the process of making the transition from an eCommerce website to a m-commerce app, you would be raring to go and start the process, right? Sure, you can start the process by employing an efficient m-commerce app development company, but make sure that your m-commerce app has the following must-have features to succeed in the m-commerce arena.
Authorization
Easy and secure access plays an important role in determining the success of an m-commerce app. You might want to add social signup to ensure that your users have easy and secure signup. By providing the social sign-in feature, you will make life a little easier for your users as they would not need to remember the user id and password of another app. Also, with social sign-in, you will be able to easily verify the identity of the users, and this will improve the security of the m-commerce app.
Push notifications
Push notifications are an efficient way to send notifications regarding discounts, offers, and delivery details to customers. Push notifications are also a good way to boost engagement and drive users towards your app. Push notifications lead to enhanced user engagement and will help you build a loyal user base. The overwhelming advantages of push notifications make it a must-have feature in your m-commerce app.
Efficient CRM systems
A brand that engages with its customers enjoys 90% more conversion rate, and their customers tend to spend 60% more on average on every purchase.
A major benefit of an eCommerce CRM (customer relationship management) is that it is able to identify sales patterns by analyzing customer information. The following are just a few metrics that you will be able to record and analyze through a CRM.
Customer click-through rate
Conversion rates
The products your customers are interested in
Email subscription opt-ins
Voice shopping
Voice commerce is a technology that allows users to shop from their smart devices. Voice-activated assistants like Amazon Alexa, Google Assistant, and Apple Siri have made voice shopping easier for online shoppers. Voice commerce is perfect for customers that want to repurchase a product from the same store. Thus, voice commerce can help you get more repeat sales.
Social commerce
Social commerce is one of the emerging mobile commerce trends that will make a big impact on digital commerce in the future. According to a survey conducted by Magento, around 60% of the users admitted that 25% of recent purchases were affected by social media. Social commerce is taking off in a big way, and you wouldn't want to miss out. So consider adding a social commerce feature into your m-commerce app so that users can easily share a product they like on your app with their friends and family members.
Different payment methods
On average, around 7 out of 10 shoppers abandon their shopping cart. The shopping cart abandonment rates are so high because of the many hurdles that the customers face during the process. A major hurdle during the checkout process is the lack of available payment options.
There are multiple payment options like credit cards, debit cards, internet banking, PayPal, cash on delivery available to the consumer today. By offering more payment options will take the hesitation out of the purchase, as many first-time eCommerce buyers prefer the cash-on-delivery mode due to trust issues with online payment modes.
Purchase tracking
The eCommerce order tracking system plays a key role in enhancing the customer experience. The eCommerce order tracking system includes features like shipment tracking, estimated delivery dates, and frequent updates on the order status. The order tracking system will let your buyers know when to expect their delivery and will also help you alleviate their concerns whenever there is an unexpected delay.
Multilingual & currency
Only 4% of the world's population speaks English as their first language. If you want to build a truly global app, then you need to integrate support for multiple languages into your app.

Along with multilingual support, you also need to provide multi-currency support to your users so that they can buy in their home currency without any hassle. You can tie up with local currency converting agencies, this will reduce the payment charges that your users need to pay for products shipped from another country.
Chatbots
Around 6 out of 10 customers would prefer to contact a business through chatbots. Many eCommerce companies today utilize chatbots to improve their customer service.
Chatbots provide the following benefits
Help you boost your customer service
Reduce investment in hiring human customer care executives
Chatbots make your app more interactive
Apart from customer service, chatbots can streamline many other interactions in an eCommerce business.
Take the leap
As the eCommerce market grows rapidly, a mobile app is becoming a vital resource for all kinds of eCommerce businesses and online stores. As more and more desktop users get converted into mobile users, m-commerce is the place where all the action is. If you want to become or even remain successful in the eCommerce battleground, m-commerce should be your weapon of choice.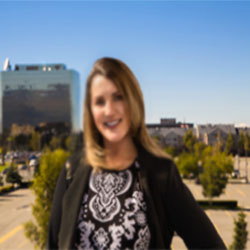 A professionally engaged blogger, an entertainer, dancer, tech critic, movie buff and a quick learner with an impressive personality! I work as a Senior Process Specialist at Topdevelopers.co as I can readily solve business problems by analyzing the overall process. I'm also good at building a better rapport with people!