What is a Web Development Company?
The primary-- goal of a web development company is to develop unique websites that cater to clients' business goals. These companies specialize in designing, developing, launching and maintaining top-notch websites.
A web development company is an amalgamation of talented individuals such as project managers, software engineers, web developers, system analysts, UI/UX designers, etc who play a huge role in developing innovative websites.
Through the thousands of websites available to us, we can see that websites come in various assortments. This is evident enough that these websites play a huge role in being powerful channels between businesses and their customers. Business owners are now realizing how important it is to have a digital front in the form of a website for their business to grow. Therefore, they are focused on building websites with the help of a web development company to suit their unique requirements and business preferences.
Top Web development companies are experienced at building custom websites that suits the exclusive needs of your business and the preference of a client. The key responsibilities of a web development company include conceptualizing, designing, developing and maintaining websites efficiently. Ideally, a web development company will help you in curating a unique website by engaging in the following services:
Web design
Web development
Backend development
Frontend development
Web Maintenance
eCommerce development
Platform focused development
Software development
Technical support
Search engine optimization
---
Types of Websites
Websites come in a wide range of options. There are simple single page websites and there are complex eCommerce websites. The following is a small list of the kind of websites that expert website developers can build.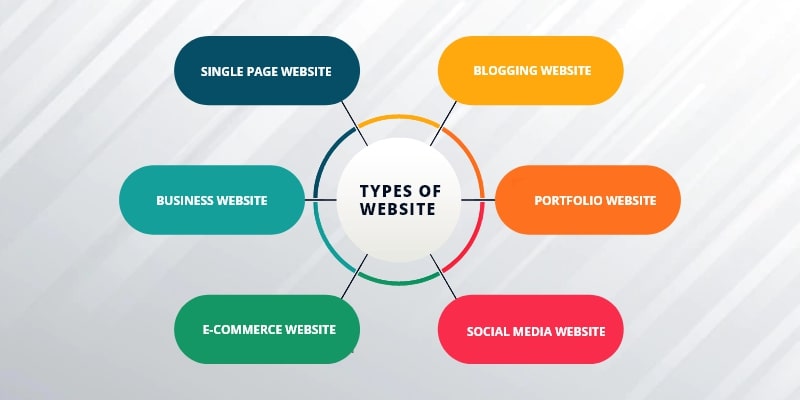 Single page website
A single page website is a website that has only one HTML page. When the user clicks on the menu bar on a single page website, then the website guides the user to different HTML pages.
eCommerce websites
eCommerce websites are websites that help people buy and sell physical as well as digital goods and services through the internet as opposed to a brick-and-mortar store. An eCommerce website allows the business to process orders, process payments and manage the logistics and provide customer service from a single place. If you want to build an exquisite eCommerce website, then take consultation from an expert eCommerce development company. If you are looking out for a top eCommerce development company, then we have provided a list of best eCommerce development companies.
Blogging website
Blogs are a trusted source of online information and businesses who create blogs get more leads. A blog helps businesses build a reputation as the subject matter expert. With the onset of tools like WordPress and Blogger, it is very easy to build a blogging website nowadays.
Portfolio websites
Portfolio websites are generally built by professionals like artists, journalists and architects. A portfolio showcases the kind of work that the professional has done. The portfolio can include the resume, a summary of qualifications or skills, images, audio and video data and process flows.
Social media websites
Social media websites consist of websites that focus on content sharing and collaboration through involvement of community. The success of social media websites like Facebook and Instagram has driven the popularity of social media websites. Apart from content sharing, social media websites have also emerged as avenues to expand business.
---
Why should you have a website?
A website is the first point of contact for your brand with the outside world. In this digitally connected world, a website is absolutely necessary. It will not only help you to generate business but also help to promote goodwill amongst your prospective customers and in delivering strong marketing messages.
---
Why should you outsource your Web Development projects?
There are two ways to build a website. You can either, assemble a team from the scratch invest in the architecture and take the longer route, or you can choose to outsource it to a professional website development company. While you can choose to hire web developers and start the project in-house, it would be a wise idea to outsource your project.
By outsourcing your web application development, you gain the following benefits.
Lower cost of web development- When you choose to outsource your development requirements, you make the project more economical. Understand that building a website in the US can cost you around 3-4 times more than building it in a country like India. This difference is because of the demand-supply dynamics of highly skilled labor. You can find highly skilled IT professionals in India in abundance, thus driving the price of hiring these professionals down.
You can focus your resources on your core business- Outsourcing your website to professional website developers will disengage your resources from non-core activities. You can then focus your resources on your business and leverage the maximum output from them. Remember, if website development is not your strength, then it would be wise to leave it to the professionals and focus on your strengths instead.
You can hire expert website developers from all over the world:- Website development is a skill that knows no geographical boundaries. When you decide to outsource your web app development projects, you gain access to a global talent pool. You can hire a website development company from India, Ukraine, UK or from the country of your preference.
---
Homework to do before you start finding a Web Development Company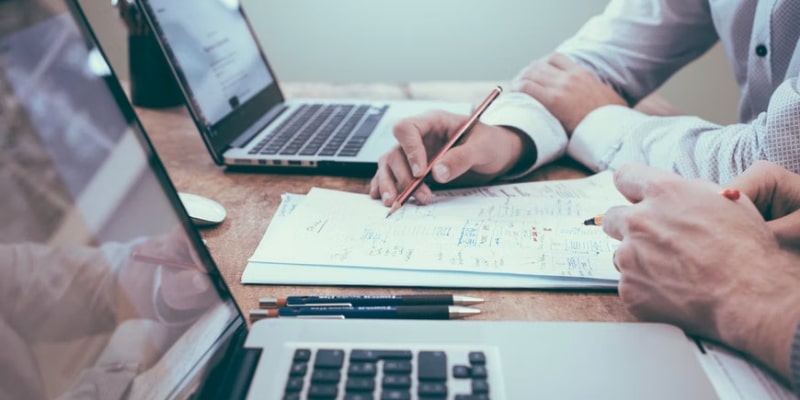 Know your requirement and goals
Before you go ahead with your web development project, you must clearly mark your goals and requirements. While custom website development companies can help you in bringing your ideas to life, understand that the ideas themselves must be clear. Have a clear plan regarding the goals of your website. Is it going to be a website that provides information to your customers about your business or are you planning to directly sell your products from your website? Once your goals and requirements are set in stone, then accordingly you can scout for web developers who can efficiently help you with your web development requirements.
Look for companies having related experience
Web development firms who have prior experience of working on a particular project are better equipped to deal with a similar project. Hence while finalizing an ideal web development firm, you should always check- out the previous projects completed by the firm. You should look for companies who have successfully completed a project similar to yours.
Outline your budget
Outlining your budget is a critical part of your custom website development project, and you cannot afford to overlook it. While selecting the companies, you should avoid contacting those companies who are out of your budget range. For example, if your budget is 2000$ and you expect that the project will take about 100-120 hrs to build, then you should avoid companies charging $150 per hour.
Do research on the prevailing market rates and discuss each and every aspect so that you can be ensured that there will be no hidden costs of web development. It is best to discuss in detail the various costs involved in the project to avoid unpleasant surprises later.
---
How to identify a Good Web Development company?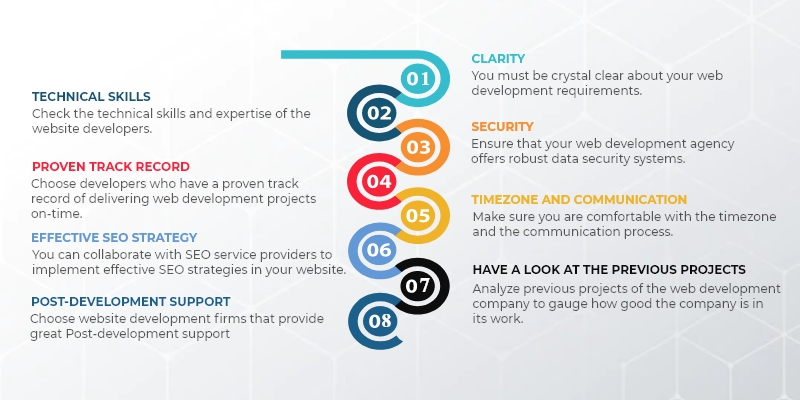 The need to own a business website is imperative in this era of advanced technology and where the internet is considered to be the lifeline of people. Also, the internet is regarded as one of the most trusted platforms for pursuing any kind of business dealings. With the existence of an extremely competitive market, we understand that deciding on the best web development firm might get a bit tedious. However, it is of utmost importance to hire web developers with a good reputation and excellent custom web application development expertise, else the entire purpose of designing a website will prove to be futile.
Here are some tips to help you ease the process of identifying the best web developers.
Check their certification
Looking for a valid and licensed service provider is one of the most significant aspects. It is crucial to hire a website designer who has a repute of being a thorough professional and works under legal peripheries without violating any rules or norms. One should opt for only the legally permitted website development agencies.
Note down your requirements
Identify your needs first. Evaluate your pain points, think of the best solutions and discuss with your employees for their suggestions and ideas. Eventually, try to design a site map of the solutions and objectives that you might want to address. So, that when you reach out to the respective web developer; you'll be well prepared to interview them and analyze their skills based on your requirements. If they can't meet your requirements, move on!
Inquire about their technical skills & expertise
Once you are satisfied with the understanding of the developers about your requirement, the next step is to do thorough research on their technical abilities and experience. You can start by gathering information about their team strength, work portfolio, technical expertise (check if their completed projects were developed using the latest technologies or not), and don't forget to explore their own company website or app. They way they handle their own site will speak a volume about their expertise. Also, opt for the web development firms who can assign direct access to their developers for your daily communication.
Confirm if they follow data security parameters
With the ease of data availability and increased cyber threats, make sure that the web development company you might select, offers high-end security and safety systems which ensure no risk of data theft. They should follow a strict protocol to protect your personal, proprietary and the classified information of your company.
Proven track record of on-time project delivery
No matter how complicated or complex your web development project might be, you cannot wait for an eternity for its completion. Hence, it is wise to choose a developer who promises customized solutions within the set timeline.
Quality deserves no compromise
When it comes to quality, there can't be any compromises, especially when it is about your company's website. Hence, it is imperative to select the best website development company who has in-depth knowledge and excellent expertise in web programming & designing. Furthermore, improved and advanced technologies are available for web development projects that can enhance the functionalities of your website. Hence, make sure that the web developer you choose to work with uses the latest and upgraded visual graphics and digital technologies that assure quality results.
Maintenance and Support
One of the important aspects that an entrepreneur fails to check is the web development company's maintenance and support. Don't overlook this aspect and make sure to discuss the support services, offered by the website development agency. Further, get their commitment documented, i.e., to provide the maintenance, backup services, and orientation of the service after the project completion.
Read client reviews
Last but not least the best way to find out whether the web development company is competent is by checking out their reviews from their previous clients. These reviews can give you insights into the experience the previous clients had while working with the junior as well as senior web developers of the company.
Timezone and Communication
When you and your web development company have similar working hours, there is more amount of real-time communication between both of you. This results in a smooth flow of information, and the time is taken to develop the web application is reduced. Therefore TopDevelopers also provides a researched list of companies as per location & timezone.
If you are looking for web developers from a specific country, we have collated a list of expert companies in various locations:
Provides exceptional user experience
If your web application fails to attract the user's attention and does not spark interest, it will be an absolute failure. An attractive, user-friendly, and easy to navigate application can bring great success to your business. Hence, do check the services and expertise of the web development firms thoroughly; only then hire.
Apart from these tips, do consider clarifying the ownership and the copyrights for your application with the web developers. Also, to cut down your option for shortlisting the best web development agencies, you can refer to some genuine online directories like TopDeveloper.co, who only after thorough research and analysis compile a list of top web development companies for your easy reference. You can also opt to choose TopDevelopers.co as your first step to achieving your dream web application. Tell us your project requirements, and TopDeveloper.co will help you find the best web development solution.
Check their expertise in various web technologies
Before handing over the project to the website development company, you should always check the credentials of the team and assess whether the company is well versed in various web technologies.
Experience with web development for implementing SEO Strategies
To gain full leverage from your website, the website developers should be well acquainted with various SEO techniques. This way, they will be able to design your website in such a manner that it is easy for the users to find your website on the internet.
Have a look at the company's previously built websites
Ask for work portfolio to gauge the work quality. By having a look at the previous accomplished projects by the web development company, you can understand how good the company is in its craft. Ask for client references and look in particular for those clients who are from the same industry.
---
Web Development Process
The web development process is concerned with all the stages of website development. Right from ideating to coding to testing and maintenance. The web development process is concerned with following a step-by-step method to build a smooth functioning website. Here are the various steps involved in website development.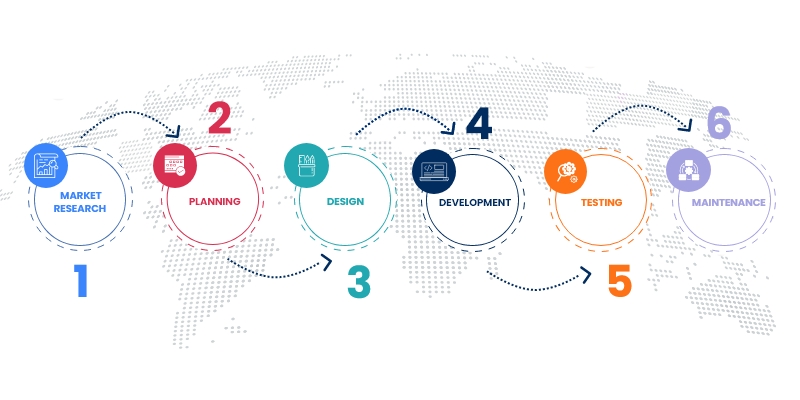 Market research
Market research is a critical step to ensure the success of a website. Your website developers should have a clear idea of what kind of website they need to build. The clarity will only come from robust market research.
Planning
In the planning stage one needs to strategize all aspects of the website like design technology stack and content. The website structure and its features are finalized in the planning stage.
Design
Website's design is finalized in the web design stage. Normally the design stage involves designing a rough sketch or a wireframe of the website. The idea is to provide a visual idea of how the website will look.
Development
Development is the part where the actual coding of the website takes place. The client as well as the server side development is accomplished in this stage. Contact top website development firms to select the most appropriate tech stack according to your website's requirements.
Testing
Once the website is built, the next step then is to develop a set of tests to identify and eliminate any bugs from the website. The QA team can conduct rigorous testing by opting for testing methods like stress testing, load testing, unit testing and integration testing.
While testing, ensure to test whether all the features of the website are working on all devices and platforms or not.
Maintenance
One of the most important and often neglected stages is that of maintenance. After the launch of a website, one has to spend a lot of time maintaining the website. It is crucial to keep up with the updates and latest trends in order to stay in the market. The more the changes, the greater the expenses incurred. In such scenarios, outsourcing website maintenance is the best choice. When you outsource your website maintenance services, they make sure that the website or web app is checked for bugs and are removed periodically. They make sure to gather continuous feedback from the users and necessary improvements are made accordingly. Thus, this helps you to focus on the more important aspects of development.
---
How much do Web Development Companies charge?
The average cost of web development may range from $1000 to $30,000. Web development is an individual project and its cost depends on various aspects such as type, structure, design, location of developers and much more. A basic site with simple features may cost somewhere between $10k-20k. An average website with more advanced features can cost up to $40k-100k. Moreover, a complex site with savvy technological elements demands an investment of more than $150k.
When it comes to web development, there are a lot of costs involved including costs to design a website, develop a website as well as maintain a website. For instance, it will cost less to develop a simple website with minimal features than a complex website with robust and in-depth features.
Other than that, the cumulative web development charges also include domain name, themes, plugins, security and the hosting space required of your website. Moreover, web development companies charge on the basis of the type of website your business needs i.e. personal website or blog, landing web page, corporate website, eCommerce website, educative website, web portal and many more.
Factors affecting the Cost of Web Development
When it comes to the cost to build a website, there are various factors and aspects in web development process that can heavily influence the budget estimated to develop a website. The expert(service providers) have thorough knowledge of these factors and based on their experience they analyze the requirements and help to plan beforehand provide a realistic estimation of the pricing for each aspect. Thus, to provide a brief overview of things, out of the various factors impacting web development some of the important ones are discussed here;
Level of complexity
The more features you include in your website, the more will be the cost. While a simple website which displays only some basic information about the site will cost you only a couple of thousand bucks, a more complex website that requires integrating more advanced technologies can go even up to a hundred thousand dollars.
The location of the Web Development Company
The location or more specifically the country from where you decide to get your website developed also plays a vital role in determining the cost of your project. Website development is a labour intensive job, and you will find that countries having a large number of highly skilled website developers will charge you less.
The location of your web development company plays a vital role here. Thus, web development companies in USA the United States may charge somewhere between $100-175 per hour. On the other hand, web development agencies outside the U.S. may charge approximately $55-75 per hour.
The experience and expertise of the web developers
An experienced website development agency having an army of expert web developers at its disposal would be able to effectively build your website at a lower cost than a website developer who is a novice in the field. Do not look at the quotation costs, although a novice developer might give you a lower hourly rate, but the time taken to develop the website, the quality of the end product as well as the rework required will eat away your profits.
Design considerations
While choosing the design of your website, you have the option of re-using pre-defined templates. This can significantly reduce the cost of your website. However, we encourage you to discuss your design requirements with professional web designers and their web development firms if you want to go with a custom web design. By designing your website from the scratch, you opt to stand out from the crowd with a unique web design. But it is not always necessary to spend money on building a custom web design and web templates can do the job. You need to assess your requirements and take a call accordingly. An experienced website development company will be able to guide you with better inputs based on your requirements.
---
Tips to Hire a Web Development Company
With the massive number of choices available in the market, choosing the right web development company can be overwhelming. How to hire expert web developers? If this is a question that you are looking to find an answer to, here are some important aspects that will assist you through the process of hiring expert web developers.
Get to know the team
It is crucial to know the development team that is going to work on your dream project. Even though you hire the best development team out there, it would be of no justification if they assign new hires or outsource your project. Thus, to know that your project is in safe hands, you must have a sit down with the project manager and the people who will be working on your project. This helps in creating a communication channel and a sense of trust between both parties.
Get ideas about the development roadmap
Once you have established a clear understanding of the project, you must get ideas about how the development process is to be executed. The development roadmap gives you a clear overview of the process of development and the time taken to finish it. Discussing the time frame for the project completion ensures that there will be fewer roadblocks along the way.
Relationship with client
Development companies that work on establishing long term positive relations with their clients stand out in the crowd. A company's relationship with its clients defines its worth and assures the quality of deliverables. Past clients and their referrals are testimonials with which you can measure the success rate of any company's development projects.
Check Soft skills and communication
One of the most important things to look out for in web developers is communication. A good chain of communication goes a long way. Moreover, soft or social skills are those interpersonal values that determine the companies' ability to work well in a collaborative manner.
Check the developers available for hire
It is crucial to analyze web developers that are available for hire, according to your requirements, their technical knowledge, independency in work, day-to-day working style, interaction with the team, and vision. In a web development company, the cost to hire a developer will vary based on the technology the developer will be working with and further expertise and experience level will also be a deciding factor. Based on the expertise a web developer can be bifurcated into three major rungs:
Junior Web Developers: Junior web developers come along with some technical knowledge of skillsets and very little experience.
Senior Web Developer: Senior web developers have exhaustive experience and come along with deep specialized knowledge in the business and the domain they support.
Expert Web Developers: Expert web developers are known to be long enough in the field of programming and are well versed with all aspects of it.
---
Different kinds of Web developers that you will require
In any project for website development, you will need the assistance of various types of web developers like.
Front-end developers
These developers are responsible for designing and developing the client-facing side of the website. They decide the look and feel of the website and are generally expert in using technologies like HTML, CSS, jQuery, JavaScript and Ajax.
Back-end developers
Backend developers are responsible for handling the server-side code. Whatever data the computer transmits on the front-end, is processed by the back-end. Back-end developers are experts in .Net, JQuery, Linux, Python, PHP and SQL.
Full-Stack developers
Full-stack developers are those who know both front-end as well as back-end web development. There are different kinds of full-stack development frameworks.
The most popular ones are
MEAN- It includes languages like MongoDB, Express, AngularJS and Node. JS.

LAMP- It consists of the Linux operating system, the Apache HTTP server, MySQL and PHP.

Django- Django, python and MySQL are the technologies used in the Django full-stack.
You should discuss with the web development company regarding the full-stack methodology, which they plan to apply to your project.
---
Factors to consider while choosing an ideal web development language
Though thinking about an ideal web development language for your project should not be your primary concern but knowing a little about the aspects will help you in approaching a web apps development company that better suits your requirements. When you choose to outsource your web development needs, the outsourcing web app development company should ideally take care of the factors mentioned above and help you in choosing an appropriate language which will be apt for your web development project.
There are a wide range of languages available in the web development arena. By putting emphasis on certain factors, you can choose your ideal language for website development.
The experience of the programmers
You should discuss with the website development firm regarding the experience they possess in a particular language. This is because although you might find a specific language attractive, it would be of no use if their developers do not have sufficient experience in the language.
The appropriateness of the language
You should choose such a programming language that will work on all major web browsers. The language should also work on mobile devices and also have appropriate features that will allow multiple users to use your website at the same time.
Easy to develop and maintain
Always choose a language that is not only easy to develop for the programmers but also easier to maintain. This is because if the language is not easy to maintain, then you will face issues later on.
---
How do we help you find top website developers?
At TopDevelopers.co, our analysts have prepared the list of top website development companies by giving importance to all the factors discussed above and other aspects that would help in creating such a magnificent list of the professional service providers. We are confident that you will find your match from this list.
---
Questions to Ask When Hiring Website Development Firms
What kind of industry experience does your company have?
Who were your clients?
Can you share some references?
What web development methodology do you follow?
What development stages do you generally follow?
How do you plan to communicate with clients?
What technology stack will you use for our project (provide a rough idea)?
How do you ensure the website's user-friendly?
What tools do you prefer to use while developing a website or web application?
Will you transfer complete ownership of the website?
How do you price web development services?
Should I hire a web designer or a developer?
Could you give an overview of your research process?
What is the timeframe of an entire web development project starting from scratch?
What are the web development services your company offers?
How much does a project of this scope cost?
Do you work with an in-house team or an outsourcing team?
What are the assets or resources you require from me?
Do you provide customizable or template websites?
Are your charges based on an hourly basis or is it a fixed rate?
Could you give a rundown of your design and development process?
Is it vital to work with CMS(Content Management Systems)?
Through what medium will you handle website hosting, security & maintenance?