Social media apps have become a part of our everyday life long ago and changed the way we interact with each other. It is hard to imagine but Facebook alone has more than 1 billion monthly mobile users. This is a tremendous amount!
What stands behind this success? People just love being social and share thoughts, photos, videos, and other content with their like-minded surroundings. That is in our nature.
Not surprised there are so many popular social networks and even more enthusiasts who want to replicate the success of their creators. If you are one of them, this article is what you need. Here, you will find information covering multiple aspects of creating a social media app: from their types to MVP features.
Stage 1: What Type of a Social Media App to Choose?
First, you have to decide on a type of social media app to build. If you have not thought it through yet, I will list the most popular types underneath.
News & Social Networking
Apps like Twitter belong to this category. They stream news the users are interested in and provide them with the place to communicate as well as share opinion with each other. If you decide to build an app of this type, you should pay due attention to the news feed and think over its design.
Blogging Apps
A variety of apps can be referred to this category: Medium, Tumblr, and even Instagram. In fact, almost every social media apps fall under this category as most of them allow bloggers and influencers expressing their opinion in written, verbal or any other form.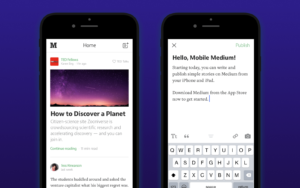 Instant Messaging Apps
Apps like WhatsApp, Viber, and others also fall under this category. Messengers are widely used not only in everyday life for chatting with friends but also in business for responding to clients requests as well. In order to create a successful messenger, you should bring some value to users: add unique features, work out a top-notch UI/UX design, and plan out the strategy of interacting with a different target audience (businesses, users).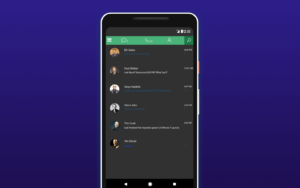 Lifestyle Social Media Apps
A plethora of platforms that are connected with various activities (sports, travel, hobby) and allow users to communicate can be classified as lifestyle social media. A TripAdvisor's community is a good example in this case.
Entertaining Social Media Apps
Again, this is rather an umbrella term that may include a variety of apps that are interrelated with other categories. But as the name suggests, those apps are primarily designed to entertain users and so live streaming, dating, educating, and other apps fall under this category.
There are a lot of details you should consider when developing every of the above-mentioned app types. For instance, do not forget to add the user ban feature to your dating app and provide a decent quality of video to create a live streaming app.
Business Social Media Apps
This is a relatively narrow app category. Probably, LinkedIn is the most illustrative example in this case. You should get the vision of the functionality your business social media application will perform and then think over the further steps
Stage 2: Drawing Up a Development Strategy
Once you decide what type of social media app you want to build, it is time to dive deeper into the app development strategy.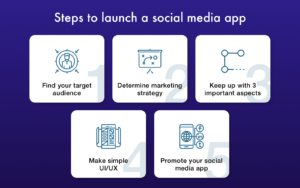 Find Your Target Audience
Before making any further decisions you have to identify your target audience and understand what they expect from the app. Conduct a research and find out what needs your target users experience nowadays and which features can help solve those needs more effectively compared to rival apps.
Determine Your Marketing Strategy
These days, marketing is vital to position and boost your newly produced social media app in a highly competitive environment. Draw up a marketing strategy and launch it before the app's release in order to start attracting the attention of possible users beforehand.
Keep Up With Three Important Aspects
So you know your target audience and marketing strategy. This means it is time to move on and consider aspects that concern software development itself.
#1. Money matters. The development of any software product requires considerable investments. You can choose the market-first approach that implies the creation of MVP (I list MVP features for social media app below). Based on the users' satisfaction from the MVP, you will be able to evaluate all risks and make informed decisions.
#2. Platform. Build an app for one platform at first. It will help you test its performance and evaluate multiple other factors. iOS app developer typically takes less time compared to Android.
#3. Do not underestimate traffic. Make sure your app's back-end is ready for traffic jumps and will not go down.
The app's design is also of great importance since it affects user satisfaction and the time they spend in your app. Make sure the UI design of your social media app is clean and simple while UX is convenient and intuitive.
Stage 3: Identifying Features to Build a Social Media App MVP
Even though social media apps differ, they all have essential features which should be present in your app to form an MVP. Let's take a look at them.
User Profile
A user profile is an important element for social network apps since it usually contains all user information (e.g. birth date, country of residence, recent posts, profile photo, etc.) All this not only helps to identify a person a user is already acquainted with but find new like-minded friends, which is actually the main goal of most social networks. So users of your social network will surely want to get one and edit it.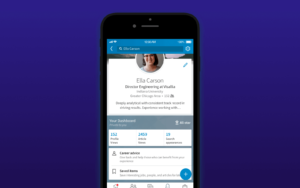 Search
Any social network is a massive amount of data: publications, communities, hashtags, people, places, etc. A convenient navigation through that data is barely impossible without a search bar. In addition, it is a good idea to add some filers to simplify the search.
Newsfeed
It is the place where updates of friends and communities are shown. Newsfeed is an integral attribute of many giant social networks like Facebook, Twitter, Instagram, and so on.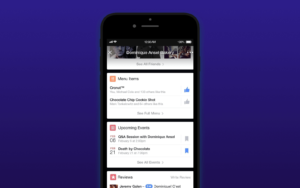 Since many users are dissatisfied with how the newsfeed works on the previously mentioned platforms, a well-thought-out feed policy may become your competitive advantage.
Instant Messaging
It is difficult to imagine modern social networks without built-in chats. Add an opportunity for sending messages, images, videos, and documents in order to keep pace with your competitors.
Push Notifications
Push notifications are the ultimate way to notify users about something that is important for them. Friend requests, new messages, upcoming events, etc. But remember that too many notifications are a bad experience. Make sure the app has the notification setting where users could pick what they want to be notified about.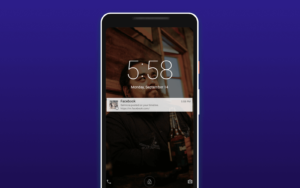 Summing Up
I recommend you to consult with professionals as soon as you come up with the list of features for MVP. A reliable team or company can help you with software development and consult you concerning the next decisions to make.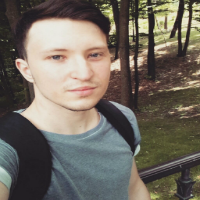 Vitaly Kuprenko is a technical writer at Cleveroad. It's a, web and mobile app development company in Ukraine. He enjoys telling about tech innovations and digital ways to boost businesses.